Quick, Delicious Chicken and Rice
I went to culinary school in the seventies when classic techniques were still in vogue.  We whisked egg whites in copper bowls,  boned whole fish, and removed chicken from its skeleton leaving meat and skin intact.  But, Auguste Escoffier  forgive me.  There is more than one way to skin a chicken.   As a modern chef and cook, I take shortcuts.  Besides, being  gluten-free, I cook to eat.  I can't wait all day to enjoy a meal.
In that same era,  I took a cooking class in Indian Cuisine.  We toasted and ground aromatic spices and made our own customized  garam masala, a  blend that's used to flavor every dish.  We peeled and grated ginger, poached tomatoes to remove the skin, and fried onions until they were a perfect golden hue.  The end results were amazing; but, come on,  who has the time to cook this way?
I did meet my future husband in this class and we fell in love over Biryani and Vindaloo.  But, I confess we rarely made Indian food together.  (It's still one of my favorites to eat in restaurants and is a decidedly gluten-free-friendly cuisine.)  Then I fell in love again – – with Passage Foods Simmer Sauces, aromatic blends of exotic spices, ginger, onion, and garlic, that simmer for hours before they are packaged.  These sauces brought Indian food back into my kitchen.  All I do is add a protein (chicken or lamb) and some veggies like eggplant, okra. tomato or potato.  (Veggies aren't even necessary if I'm in a rush.)  In the time it takes to cook basmati rice in my rice steamer, I have a full meal.
Today, I added a few extra steps so I could justify calling this a recipe instead of a tip.  With these additions, I turned Passage Foods Tikka Masala Simmer Sauce into Chicken Biryani and it tastes just like the meal we made in my Indian cooking class years ago.
In case you don't know about Biryani, it's a flavorful rice dish filled with aromatic Indian flavors, pieces of chicken or lamb and chunks of potato.   There are four hallmarks of a good Biryani.  (1) The grains of rice should not clump but be separate and easy to spread apart. (2) The aroma should fill the room with a sweetish fragrance that is not overpowering or reminiscent of any one specific spice.  (3) The taste should be flavorful and roll off the tongue and the flavor should fill the meat.  (4) There must be nicely browned potatoes and they should  be as flavorful as the meat .   Without potatoes, it is not Biryani.
So there you have it – – a perfect Biryani.  And here's the recipe.  I think you'll agree it's easy and delicious.  And thanks to simmer sauces, I've found a better way to skin a chicken.
Easy and Delicious Chicken Biryani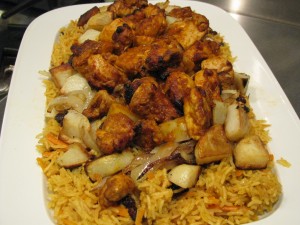 1 pouch Passage Foods Tikka Masala Simmer Sauce, divided (or other Indian simmer sauce)
1 pound boneless, skinless chicken breast cut in 1 inch cubes
3 tablespoons olive oil
2 large russet potatoes, peeled and cubed
1 large onion, peeled and cut into thin strips
1 ½ cups raw Basmati rice
3 cups gluten-free chicken broth
¾ cup dark raisins
1 ¼ cups shredded carrots (commercial product like Dole brand)
Reserve 1/2 cup of simmer sauce.  Marinate chicken in the remaining simmer sauce for 30 to 90 minutes.
In a large skillet, heat 2 tablespoons of the oil and sauté the potatoes and onion until brown and potatoes are fork tender.  Remove from skillet and set aside.
In a medium pot, combine the rice, reserved simmer sauce and chicken broth.  Bring to a boil.  Cover and simmer until most of the liquid is absorbed.  Add raisins and carrots.  Simmer until liquid is absorbed (about 18 to 20 minutes).  The rice should be slightly chewy, not too soft.  (Remember – it should not clump.)
While the rice is cooking, heat remaining oil in skillet.   Sauté the chicken until browned and cooked through.
When rice is done, fold in the potato and onion mixture.   Reheat briefly (about 1 minute).  Spread mixture over a serving platter and top with chicken.
Serves 4.
Now For Some Deals!
Want a sample of Passage Foods Tikka Masala?  Sign up for our newsletter in the upper right hand corner of this site.  We'll send five lucky people sample packs of Indian, Thai, and Moroccan Simmer Sauces.  Or go to Passage Foods for information on where you can find their sauces.
Blender Girl Giveaway
I love this community of bloggers.  So much energy!  Look at this.  My new best blogging friend Tess Masters aka Blender Girl is making April gluten-free month with great recipes from all your gluten free blogger friends and a KitchenAid Giveaway.   Check it out.