May is Celiac Awareness Month
I am celebrating with cupcakes and I hope you'll join me.  I'll tell you how in a moment, but first, here's a little background on why this event has far-reaching implications for all of us.
The World's Tallest Gluten-Free Cake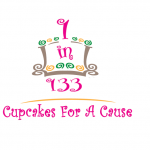 Last year I was part of  the world's largest gluten-free cake event along with the American Celiac Disease Alliance (ACDA) and the 1in133.org awareness project.  Hundreds of us met in Washington, DC to build the world's tallest gluten-free cake,  bring attention to the number of people with celiac disease and convince the FDA to reopen the process for creating gluten-free regulations.
While Jules Shepard and John Forberger headed the confectionery team,  Andrea Levario and I headed to Capitol Hill to manage the legislative front.  With our sons, media folks and gluten-free manufacturers in tow, we spoke to Congressional leaders about the importance of gluten-free regulations.  We asked them to  keep the pressure on the FDA to push the regulations forward.
They Heard Us And We Ate Cake
In the early evening, we gathered at a reception for supporters and Congressional folks.  To our delight,  the Deputy Commissioner of the FDA, Mike Taylor, attended.  In front of hundreds of us, Deputy Commissioner Taylor told the group we would have gluten-free regulations.  On August 4,  the FDA reopened the comment period for the regulations.  The comment period closed on October 3 and the FDA promised to issue these regulations by the end of the third quarter of 2012.  The countdown is on.
Calling All Cupcake Builders
This May, as we await the forthcoming regulations, I invite everyone to make cupcakes – – one for every year you have been gluten-free. Take a picture and share it with the community by posting to the ACDA's Facebook page. Then post to your Facebook page, blog and link back to the ACDA's page. Vote for your favorite cupcake by "liking" the photos on the Alliance Facebook page. Prizes will be awarded in categories like best presentation; most unique decorations; most years being gluten-free; and  kids categories.  The winners will receive products and coupons from several gluten-free companies.  Get out those whisks and mixing bowls.  The more likes we receive the more voices will be heard from our virtual community.  Go to 1in133 for guidelines.
Let's Eat Cupcakes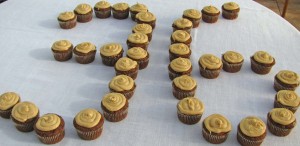 This weekend, I made 56 chocolate cupcakes with peanut butter frosting; 36 for me and 19 for my son, Jeremy.  That's a lot of cupcakes.  Let me tell you.  But, I've seen, firsthand, the power of community.  When a standard for gluten-free on food packaging comes out,  I can say I had a hand in making it happen.  I hope you'll join me in that effort.  It feels good.  And, besides, you get to eat cupcakes!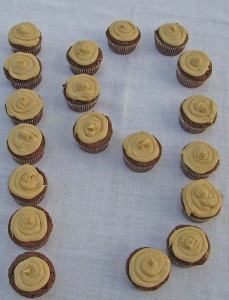 Here's the recipe I used.  You are welcome to "borrow" it.  The  chocolate cupcakes are a variation on those in my book, Gluten-Free Makeovers.  The frosting is pure decadence – – a blend of  peanut butter and cream cheese.  I love peanut butter and chocolate and the slightly tangy cream cheese flavor cuts the sweetness in a lovely, subtle way.  To bring it all together, I top these cupcakes with crushed Reese Peanut Butter Cups.  If you are allergic to peanut butter, you could use sunflower butter or simply frost these with plain cream cheese frosting.
CHOCOLATE PEANUT BUTTER BLOSSOM CUPCAKES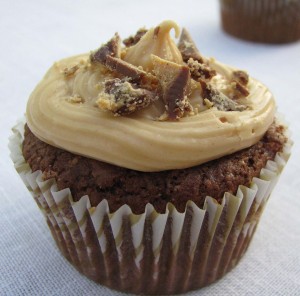 Makes 24 to 28 cupcakes
2 ¼ cups Cake and Pastry Flour
½ cup unsweetened cocoa
2 ½ teaspoons baking powder
½ teaspoon baking soda
1½ cups granulated sugar
12 tablespoons (1½ sticks) unsalted butter or non-dairy buttery spread, at room temperature
3 large eggs, at room temperature
1½ teaspoons vanilla extract
1 cup milk, soy milk, or rice milk
Preheat the oven to 375°F. Lightly grease or oil two 12-cup muffin tins or line with paper liners.  Combine the cake flour, cocoa, baking powder; and baking soda.  Set aside.
In a separate bowl, beat the sugar and butter until light and fluffy. Add the eggs one at a time, beating to incorporate. Blend in the vanilla. Add the flour mixture alternately with the milk in 3 batches, beginning and ending with the dry ingredients and mixing until each addition is just incorporated.
Spoon the batter evenly into the muffin cups, filling a little more than half full. Smooth the tops and bake on the center rack for 16 to 18 minutes, until a wooden toothpick inserted in the center comes out clean. Let cool in the pans on a wire rack for 10 minutes. Remove from the pans and cool completely before frosting.
PEANUT BUTTER BLOSSOM FROSTING
1 cup smooth peanut butter (any gluten-free brand)
½ cup milk
4 ounces low-fat cream cheese
1 tablespoon vanilla
3 cups confectioners' sugar
½ cup (about 6) Reese's Peanut Butter Cups, crumbled (optional)
Beat the peanut butter, milk, cream cheese, vanilla, and sugar together until smooth and fluffy.  Frost cupcakes.  Sprinkle with crumbled peanut butter cups.  Refrigerate until time to serve.
Cake and Pastry Flour
1 cup sweet white sorghum flour (4 ounces)
1 cup white rice flour (5.4 ounces)
¾ cup cornstarch (3.4 ounces)
1½ teaspoons xanthan gum (or guar gum)
½ teaspoon salt
SHORTCUT:  This blend makes very light pastries and cookies with a fine crumb but, if you are pressed for time, you may use 2 ½ cups of any all purpose flour blend.  Add the xanthan gum and salt if they are not already in the blend.