Monthly Archives:
November 2012
Christine from New Zealand wrote to say, "I haven't had a Crumpet for years and wondered if you had a recipe for gluten free crumpets?"
She piqued my interest as I had never had one.  So I did a bit of research.  Crumpets are made with a rather thin yeast batter and are cooked on a bake stone or griddle in crumpet or English muffin rings.  The distinguishing feature of real crumpets is their pliable texture and the characteristic holes into which butter deliciously melts and oozes.
After reading a mainstream formula, I developed this recipe makeover.  These crumpets are soft,  light in texture and quite tasty.  You will not be disappointed.  Add your favorite jam or slather with butter.  I like both.  If you are not able to get one of the all-purpose flour blends I mentioned here, you can use any flour blend you have available.
Crumpets  by Beth Hillson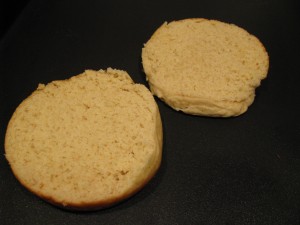 This recipe makes 8 to 10 crumpets.
1 ½ cups all-purpose gluten-free flour blend such as Gluten-Free Pantry All-Purpose Flour or King Arthur Multi-Purpose Flour
½ cup sorghum flour
2 ¼ teaspoons dry active yeast
1 teaspoon of sugar
½ teaspoon cream of tartar
¾ cup warm milk  (about 110 degrees)
½ cup warm water (about 110 degrees)
1 ½ teaspoon baking powder
1 teaspoon baking soda
1 tablespoon melted butter
TIP:  If using a blend that does not contain gum and salt, add 1 teaspoon xanthan gum and ½ teaspoon salt.
1) Combine flours, yeast, sugar, cream of tartar and blend.  Add warm milk and water and beat for 3 minutes.   Cover with plastic wrap and let stand in a warm place for about 20 minutes. The thick batter should double in size.
2) Add baking powder, baking soda and butter and beat for 1 minute or until well mixed.  Cover and let stand 10 minutes.
3) Preheat a griddle to 350 degrees.  Coat 8 to 10, 3 ½ inch English muffin rings well with vegetable spray.   Set on griddle, bake stone or large skillet (see note below).
4) Place enough mixture into the center of each ring to come halfway to the top of the ring.  Cook for 4-6 minutes over medium heat, until bubbles appear over the entire surface, and the dough appears 'dry'.
5) Use tongs to remove the ring.  Turn the crumpet over and cook an additional 2 to 4 minutes to brown the top. Remove from the pan and cool on a baking rack. Split and enjoy.  Or, if thin enough, do not split before eating.
Notes:  Alternatively, make thinner crumpets by filling only one-third of the way up the rings.  These do not need to be cooked on the second side.  If you don't have a griddle, heat a heavy cast iron skillet and line it with as many rings as possible.  You'll need to make these in more than one batch.
Happy Holidays!  With Thanksgiving just around the corner, wow your guests with this unique and delicious twist on traditional apple pie.  The rich sour cream center brightens the apple flavor and the presentation can't be beat.    For those with a dairy allergy replace the sour cream with soy sour cream or coconut yogurt. This can be made egg-free, too. 
Apple Custard Crumb Pie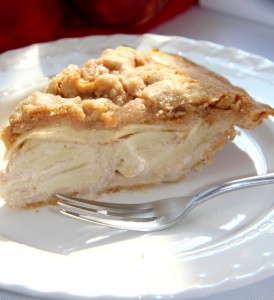 Serves 8
Streusel Topping
½ cup packed light brown sugar
¾ cup all-purpose flour blend (any brand)
½ teaspoon ground cinnamon
¼ teaspoon salt
6 tablespoons cold unsalted butter or dairy-free butter replacement, cut into small pieces
Filling
5 McIntosh apples
2/3 cup low-fat sour cream, dairy-free sour cream or coconut yogurt
1 large egg, lightly beaten
½–¾ cup sugar, to taste
3 tablespoons all-purpose flour blend of choice or rice flour
1 teaspoon ground cinnamon
¼ teaspoon salt
1 Flaky Pie Crust, uncooked (below)
1. To make Streusel Topping, combine all topping ingredients in a food processor and pulse until mixture resembles coarse meal. Reserve.
2. Preheat oven to 350°F.
3. Peel and thinly slice apples.
4. In a large mixing bowl, combine sour cream and egg and beat well.
5. In another bowl, combine sugar, flour, cinnamon and salt. Whisk into sour cream mixture. Add apple slices, tossing to coat.
6. Spread mixture over uncooked crust. Sprinkle Streusel Topping over the top.
7. Set pie on a cookie sheet for ease of handling. Place on middle rack in preheated oven and bake 55 to 60 minutes or until filling is bubbly and topping is brown. If crust browns too quickly, cover edges loosely with foil.
TIP: For an egg-free pie, replace the egg in the filling by adding 3 additional tablespoons sour cream (or dairy-free substitute) in step 4. Add 1 tablespoon cornstarch or potato starch in step 5.
Flaky Pie Crust
Makes One 9-Inch Crust
Unless rolled too thin, this dough is not prone to tearing. If it does, pull it back into place and pat it down.
1½ cups + 2 tablespoons High-Protein Flour Blend (below)
1 tablespoon potato flour (not potato starch)
1 teaspoon xanthan gum
¼ teaspoon salt
2-3 teaspoons sugar
½ teaspoon baking powder
½ teaspoon ground cinnamon
4 tablespoons cold butter or dairy-free butter replacement
4 tablespoons organic shortening
1 large egg or 2 tablespoons additional unsweetened applesauce
1 teaspoon cider vinegar
2 tablespoons unsweetened applesauce
1. In the bowl of a food processor fitted with the knife blade, combine dry ingredients. Cut buttery stick and shortening into pieces. Sprinkle over dry ingredients. Pulse several times until pieces are the size of large peas.
2. In a separate bowl, combine egg, vinegar and applesauce. Add to flour mixture and blend just to combine. Carefully gather dough into a ball. (Watch your fingers as steel knife is very sharp.)  Wrap in plastic wrap and chill at least 1 hour.
3. Place the dough between 2 layers of plastic wrap and press it down with heel of hand. Then gently roll it into a 9-inch circle. Start from the middle and roll out uniformly in all directions to form the circle. Rotate the dough in ¼ turns to help even-out crust to about ¼-inch thickness throughout.
4. Carefully peel off the top layer of plastic wrap. Turn the crust into the pan, slowly peeling off the backing. Press the crust into the pan and crimp the edges, trimming off any excess dough.
TIP:  To reduce the fat in this pie crust, replace 3 tablespoons butter or shortening with an equal amount of unsweetened applesauce.
High-Protein Flour Blend
Makes 3¼ cups
1 cup amaranth flour
1 cup brown rice flour
¾ cup cornstarch or potato starch (not potato flour)
½ cup tapioca starch/flour
1. Combine ingredients. Store in a tightly covered container in the refrigerator until used.
Short on time?  Use a commercial high protein flour blend or add 1 cup of amaranth flour to 2 1/4 cups gluten-free all-purpose flour blend.
A version of this recipe first appeared in Living Without Magazine.