As with so many great recipes, this one passed through several channels, but rather than the old-fashioned grandmother to mother to daughter or son kind of hand-me-down, this one went through an internet-compressed timeline.  One day, I read an account from Mark Bittman in the New York Times Magazine about his friend Jean-Georges Vongerichten's squash on toast.  It was not a recipe, per se, but an account, like someone passing along the gist of a recipe, the flavor, the texture, but never the amounts.
The mention of winter squash and caramelized onions caught my attention.  What great flavors and there was nothing unhealthy or fattening, at least in the description.  So I created a recipe from what I thought Jean-Georges might have told Mark and that Mark was recounting to his readers.  I made the recipe for a Thanksgiving appetizer and served it with gluten-free French bread. Needless to say, it was a huge hit.  Even my son wanted the recipe.
So, I figured I would copy the account from the New York Times online and fill in the details with my notes.  But what came up was the original recipe from Jean-Georges Vongerichten.  In some places, it was quite different than what I had created.  It called for cheese, chili flakes, and mint.  By then, I was hooked on my version.  Here it is, a perfect dip or spread or appetizer that I'll be serving at all our winter gatherings, especially for the Super Bowl.
Butternut Squash Spread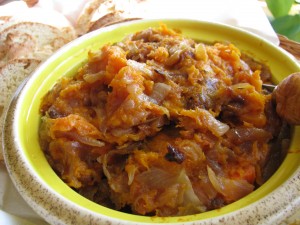 1 medium butternut squash, peeled and cubed
4 tablespoons extra-virgin olive oil, divided
2 teaspoons kosher salt, divided
2 large yellow onions, peeled and thinly sliced
1/4 cup apple cider vinegar
2 tablespoons maple syrup
Gluten-free baguette, thinly sliced and lightly toasted
Extra salt, to taste
Heat the oven to 400.  Toss the squash cubes with 2 tablespoons olive oil and 1 teaspoon of salt and spread the mixture over a parchment-lined baking sheet.  Bake, stirring every few minutes, until tender and slightly colored, about 20 to 25 minutes.  Edges should be  golden brown and squash should be very tender.  Remove from the oven.
Meanwhile, heat remaining 2 tablespoons olive oil over medium-high heat, add the onions and remaining teaspoon salt and cook, stirring frequently, until the onions are well softened and darkening, at least 15 minutes. Add the vinegar and syrup, stir and reduce until broken down, an additional 15 minutes or so. The mixture should be jammy.
Combine squash and onions in a bowl and smash with a fork until combined. Adjust seasoning.  Serve with gluten-free toast or crackers.
Note:  The original recipe says to spread this mixture on toasted bread, top with ricotta, goat cheese or mascarpone cheese, coarse salt and mint.  I did not do this, but now that I'm passing this on, you can try your own version of this wonderful recipe!