Ginger Cookie Ice Cream Sandwiches & Giveaway
Posted by Beth Hillson on December 12th 2014 @ 5:53 pm
A Recipe From Beth
Tate's Bake Shop GF Ginger Cookie Ice Cream Sandwiches
One Serving
I'm okay taking shortcuts when the results are delicious and impressive.  And during the holiday season, I'm all about doing things the easy way.  This fun dessert is exactly that — bursting with flavor and embarrassingly simple.  I start with two top notch ingredients — yummy tasting Ginger Cookies from Tate's Bake Shop and exquisitely rich ginger ice cream from Bart's Homemade Ice Cream.  My guests assemble their own ice cream sandwiches.  I sit back and collect the ooh's and ah's.
First, let me tell you a little bit about the amazingly talented baker behind these cookies.  If you visit Southampton, NY with its charming beach community and New York chicness, you'll come upon a little bake shop called Tate's.  It's legendary around the Hamptons.  Creator, Kathleen King, has been baking here forever.  Long before she decided to turn her amazing cookies into gluten free gems,  I was making over recipes from her first cookbook so I could enjoy the gluten free versions.
Now Tate's Bake Shop makes a gluten free line of cookies (in a dedicated facility) that will knock your socks off.  I was beyond excited to receive a gift basket of their goodies.  The butter, the crunch.  Wow.  My friend, Gail, had just served Tate's Ginger Cookie Ice Cream Sandwiches with ginger ice cream at a dinner party. The cookies are peppered with bites of crystallized ginger.  I was over the moon.  I had to recreate that "recipe" for you here.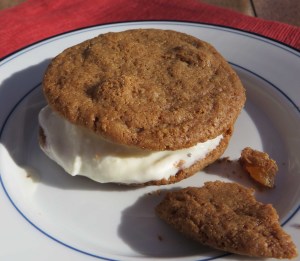 2 Tate's Ginger Zinger Cookies
1 scoop (about ¼ cup) Bart's Homemade Ginger Ice Cream (it says GF on the label) or another good quality ginger ice cream
Warm Hot Fudge Sauce, if desired
Soften the ice cream a bit then spread it over the flat side of one cookie.  Top with the second cookie (flat side pressed onto the ice cream.  Dip in warm hot fudge sauce if you wish.  Eat every morsel!  Ask for more!
A Giveaway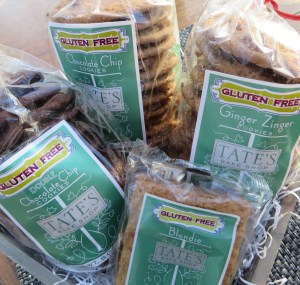 Tate's has offered to send a gift basket of gluten free goodies to one lucky person reading my blog.  Just send me an email at beth@glutenfreemakeovers.com to be entered in this giveaway.  Hurry.  You'll have to reply by December 31, 2014.
Post filed under Recipes and tagged easy gluten free recipes, gluten free cookies, Gluten-Free. Desserts.