A Recipe from Beth
Serves 10 to 12 
Your Sweetheart will swoon over this sinfully delicious cake that is just about perfect – light and fluffy with notes of chocolate and coffee.  The only thing better is when you turn this cake into Tiramisu.  You'll find the recipe on this blog, too. Or, if you prefer, serve slices of Espresso Chocolate Chip Angel Food Cake with whipped cream that's infused with coffee flavored liqueur. Either way, Cupid says you can't miss. 
The cake keeps for several days wrapped well in plastic wrap and stored at room temperature. It can also be frozen for up to two months.  Remove wrap before thawing as ice crystals can cause the cake to become soggy.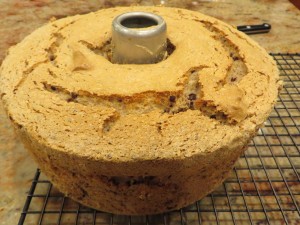 2 teaspoons instant espresso coffee powder
1 cup Beth's Cake Flour (below)
3 tablespoons cornstarch
1½ cups sugar, divided
12 large egg whites or 1½ cups, at room temperature
½ teaspoon salt
1½ teaspoons pure vanilla extract
1½ teaspoons cream of tartar
¾ cup chocolate chips, coarsely chopped in a food processor
Preheat oven to 350°F. Sift espresso coffee powder with cake flour, cornstarch and ¾ cup sugar in a medium bowl. Set aside.
Place egg whites in the clean, dry bowl of a stand mixer or a large mixing bowl. Beat egg whites with salt and vanilla at medium speed until foamy. Add cream of tartar. Beat at high speed until whites form soft peaks. With the mixer running, add remaining ¾ cup sugar in a slow, steady stream. Beat until whites are shiny and form stiff peaks (4 to 5 minutes).
Sprinkle half the flour mixture over the egg whites and fold in by reaching a spatula to the bottom of the whites and drawing it back through the mixture gently to incorporate. Don't stir or mix the ingredients. Repeat with remaining flour.
When flour mixture is nearly incorporated, fold in chopped chocolate chips. Make sure chips are spread evenly throughout the batter. Pour into a 10-inch ungreased tube or angel food cake pan. Spread evenly.
Place in preheated oven and bake 45 to 55 minutes or until a skewer inserted in the middle comes out clean. Invert the cake on a rack and let cool completely upside down in the pan. To unmold the cake, run a thin knife around the side of the pan and the tube and gently push the base up if using a two-piece pan, or invert the cake onto a serving plate.
Slice with a serrated knife. Serve with whipped cream that's infused with coffee flavored liqueur, or use as the base for the Tiramisu recipe, coming next.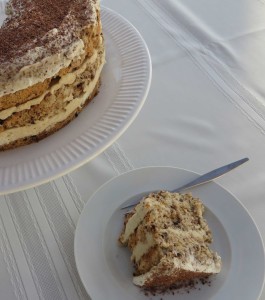 Beth's Cake Flour Blend

1 cup sweet white sorghum flour
1 cup white rice flour
¾ cup cornstarch
1½ teaspoons xanthan gum
Whisk ingredients together in a large bowl until well combined.
This recipe is part of a comprehensive article on how to successfully make angel food cake that will appear in the Spring Baking Guide from Gluten Free & More.  Pick up a copy on newsstands in March 2015.