Makes Two 12-inch Pizzas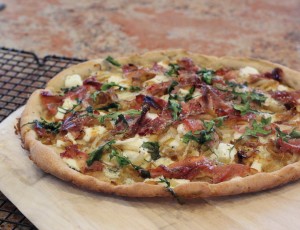 This is National Pizza Week.  But, seriously, isn't homemade pizza worth celebrating any time of the year?  This pizza has endless possibilities. It's called white because there are no tomatoes or sauce on this pie.  However, add some tomatoes or pizza sauce, if you prefer a more traditional pizza.  Experiment with your favorite cheeses and herbs, too.  And leave the cheese off or use dairy free cheese, if milk is not on your list.  If you have a pizza stone and a peel (wooden paddle) use those as the crust will be chewier.  Otherwise, use a heavy baking sheet or a round pizza pan and set it on the lowest rack in the oven so it browns nicely.   Cut all ingredients in half if you wish to make one pizza.   This freezes nicely (especially without pizza sauce) so you might want to make both and save one for another day.
The Toppings
4 tablespoons extra virgin olive oil, divided
1 large onion, thinly sliced
Pinch of sugar
½ teaspoon salt
6 ounces fresh ricotta cheese (part skim milk cheese is fine)
2 ounces Gorgonzola cheese, crumbled, optional
4 ounces thinly sliced prosciutto or other Italian meat
½-1 cup baby arugula
Italian seasoning, to taste
Pecorino Romano cheese, to taste
The Dough
Makes 2, 12-inch pizzas
2 ½ cups high protein blend, below
½ cup millet flour
1 tablespoon xanthan gum
1 teaspoon salt
5 teaspoons instant active dry yeast
1 1/3 cups warm water
2 tablespoons olive oil
1 tablespoon honey
1 teaspoon cider vinegar
Preheat oven to 425°F. If using a pizza stone, place it on the lowest rack and preheat the oven. Do this 30 to 60 minutes ahead so the stone is very hot. If you're not using a stone, it's not necessary to preheat the oven for an extended amount of time.
Make the toppings.  In a medium skillet, heat 2 tablespoons olive oil over medium heat. Add onion and sauté to soften, about 2 minutes. Add sugar and salt and reduce heat to lowest setting. Cook onions until they turn a rich golden brown, about 10 minutes. Remove from heat and set aside.  Lay out all the other toppings you will be using.
Make the dough.  In the bowl of a heavy duty mixer fitted with the paddle attachment, combine the high protein blend, millet flour, xanthan gum, and salt.   Blend well.  Add the yeast and blend.  Combine water, oil, honey, and vinegar.  Beat at medium high speed for 3 to 5 minutes or until the dough thickens.
Scoop half the dough onto a lightly oiled sheet of parchment paper.  Cover with a sheet of lightly oiled plastic wrap.  Use finger tips and palm to lightly press the dough into a 12-inch circle.  Use finger tips to create a rim of dough around the edge that will become a pretty crust.  Drizzle olive oil of the surface and top with a light coating of pizza sauce.
Scoop half the dough onto a lightly oiled sheet of parchment paper. Cover with a sheet of lightly oiled plastic wrap. Using fingertips, lightly press the dough into a 12-inch circle, creating a rim of dough around the edge to form a crust.
Drizzle 1 tablespoon of remaining olive oil over the surface of 1 crust. Place small dollops of half the ricotta evenly over the olive oil, followed by half the Gorgonzola cheese. Top with half the cooked onions and slices of prosciutto. Scatter half the arugula over the top. Sprinkle with Italian seasoning and Pecorino Romano cheese.
Slide pizza (with parchment paper) onto a pizza paddle and then onto the stone, pizza pan, or baking sheet set on the lowest rack of preheated oven. Bake 16 to 20 minutes. When done, the bottom of the pizza will be lightly browned. (While first pizza is baking, repeat with remaining dough and ingredients.)
Remove pizza from oven and let cool briefly. Slice and serve warm.
High Protein Blend (from Gluten-Free Makeovers)
Blend well and scoop out 2 ½ cups for the pizza recipe above.  Reserve the rest for later use.
1¼ cups white or brown rice flour
1¼ cups sweet white sorghum flour
½ cup amaranth flour
¾ cup cornstarch or tapioca starch
Shortcut:  Use a commercial pizza crust mix and follow my instructions for preparing it.  I've had good luck with pizza mix from Glutino Gluten Free Pantry, King Arthur brand, and Bob's Red Mill mix.