Recipe By Beth Hillson
Serves 3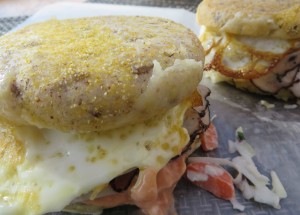 Breakfast can be a balancing act.  Trying to find something that contains protein and nutrients and has a good amount of healthy carbs is not the first thing you want to deal with in the morning.  But, let's face it.  You stand a better chance at handling all those little daily challenges if you are fortified from the get go.  So, here's a great twist on breakfast, a Balanced Sandwich, to help jumpstart the day. Besides, it's a yummy meal that can be wrapped in waxed paper to eat on the way to work or school.  Now go get your breakfast on.  And have a great day!
3 tablespoons light mayonnaise
2 tablespoons Ketchup
1 teaspoon white horseradish (from the jar)
3 Glutino or other Multigrain English Muffins
6 slices cheddar cheese
1 tablespoon olive oil or butter
3 large eggs
¼ pound Boar's Head or other gluten free Pastrami Turkey, thinly sliced
½ cup coleslaw (optional, but I love cole slaw any time of the day)
Mix together mayonnaise, ketchup and horseradish. Set aside.
Separate English muffins and toast the halves.  When toasted, top each half with a slice of cheese.  Let it melt slightly and set aside.
In large skillet, heat the oil or butter. Crack the eggs into the heated pan and fry just until the whites are set.  Cover the pan and continue cooking for 3 minutes or until yolks are no longer runny.  Remove the skillet from the heat.
Spread 1 to 2 teaspoons of the mayonnaise mixture over half the English muffins.  Top with turkey pastrami, coleslaw, and fried egg. Cover with an English muffin half that does not have mayonnaise on it.  Down it promptly or wrap in waxed paper and eat on the way to school or work.  Don't forget the napkins!