My Favorite Sugar Cookies
Posted by Beth Hillson on December 19th 2015 @ 10:19 pm
Recipe by Beth Hillson
Makes 30 to 32 cookies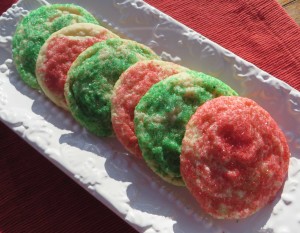 These rich, buttery cookies are slightly crisp on the outside with a chewy center. They have quickly become my favorite cookies; they'll be yours, too.
Dip dough in colorful sanding sugar to turn them into beautiful holiday cookies.  Top with chopped pecans or fold chopped, toasted nuts into the batter to create another variety. Perfect for cookie swaps and gifting, you'll be making these cookies for occasions all year long.
1 cup (2 sticks) unsalted butter, room temperature
1½ cups granulated sugar
1 large egg
1½ teaspoons vanilla extract
2 cups cookie and cake flour blend (below)
1 teaspoon baking powder
1/4 teaspoon baking soda
1/4 cup sour cream
Sanding sugar or sprinkles (optional)
In a large bowl, cream together butter and sugar with an electric mixer until light and fluffy, about 3 minutes. Scrape down sides with spatula. Add egg and vanilla. Mix until combined.
In a separate bowl, whisk together flour blend, baking powder, and baking soda. Add half to wet ingredients, mixing on low speed. Then add sour cream and combine. Finally, add the rest of the dry ingredients. Mix until the dough is well blended.  Cover with plastic wrap and chill for 30 minutes.
Preheat oven to 350F. Line cookie sheets with parchment paper.  Roll dough into walnut-size balls.  Dip one side in sugar (if using). Place sugar-side up on parchment-lined baking sheets, two inches apart as dough will spread.
Bake for 15 minutes, until edges start to brown slightly.
Cool for 10 minutes in pans before removing to wire racks to cool completely. Cooled cookies will keep in an air-tight container at room temperature for several days and can be frozen for up to 2 months.
TIP:  Can't have dairy products?  Replace butter with dairy-free buttery sticks from Earth Balance and sour cream with dairy-free sour cream from Tofutti or Follow Your Heart.  For lactose-free sour cream, check out Green Valley Organics.
Cake and Cookie Flour Blend
This makes enough flour blend for several batches of your favorite cookie recipes.
2 cup sweet white sorghum flour
2 cup white rice flour
1 ½ cups cornstarch
3 teaspoons xanthan gum (or guar gum)
1 teaspoon salt
Mix to combine.  Store leftover blend in a zip-lock bag in the refrigerator.
Post filed under Recipes and tagged Cookies, dairy-free, dessert, dessert recipes, easy gluten free holiday cookies, easy gluten free recipes, gluten free baking.