Sweet and Salty Butterscotch Cookies
Posted by Beth Hillson on December 19th 2015 @ 10:28 pm
Recipe from Beth Hillson
Makes 36 cookies
These chewy cookies are laced with brown sugar and sweet butterscotch chips.  Adding a sea salt topping creates an explosion of flavors.  Easy to make, these are perfect for holiday cookie swaps and gifting but you'll want these on your table for every occasion.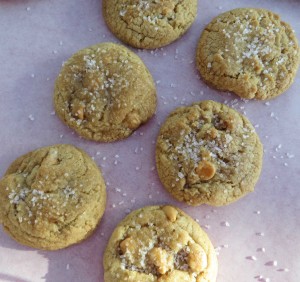 2 cups gluten free cake and cookie blend (below)
2 teaspoons baking soda
1/2 teaspoon ground cinnamon
3/4 cup unsalted butter, at room temperature
1 1/4 cups light brown sugar
1 large egg
1 teaspoon vanilla extract
3/4 cup gluten free butterscotch chips such as Hershey or Guittard brand
Sea salt, for garnish, optional
Preheat oven to 350 degrees F. Line 2 cookie sheets with parchment paper. Set aside.
In a medium bowl, whisk together flour blend, baking soda, and cinnamon. Set aside.
Place butter and brown sugar in the large mixing bowl. Beat on medium speed until light and fluffy, about 3 minutes.  Scrape down the sides of the bowl with a spatula. Add the egg and vanilla. Beat on medium speed until combined.
Add the dry ingredients. Mix until the just combined. Stir in the butterscotch chips.
Using a spoon or cookie scoop, form tablespoons size balls of cookie dough. Top with a sprinkle of sea salt.  Press into the dough. Place on balls on prepared baking sheet, about 2 inches apart. Bake cookies for 10 to 12 minutes, or until lightly browned around the edges. Do not over bake. Cool on the pan for 5 minutes. Transfer cookies to a wire cooling rack and cool completely. Store in an air-tight container for up to 4 days or freeze for up to 3 months.
Cake and Cookie Flour Blend
This makes enough flour blend for several of your favorite holiday cookie recipes.
2 cup sweet white sorghum flour
2 cup white rice flour
1 ½ cups cornstarch
3 teaspoons xanthan gum (or guar gum)
1 teaspoon salt
Mix to combine.  Store leftover blend in a zip-lock bag in the refrigerator.
Post filed under Recipes and tagged baking, Cookies, dessert recipes, easy gluten free recipes, easy quick gluten-free dessert, gluten free cookies, gluten free holiday cookies.