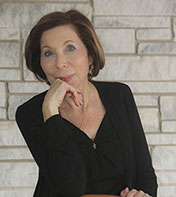 About Beth
Beth created one of the first gluten-free companies in the US, wrote books, and now shares 40 years of living well without gluten in her latest book,
The Complete Guide to Living Well Gluten Free
. She believes no one should go without because of gluten. Through her cookbooks, lifestyle book and essays, she shows us how. Travel, restaurant dining, parties, dating, raising kids – she's been there and takes celiac disease and the gluten free diet along for the ride. Join her as she answers all your baking and lifestyle questions.
From Beth Hillson
The best thing about quick breads is suggested in the name.  With no yeast to coax into rising and no long waits or kneading, quick breads reach lofty limits via fast-acting baking powder or baking soda or both.  Once liquids and leavening touch, the action begins; quick bread goes right into the oven to maximize the chemical reaction that is beginning. Best yet, quick breads can be enjoyed by those who are gluten free and yeast free and miss their bread.  Owing to the light texture and sumptuous flavor of this bread, no one misses out!
Honey Beer Bread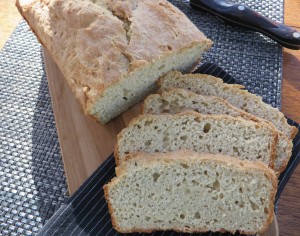 Makes 1 loaf (14 servings)
This recipe produces a light and moist loaf.  You can replace the beer with an equal amount of seltzer water to turn this into a wonderful, yeast-free sandwich bread.
3 cups Beth's Gluten-Free Quick Bread Flour Blend (next)
1 tablespoon baking powder
1 tablespoon white sugar, optional
3 large eggs at room temperature
3 tablespoons olive oil
3 tablespoons honey
1 1/3 cups gluten-free beer or seltzer water at room temperature
2 teaspoons melted butter or dairy-free buttery spread for topping
Preheat oven to 375 degrees F (190 degrees C). Grease a 9x5x3-inch loaf pan.
Mix flour blend, baking powder, and sugar, if used, together in a bowl.
Beat eggs, olive oil, and honey together in a separate large bowl; add flour mixture and beat with an electric mixer until you get a smooth batter. Stir beer into the batter and beat batter until smooth.  Transfer to prepared loaf pan. Brush the top of the loaf with melted butter.
Bake in preheated oven until cake tester comes out clean, about 45 to 50 minutes.
Cool in pan on a wire rack for 10 minutes.  Turn bread out onto wire rack to cool completely before slicing.
Beth's Gluten-Free Quick Bread Flour Blend
Several flours are interchangeable in a flour blend.  You'll see them noted here.  I prefer using cornstarch as it produces a lighter quick bread loaf. However, potato starch produces a chewier texture in the beer bread.  Take your pick according to preference and food sensitivities.
Combine these ingredients.  Blend well, then scoop out the amount needed for your recipe.
1 cup sorghum flour (or corn or brown rice flour)
¾ cup rice flour (or buckwheat flour)
¾ cup cornstarch (or potato starch or tapioca starch flour)
½ cup amaranth flour (or quinoa, buckwheat, or millet flour)
2 ½ teaspoons xanthan gum
1 ¼  teaspoons salt
Recipe by Beth Hillson
Serves 4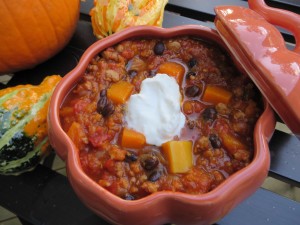 This is an easy chili that everyone will love.  Don't tell them it's healthy, too.  You can double or triple this to feed a crowd and up the spices if your guests like the heat. Try replacing pumpkin with butternut squash, too.  However, do not add brown sugar as the squash is much sweeter than pumpkin. Top with sour cream or cheddar cheese.
2 tablespoons olive oil, divided
1 pound ground dark meat turkey
2 teaspoons fajita or taco seasoning
2 teaspoons chili powder
¼ to ½ teaspoon chipotle powder
1 large onion, chopped
2 cloves garlic, crushed
1 (28-ounce) can diced tomatoes, with juice
3 cups cubed fresh pumpkin or butternut squash
2 tablespoons brown sugar (omit if using butternut squash)
1 tablespoon cider vinegar
1 (15 ounce) can black beans, rinsed and drained
Cooked brown rice
Sour cream or grated cheddar cheese
Heat 1 tablespoon olive oil in a large saucepan over medium heat; brown turkey, stirring often, until crumbly and no longer, pink, about 10 minutes. Drain and discard any fat.  Add the spices and use a slotted spoon to transfer to a plate.
Heat remaining olive oil in the pan and add onion and garlic.  Sauté over low heat until the onion is translucent.  Add back the turkey.  Stir to combine.  Add tomatoes, pumpkin, sugar and vinegar to the pan.  Cook, covered, on low heat until pumpkin is tender and has started to break apart, about 30 to 40 minutes.  Add the beans and cook an additional 15 minutes.  Check seasonings and add salt and pepper if desired.
Serve with rice and sour cream.
Recipe from Beth Hillson
Makes 4 Go-Stick Treats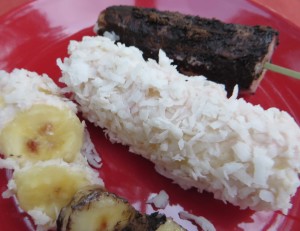 Here's a great grab-and-go breakfast or snack that's healthy and loaded with fiber and potassium, too.  Whether you use unsweetened cocoa, coconut, or ground nuts, you'll be getting lots of nutritional bennies in each treat.
Make a batch ahead of time so they are ready for school or breakfast on the run.  You'll swear you are biting into a chocolate bar when you try the bananas coated with unsweetened cocoa; the coconut variety tastes like coconut cream and the nuts will make you think you've bitten into a nutty ice cream treat. What could be better?
No need to add fruit preserves if using the nut or coconut coating.  However, the preserves are a nice touch to cut the bitterness of unsweetened chocolate.
2 large organic bananas
¼ cup plain yogurt, preferably organic
2 teaspoons fruit preserves (no sugar added), optional
Toppings: (Choose your preference)
4 teaspoons unsweetened dark cocoa
¼ cup unsweetened coconut
¼ cup chopped unsalted almonds or peanuts
4 skewers or long toothpicks
Line a large plate with wax paper.  Peel the bananas and cut in half through the center.  Place a skewer through each banana half lengthwise.
In a small plate, combine yogurt and fruit preserves, if using.
In another plate, add cocoa, breaking up any clumps.
Spread the coconut over another plate, breaking it up with the back of a fork.  Spread the nuts over another plate, if using.
Coat each banana half in the yogurt mixture then coat it in one of the addition toppings.  Set on the wax paper lined plate and freeze for a minimum of 1 hour and up to 3 days.
When you need a Go-Stick, grab on out of the freezer and away you go!
Recipe from Beth Hillson
Makes 12 pancakes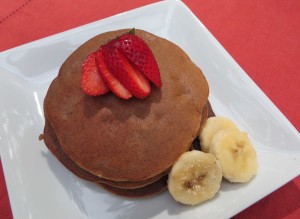 Most pancakes are, by definition, heavy in carbs and sugar.  Add maple syrup and you increase that load of unfriendly calories.  No wonder you're sleepy by 10 a.m.  Not these pancakes, however. They are light and filling and don't use a speck of sugar.  Using bananas as a substitute for fat makes them diet-friendly, too, and the small about of flour comes from nutritionally-dense flours like buckwheat, oat and flax meal.
Best yet, these can be made ahead and stored in the fridge or freezer for a healthy on-the-go breakfast.  If you are home, enjoy them with additional sliced bananas or strawberries and just a smidge of maple syrup, if you must!
The most challenging part of this recipe is keeping two bananas on the counter long enough to turn very ripe. (Someone always swipes them off my counter!) Make sure to select flours that are labeled "gluten free."
4 large eggs
2 very ripe bananas, preferably organic
½ teaspoon vanilla extract
5 tablespoons buckwheat flour
2 tablespoons oat flour
1 tablespoon golden flax meal
1 teaspoon baking soda
¼ teaspoon of salt
Olive or coconut oil, optional
In a medium size bowl, thoroughly whisk 4 eggs until frothy.
In a second bowl, mash the bananas and add to the eggs.  With a fork, beat until any lumps are nearly gone.  Add the vanilla and set aside.
Mix together buckwheat flour, oat flour, flax meal, baking soda and salt.  Whisk into the egg and banana mixture.
Lightly oil a no-stick griddle or add a small amount of olive or coconut oil to a frying pan.  Heat to medium or 350 degrees F.
Spoon the pancake batter onto the pan and fry until golden brown on both sides.
Top with additional sliced banana or other fruit.
On the go tip:  Roll each pancake in chopped fruit.
Recipe By Beth Hillson
Serves 3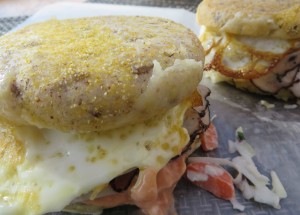 Breakfast can be a balancing act.  Trying to find something that contains protein and nutrients and has a good amount of healthy carbs is not the first thing you want to deal with in the morning.  But, let's face it.  You stand a better chance at handling all those little daily challenges if you are fortified from the get go.  So, here's a great twist on breakfast, a Balanced Sandwich, to help jumpstart the day. Besides, it's a yummy meal that can be wrapped in waxed paper to eat on the way to work or school.  Now go get your breakfast on.  And have a great day!
3 tablespoons light mayonnaise
2 tablespoons Ketchup
1 teaspoon white horseradish (from the jar)
3 Glutino or other Multigrain English Muffins
6 slices cheddar cheese
1 tablespoon olive oil or butter
3 large eggs
¼ pound Boar's Head or other gluten free Pastrami Turkey, thinly sliced
½ cup coleslaw (optional, but I love cole slaw any time of the day)
Mix together mayonnaise, ketchup and horseradish. Set aside.
Separate English muffins and toast the halves.  When toasted, top each half with a slice of cheese.  Let it melt slightly and set aside.
In large skillet, heat the oil or butter. Crack the eggs into the heated pan and fry just until the whites are set.  Cover the pan and continue cooking for 3 minutes or until yolks are no longer runny.  Remove the skillet from the heat.
Spread 1 to 2 teaspoons of the mayonnaise mixture over half the English muffins.  Top with turkey pastrami, coleslaw, and fried egg. Cover with an English muffin half that does not have mayonnaise on it.  Down it promptly or wrap in waxed paper and eat on the way to school or work.  Don't forget the napkins!
From Beth Hillson
Move over lazy summer days.  Now that school is back in session, our lives are frantic again.  We are pulled between school schedules, sports practice, and our own routines.  The last thing we need to do is stop to fix a nutritious breakfast.  But maybe it's the first thing we need to do, too.
Here are three nutritious grab-and-go breakfast and snack recipes that will help to fill hungry tummies with healthy food and jump-start the day.
(1)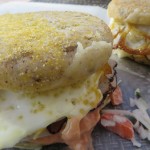 Check out the Balanced Breakfast Sandwiches I whipped up with Glutino English Muffins (one of my favorite prepared foods), fried eggs and breakfast meat.  This quick and delicious meal has lots of possibilities.  Add cheese, turkey, guacamole – you name it.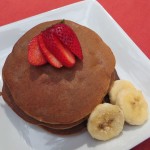 (2) Don't think you need to pull up a seat and load the plate with a stack of pancakes to enjoy my Healthy Banana Pancakes.  A mixture of banana, eggs and a small amount of nutritionally-dense flours, these sugar-free pancakes can be grabbed from the freezer or the fridge and eaten on the go.
(3) Banana Go-Sticks are ready when you need a quick, healthy breakfast and don't have a minute to spare.  Grab one or two from the freezer to eat on the way to work or school.  These filling treats will see you through to lunch.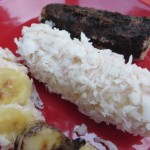 Enjoy and Happy Fall!
By Beth Hillson
This time of year, rising high school juniors and seniors are starting to visit college campuses as they consider where they would like to spend the next four years.  In addition to curriculum, size, and geographical location, students who have celiac disease or are gluten sensitive also have to consider if campus food service can accommodate their diet.  Read on to see if your college prospects make the grade.
I interview Rob Landolphi, Manager of Culinary Development at the University of Connecticut.  Rob instituted a gluten-free dining option in all the campus dining facilities beginning in 2002.  (UCONN was voted the #1for gluten-free-friendly campus on UDI's web site this year.)
Here are some of Rob's tips to consider when you are looking at colleges:
Contact Dining Services or Residential Life directly.  (The name of the office will vary from college to college.)
Ask how they handle gluten-free diets.
Ask to set up a tour of the dining hall and the kitchen.
If their guard goes up or if they seem hesitant, be wary.
If they show you the kitchen and serve you a gluten-free lunch, that should put your mind at ease.
Ask if the college offers gluten-free foods in all the dining facilities. If not, find out how far the gluten-free dining hall is from your dorm and the buildings where you will be taking most of your classes.
Check the hours of operations.
Find out if gluten-free food is prepared in a designated area.
Does the college label all the food so it's not necessary to locate a chef each time you eat in the dining hall?
Does the dining hall have a gluten-free zone?
Can you eat in the same area as your friends or is gluten-free food only served in a separate dining room?
What gluten-free brands are used?  Are they willing to bring in other brands?
What happens if you don't like the option for that day?  Can you order something else?
Can you call ahead and order food?
Is there a web site where you can find out the options for the day?
Does the gluten-free option cost more money or is it included in meal plan?  (It should be included.)
What restaurants near campus have gluten-free choices?  Do they deliver?  (For times when your friends are ordering out and you don't want to be left out.)
Ask to speak with a student who has been taking the gluten-free option.  Chances are at least one or two have offered to serve as a resource.
Reprinted with permission from Complete Guide to Living Well Gluten Free, by Beth Hillson, 2014, page 248.
Serves 8
This light, refreshing salsa is packed with flavor and perfect for summer entertaining.  Serve with sturdy corn tortilla dippers.  This way, you are guaranteed to get a big mouthful of deliciousness in each bite.  The salsa is great with grilled lamb, fish, and chicken, too, so you might want to make a double recipe.
3 cups finely chopped seedless watermelon, (about 3 pounds with the rind)
1 medium jalapeno pepper, seeded and minced
3 to 4 tablespoons finely chopped red onion
2 tablespoons minced fresh cilantro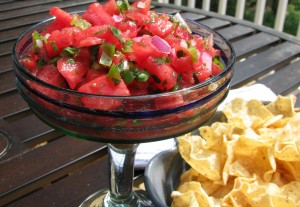 1 ½ tablespoons minced fresh mint
2 tablespoons honey
Juice of one lime
Gluten Free Corn Tortilla Dippers
Directions
In a large bowl, combine the all ingredients except the dippers.  Toss gently to coat.
Refrigerate for at least 1 hour and up to one day. Serve with lots of chips.