Blog Archives
From Beth Hillson
The best thing about quick breads is suggested in the name.  With no yeast to coax into rising and no long waits or kneading, quick breads reach lofty limits via fast-acting baking powder or baking soda or both.  Once liquids and leavening touch, the action begins; quick bread goes right into the oven to maximize the chemical reaction that is beginning. Best yet, quick breads can be enjoyed by those who are gluten free and yeast free and miss their bread.  Owing to the light texture and sumptuous flavor of this bread, no one misses out!
Honey Beer Bread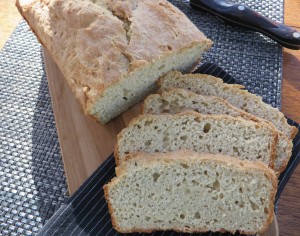 Makes 1 loaf (14 servings)
This recipe produces a light and moist loaf.  You can replace the beer with an equal amount of seltzer water to turn this into a wonderful, yeast-free sandwich bread.
3 cups Beth's Gluten-Free Quick Bread Flour Blend (next)
1 tablespoon baking powder
1 tablespoon white sugar, optional
3 large eggs at room temperature
3 tablespoons olive oil
3 tablespoons honey
1 1/3 cups gluten-free beer or seltzer water at room temperature
2 teaspoons melted butter or dairy-free buttery spread for topping
Preheat oven to 375 degrees F (190 degrees C). Grease a 9x5x3-inch loaf pan.
Mix flour blend, baking powder, and sugar, if used, together in a bowl.
Beat eggs, olive oil, and honey together in a separate large bowl; add flour mixture and beat with an electric mixer until you get a smooth batter. Stir beer into the batter and beat batter until smooth.  Transfer to prepared loaf pan. Brush the top of the loaf with melted butter.
Bake in preheated oven until cake tester comes out clean, about 45 to 50 minutes.
Cool in pan on a wire rack for 10 minutes.  Turn bread out onto wire rack to cool completely before slicing.
Beth's Gluten-Free Quick Bread Flour Blend
Several flours are interchangeable in a flour blend.  You'll see them noted here.  I prefer using cornstarch as it produces a lighter quick bread loaf. However, potato starch produces a chewier texture in the beer bread.  Take your pick according to preference and food sensitivities.
Combine these ingredients.  Blend well, then scoop out the amount needed for your recipe.
1 cup sorghum flour (or corn or brown rice flour)
¾ cup rice flour (or buckwheat flour)
¾ cup cornstarch (or potato starch or tapioca starch flour)
½ cup amaranth flour (or quinoa, buckwheat, or millet flour)
2 ½ teaspoons xanthan gum
1 ¼  teaspoons salt