Blog Archives
Recipe by Beth Hillson
Makes 14 to 16 cookies
These yummy, not-too-sweet cookies are healthy and satisfying – great for breakfast on the go, brunch or snacking.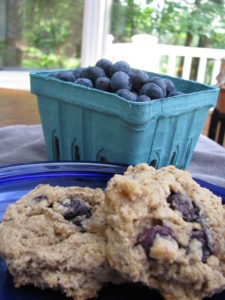 Double the recipe, wrap well, and store in the freezer.
1 1/2 cups all-purpose gluten-free blend
1/2 cup whole grain gluten-free flour (like amaranth, buckwheat, or sorghum)
1 teaspoon xanthan gum
1/4 teaspoon salt
1⁄3 cup packed light brown sugar, more for sprinkling on top
1 tablespoon baking powder
½ teaspoon baking soda
1 teaspoon ground cinnamon
5 tablespoon cold unsalted butter or buttery non-dairy spread, cut into small pieces
2 large eggs
½ cup yogurt, soy or coconut yogurt plus 2 tablespoons for brushing tops of cookies
2 teaspoons vanilla extract
¾ cup fresh blueberries, rinsed and drained
½ cup coarsely chopped walnuts or crispy gluten-free cereal
Preheat the oven to 350°F. Line two cookie sheets with parchment paper.
Combine the flour blend, whole grain flour, xanthan gum, salt, brown sugar, baking powder, baking soda, and cinnamon in a large bowl. Mix until the brown sugar is blended into the ingredients. Cut in the butter until the mixture resembles coarse meal.
In a separate bowl using a mixer, beat the eggs, yogurt and vanilla for 1 minute.  Add to the dry ingredients and beat until smooth. Fold in the blueberries and nuts.
Using a medium scoop, scoop the dough onto the prepared cookie sheets, leaving about 1 inch between each. Use a sheet of plastic wrap to gently press and smooth the cookies into ½ -inch-thick disks. Brush with additional yogurt, sprinkle with brown sugar, and bake for 19 to 20 minutes. Serve warm.
The cookies may be reheated. These freeze well.