Blog Archives
Recipe from Beth Hillson
Makes 12 pancakes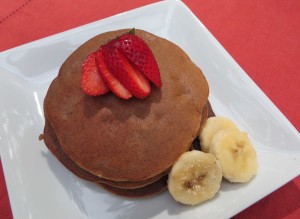 Most pancakes are, by definition, heavy in carbs and sugar.  Add maple syrup and you increase that load of unfriendly calories.  No wonder you're sleepy by 10 a.m.  Not these pancakes, however. They are light and filling and don't use a speck of sugar.  Using bananas as a substitute for fat makes them diet-friendly, too, and the small about of flour comes from nutritionally-dense flours like buckwheat, oat and flax meal.
Best yet, these can be made ahead and stored in the fridge or freezer for a healthy on-the-go breakfast.  If you are home, enjoy them with additional sliced bananas or strawberries and just a smidge of maple syrup, if you must!
The most challenging part of this recipe is keeping two bananas on the counter long enough to turn very ripe. (Someone always swipes them off my counter!) Make sure to select flours that are labeled "gluten free."
4 large eggs
2 very ripe bananas, preferably organic
½ teaspoon vanilla extract
5 tablespoons buckwheat flour
2 tablespoons oat flour
1 tablespoon golden flax meal
1 teaspoon baking soda
¼ teaspoon of salt
Olive or coconut oil, optional
In a medium size bowl, thoroughly whisk 4 eggs until frothy.
In a second bowl, mash the bananas and add to the eggs.  With a fork, beat until any lumps are nearly gone.  Add the vanilla and set aside.
Mix together buckwheat flour, oat flour, flax meal, baking soda and salt.  Whisk into the egg and banana mixture.
Lightly oil a no-stick griddle or add a small amount of olive or coconut oil to a frying pan.  Heat to medium or 350 degrees F.
Spoon the pancake batter onto the pan and fry until golden brown on both sides.
Top with additional sliced banana or other fruit.
On the go tip:  Roll each pancake in chopped fruit.