Blog Archives
A recipe by Beth Hillson
Serves 6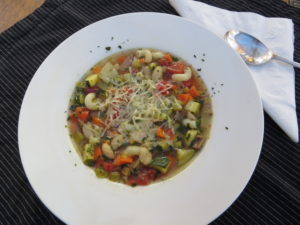 Comfort food meets gluten free with this thick and hearty potage.  Perfect for a winter feast and for feeding a crowd of hungry visitors, this soup is chockfull of vegetables, gluten-free pasta and white cannellini beans.  Serve with gluten-free rolls or biscuits.  Cook the pasta separately and add to the soup just before serving to prevent it from soaking up all the liquids.  Top with parmesan cheese. For more comfort foods, see my article in Gluten Free & More, Feb/Mar 2017.
3 tablespoons extra-virgin olive oil
3 slices turkey bacon, chopped
2 cups finely chopped leeks (about 1 large leek)
2 teaspoons crushed garlic
2 stalks celery, thinly sliced
2 large carrots, peeled and chopped
1 large potato, peeled and diced
1 large diced, unpeeled zucchini (about 1 cup)
1 tablespoon freeze dried or fresh chopped basil
1 teaspoon dried oregano
Salt and freshly ground pepper, to taste
1, 28 -ounce can tomatoes, drained and chopped
6 cups gluten-free chicken broth, more as needed to thin out the soup
1 cup frozen green peas
1, 15 -ounce can cannellini beans, rinsed and drained
1 cup cooked gluten free elbow pasta
1/3 cup finely grated parmesan cheese, divided
2 tablespoons chopped fresh basil, for garnish 
Heat the olive oil in a large pot over medium-high heat. Add the turkey bacon and cook until pieces begin to brown, about 2 minutes.  Add leeks and cook until leeks are translucent, about 4 minutes. Add the garlic and cook 30 seconds. Add the celery, carrot, and potato, and cook until they begin to soften, about 5 minutes. Stir in the zucchini, basil, oregano, salt, and pepper to taste; cook1 minute. 
Add the tomatoes and the chicken broth to the pot and bring to a boil. Reduce the heat to medium low and simmer, covered, 10 minutes. Stir in the peas and beans and cook until the vegetables are fork tender, about 10 minutes.  Divide pasta into 6 bowls and ladle soup over the pasta.  Top with parmesan and chopped basil. Serve.