Blog Archives
Recipe from Beth Hillson
Serves 16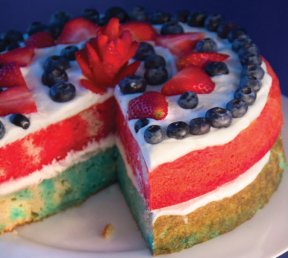 Here's a great way to celebrate the Fourth of July.  Layers are colored red and blue with the help of Jell-O. Fresh strawberries and blueberries are a no-fuss decoration and whipped cream makes the cake look luscious. The cake can be stored, well wrapped, for 3 days in the refrigerator. Do not freeze.
Make this easy, decorative dessert for any celebration by varying the Jell-O flavors and colors to match the holiday.  This works with natural gelatin products, too.  If you can't find the color you want, use unflavored gelatin and color with natural food dye. Add a few drops of a flavor extract of your choice, if desired.
1 recipe (2 layers) baked Perfect Layer Cake (below)
2 cups boiling water, divided
1 (3-ounce) package Jell-O raspberry or strawberry gelatin
1 (3-ounce) package Jell-O berry blue gelatin
1 (8-ounce) container very cold heavy cream, coconut cream or prepared whipped topping, divided
1 cup confectioners' sugar
½ teaspoon pure vanilla extract
1 cup fresh blueberries
1 cup sliced fresh strawberries
Prepare Perfect Layer Cake.  Cool the 2 baked layers in their pans. Pierce each cake with a fork at ½-inch intervals.
Using 2 medium bowls, add 1 cup boiling water to each Jell-O flavor. Stir well to dissolve. Pour raspberry-flavored Jell-O over 1 cake layer and berry blue over other cake layer. Refrigerate several hours until firm.
Make whipped cream by beating heavy cream on medium speed, then high speed until thick. Add confectioners' sugar and vanilla and beat until mixture is very thick. Refrigerate until ready to use. (If using prepared dairy-free whipped topping, skip this step.)
To unmold cake layers, place each pan in a sink with hot water touching just the bottom of the pan for 15 to 30 seconds. Unmold one layer by inverting it onto a cake plate. Spread 1 cup whipped cream on top. Unmold other layer and place on top of whipped cream.
Frost top of cake with more whipped cream. If desired, use extra whipped cream to frost sides of the cake. Decorate with berries. Refrigerate about 1 hour before serving.
Perfect Gluten-Free Layer Cake
Makes 2, 9-inch layers

This makes a great layer cake that can be decorated any way you wish.  For other cakes, you'll want to dust the layer cake pans with white rice flour. For the Fourth of July Cake, do not dust the pans.
2½ cups Cake & Pastry Flour Blend (follows)
4 teaspoons baking powder
1¼ teaspoons xanthan gum
½ teaspoon baking soda
½ teaspoon salt
¾ cup (1½ sticks) unsalted butter, room temperature
1 ½ cups sugar
4 large eggs
2 teaspoons pure vanilla extract
¾ cup milk of choice
Preheat oven to 350°F. Lightly grease two 9-inch round cake pans that are 2 inches deep.  Do not dust with flour if making Fourth of July Cake.
Combine flour blend, baking powder, xanthan gum, baking soda and salt in a large bowl. Whisk until well blended. Set aside.
In a large mixing bowl, beat together butter and sugar until smooth and fluffy. Add eggs and vanilla and beat on medium speed 2 minutes or until batter is smooth. Mix in dry ingredients. Add milk and beat until smooth.
Divide batter evenly between prepared pans and smooth tops. Place in preheated oven and bake 23 to 25 minutes or until tops are golden brown and a toothpick inserted in the center comes out clean.
Remove from oven and let cool in the pans. Follow directions above to make Fourth of July Cake or let cool 10 minutes in pans and turn layers out onto a wire rack to cool completely before frosting.
Baker's Tip:  Use this recipe to make 24 cupcakes.  To make cupcakes, spoon batter evenly into cups, filling about 2/3 full, and bake in preheated oven 15 to 18 minutes or until tops are golden brown and a toothpick inserted in the center comes out clean.  Cool 10 minutes in pans before turning onto a wire rack to cool completely.  Frost when cool.
Cake & Pastry Flour Blend
MAKES 2½ CUPS
1 cup white rice flour
¾ cup sorghum flour
¾ cup cornstarch, tapioca starch/flour or potato starch (not potato flour)
Whisk ingredients together. Store in a tightly covered container in the refrigerator. Bring to room temperature before using.