Blog Archives
A Recipe from Beth Hillson
Makes 36 to 40 cookies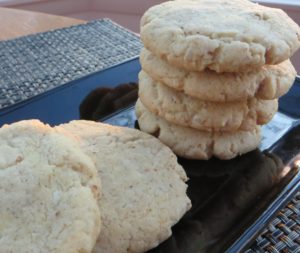 These Pecan Sandies were inspired by Keebler cookies or, perhaps, it's the other way around.  One thing is for sure, these cookies will inspire you.  They are a hit with everyone who tries them.  Easy to make, they freeze well and can be mailed without breaking.   I used RYZE Blue flour blend but you could use another all-purpose gluten-free flour blend, too.  I like RYZE because it does not contain gums and I think their Blue blend works well for cookies.  If you use another flour blend, add 1 teaspoon xanthan or guar gum and 2 tablespoons additional corn or potato starch.
1 ¾ cups RYZE Blue flour blend
½ teaspoon cream of tarter
½ teaspoon baking soda
½ cup organic non-hydrogenated shortening (like Spectrum)
½ cup granulated sugar
½ cup confectioners' sugar
2 large eggs, lightly beaten
¼ teaspoon salt
1 teaspoon vanilla extract
½ cup finely chopped pecans 
Line 2 cookie sheets with parchment paper.  Set aside. 
Combine flour, cream of tartar, and baking soda.  Mix well.   
In a large mixing bowl, beat the shortening and the sugars until fluffy.  Add the eggs, salt and vanilla and beat to combine.  Add the flour mixture, about 1/3 at a time, beating after each addition.  Fold in the pecans.
Chill the dough for 30 minutes.  Preheat the oven to 350 degrees. 
Roll the dough into walnut-size pieces (about 1-inch balls) and set on cookie sheets.  Flatten each until it is about ¼ inch thick.  Bake 12 to 14 minutes or until the edges are slightly golden.  Cool and enjoy. 
These are even better the second day and can be wrapped and stored in the freezer for up to 6 weeks.