Blog Archives
By Beth Hillson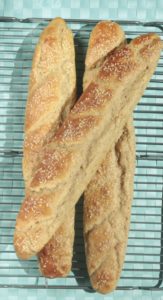 I've worked with RYZE flour blends (yellow and blue) for several months now.  Here are some of my findings.  The blends produce superior results in many applications, cookies, biscuits, pie crust, scones, cakes, and muffins among them. These recipes show off the best of RYZE.
For other baked goods, specifically yeast breads, pizza and some cakes, the final results seem undercooked (gummy) on the inside although the outside is fully baked.  Some other bakers have reported the same findings.  For these items, I find that adding ½ to ¾ cup of an additional flour like sorghum, millet or corn flour brings out the best of RYZE's characteristics.
Here's why.  RYZE is made up of a blend of rice flours.  Just like rice itself, (think, short grain, sushi, or long grain rice) some of these rice flours absorb more liquid than others.  That's the beauty of RYZE.  The added moisture produces baked goods that remain moist for several days even when I've left them on the counter.   That's amazing in itself since gluten free products dry out so quickly.
That isn't necessarily the best when it comes to yeast bread recipes, I've found.  The moisture retention produces a gummy inside texture.  The fix is pretty simple.  I added sorghum flour to "tame" those hydroscopic properties.  In these baguettes, I also added almond flour and potato flakes.  The result was terrific.  The baguette recipe is one that you will want to make over and over.
RYZE is still revolutionary, even for these recipes.  Think about it.  You get the best of gluten free flour –  products with great texture and moisture – and without any gums.  I don't know about you, but until now, I have always used a lot of gum in breads and pizza, so this is pretty liberating.
Want to try RYZE blends for yourself? 
I'm doing a giveaway to ten lucky people.  Just "Like' Gluten-free Makeovers on facebook or send me an email at beth@glutenfreemakeovers.com and you'll be entered to win.  I'll tell you more soon.
Culinary Curiosity
Meanwhile, I hope you'll make these baguettes.  Let me know what you think.   If you've tried RYZE flour blends, share your findings on my facebook page, too.  You can purchase RYZE flour blends at Amazon or wait for the drawing.  Perhaps you'll be one of our lucky winners.
Honey Sesame Baguettes
Makes 3 baguettes
This might just become your new favorite go-to bread.  These chewy baguettes are full of flavor and texture thanks to a blend of RYZE Yellow flour and a few additional ingredients.  The RYZE flour adds moisture, too, so the crumb is delicate and delicious.  Cooled baguettes freeze well.
2 tablespoons ground flax seed
3 tablespoons hot water
2 cups RYZE Yellow Flour Blend
1 cup sorghum flour
¼ cup almond flour
¼ cup potato flakes
½ teaspoon baking powder
1 teaspoon kosher salt
3 teaspoons active dry yeast
1/3 cup safflower oil or other neutral oil
3 tablespoons honey
2 large eggs
1 ½ cups warm milk or water (about 100° F)
Beaten egg to brush on baguettes
Sesame seeds, optional
Line a 3-channel baguette pan with strips of parchment paper.  Each should be a little wider than the channel.   Spray the parchment sheets with PAM spray and set aside.
In a small bowl, combine the flax and hot water and set aside until mixture thickens.
In the bowl of a stand mixer fitted with the paddle attachment (or a large bowl, if blending by hand), place Ryze flour, sorghum flour, almond flour, potato flakes, baking powder, and salt.  Mix on low speed until well combined. Add the yeast and mix again until well combined.
Combine oil, honey, eggs, and flax mixture and mix.  Add egg mixture and milk to dry ingredients.
Turn the mixer up to medium speed and beat for 4 minutes. The dough should be thick and smooth.
Scoop an equal amount of the dough into each of the 3 baguette forms.  Smooth the dough with the sides of the parchment paper.
Cover the pan with plastic wrap and place in a warm, moist, draft-free spot to rise for 30 to 40 minutes.
While the baguettes are rising, preheat oven to 375°F.  When nearly doubled in size, brush the top of each baguette with the beaten egg and sprinkle the top with sesame seeds, if using.
Bake for 25 to 30 minutes in the preheated oven until lightly browned.  Cover baguettes with aluminum foil or parchment paper after about 20 minutes if the tops are browning too quickly.
Remove to a cooling rack and cool completely before slicing.  Or pull apart pieces of warm bread, dip in olive oil and enjoy.