Blog Archives
Recipe From Beth Hillson
Makes 9 to 12 Patties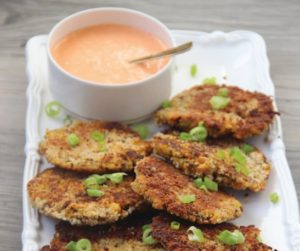 Here's a delicious way to enjoy leftover quinoa. Chickpeas and sweet potato boost the nutritional profile and add flavor and texture. Enjoy these for lunch, dinner or a wholesome snack. You can also serve these on gluten-free rolls or hamburger buns and garnish with lettuce and tomato slices.
Patties will keep 3 to 5 days in the refrigerator. Red Pepper Mayonnaise can be made ahead and stored in a tightly sealed container in the refrigerator for up to a week.
1 cup cooked black and white quinoa
1 cup sweet potato puree or pumpkin puree
1 cup chickpeas, rinsed, drained and mashed
2 teaspoons crushed garlic
2 teaspoons crushed ginger
¼ cup quinoa flour
4 scallions, green part removed, white part chopped
2 large eggs
Salt and pepper, to taste
1-1½ cups gluten-free panko crumbs
1 tablespoon olive oil, more as needed
Red Pepper Mayonnaise (Below)
To make the patties, place quinoa, sweet potato puree, mashed chickpeas, garlic, ginger, quinoa flour, chopped scallions, eggs, salt and pepper in a bowl. Mix together until well combined.
Spread panko crumbs over a medium plate.
Scoop out a heaping 1/4 cup of quinoa mixture and pat into a patty about 3 to 4 inches in diameter. Dredge in panko crumbs on both sides. Repeat with remaining quinoa mixture.
Place olive oil in a heavy skillet and heat over medium heat. Sauté patties in olive oil, about 2 minutes a side. Remove from pan and let cool. (Patties can be refrigerated at this point and baked later.)
Preheat oven to 350°F. Line a baking sheet with parchment paper or aluminum foil.
Set patties on prepared baking sheet in a single layer. Place in preheated oven and bake 10 minutes. Serve warm with Red Pepper Mayonnaise.
Red Pepper Mayonnaise
Makes 1¼ cups
¾ cup packed jarred roasted red peppers, without liquid
½ cup lite mayonnaise
1 tablespoon honey
½ teaspoon cayenne pepper, optional
Place roasted red peppers, mayonnaise, honey and cayenne pepper (if using) in the bowl of a food processor fitted with the blade. Blend until smooth.