Blog Archives
Recipe from Beth Hillson
 Kale has been the darling of the super food movement for several years.  High in nutrients and fiber, filling and versatile, kale is one of my favorites, too.  This year, we planted kale in the garden.  The plants produce delicate leaves that are not woody like some of the more mature kale you buy in supermarkets.  However, you'll want to make this year round so buy the mature stalks in the produce section and trim the woody stems from the leaves before preparing.  It's best if you can buy organic kale.  The convention version is one of the Dirty Dozen, meaning it is a sponge for pesticides. 
This recipe is part of my Healthy Plate Project, a wellness program to make life healthier one meal at a time. 
Check out my crop of homegrown kale.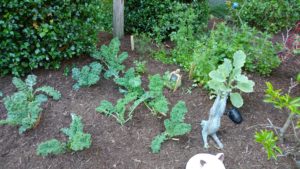 The Salad
Serves 6
3 red or golden beets, peeled and cubed
3 tablespoons olive oil, divided
Sea salt, as needed
2 bunches curly kale (about 10 cups)
3 peaches, cut in slices or frozen peach slices, thawed
2 large plum tomatoes, cut into slices from top to bottom
6 – 8 ounces feta or goat cheese
1/3 cup pistachios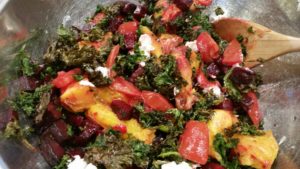 The Dressing
2 tablespoons olive oil
2 tablespoons balsamic vinegar
1 teaspoon honey
Sea salt
Preheat oven to 400 degrees.  Line two pans with aluminum foil or parchment paper.  On one baking sheet, toss the beets with 1 tablespoon olive oil and salt and roast for 20- 25 minutes.  Remove and cool.
Lower oven temperature to 350 degrees.  On the other baking sheet, toss the peaches and tomatoes with 1 tablespoon oil and salt.  Bake 20 minutes.  Remove and cool. 
Cut and stem the kale.  Toss the pieces with olive oil and salt and spread over cookie sheet.  Bake until crisp, about 15 minutes. 
Make the dressing:  Whisk together all of the ingredients. 
Gently mix together the roasted beets, kale, peaches and tomatoes.  Toss with feta cheese and the dressing.  Top with nuts and serve.