Blog Archives
Recipe by Beth Hillson
Serves 6
Gluten-Free whole-grain sorghum is a newcomer to our great grain choices.  A powerhouse of nutrients, vitamins and fiber, sorghum is rich in B vitamins and minerals, it promotes digestion, lowers blood sugar levels and reduces cholesterol. Whole-grain sorghum takes an hour to cook. Pearled sorghum contains fewer nutrients and less fiber but cooks in less time (about 40 minutes). Either way, prepare sorghum a day ahead and refrigerated until ready to use. Add delicious veggies like corn, tomatoes and kale and you've got a full meal.   
This recipe is part of my Healthy Plate Project, a wellness program to make life healthier one meal at a time.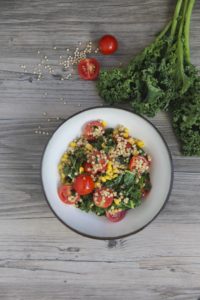 3 cups water
1 cup uncooked sorghum or pearled sorghum
½ teaspoon salt
6 teaspoons olive oil
1 tablespoon fresh tarragon
2 tablespoons white balsamic vinegar
2 teaspoons sugar, optional
2 teaspoons Dijon mustard
2 teaspoons crushed garlic
½ teaspoon kosher salt
¼ teaspoon black pepper
2-3 cups lightly sautéed chopped kale or baby kale
2 cups halved cherry tomatoes
1 ½ cups fresh corn kernels* 
Combine water, sorghum, and ½ teaspoon salt in a medium saucepan. Bring to a boil; cover, reduce heat to low, and simmer 1 hour or until. tender. Drain; cool.
Combine olive oil, tarragon, vinegar, mustard, garlic, salt, and pepper in a large bowl.  Whisk well . Add cooked sorghum, kale, tomatoes, and corn kernels; toss.

*Grill corn on the cob.  Cool and scrape the kernels off the cob.