Monthly Archives:
December 2011
No one has ever mistaken me for a shrinking violet.  I'm not subdued and I've never been one to turn my back on a challenge.  You get the picture.
So when a friend who was recently diagnosed with celiac disease asked me if I had done a spritz cookie makeover, I said, "yes."  Truthfully, I hadn't made spritz cookies in years.  I wasn't even sure I could find my cookie press, the one I inherited from my grandmother a while back.  What was I thinking?
But my friend, who I will call Debbie, is still in the pity phase of the gluten-free diet, a place I rarely go.  I don't recall feeling badly even when I was diagnosed with celiac disease more than thirty years ago.  Frankly, I didn't know another soul with this disease back then.  So who would have listened, if I did complain?
But Debbie was diagnosed this year.  "I miss pizza.  I can't find a beer I like.  "And I wish I could bake up a batch of the spritz cookies my family makes for the holidays," she said.
After thirty-something years of living and baking gluten-free, I have a hard time accepting her glass-nearly-empty outlook.   "Look what you can have," I countered.  This is when the stubborn in me goes from simmer to full boil.  There is no need to miss out.  Today, we have so many choices.  And after writing my cookbook, Gluten-Free Makeovers, I am convinced that everything can be made over.
So, when Debbie asked if I had a gluten-free spritz cookie recipe, I didn't tell her I had no idea what I had done with the recipe or if I ever had one.  Nor did I mention that my cookie press had disappeared.  I was out to prove a point – – we can eat everything, just gluten free.  So what if I had no idea what I was doing?  I'd figure it out.  After all, isn't that part of a no-shrinking-violet philosophy? I went to the basement where I store all the gadgets I rarely use.  I rummaged in storage closets where they are well wrapped and piled in a heap.  Under the back-up coffee maker, the spice grinder, the antique food mill, I found the gold metallic cylinder of a cookie press.  I dug deeper and found the levered top.  Two piles over, were the discs and finally, in with an old food processor, was the ring that holds the discs in place.  I was ready to try my hand at making press cookies.
I did not realize there was more of a challenge ahead.  On the surface, spritz cookies look pretty simple – – flour, butter, eggs and sugar. I could replace the flour and create my own cookie press cookies, I reasoned.  And, at first, that's exactly what I did.  Little did I realize that these delicate cookies hold their shapes because of the wheat and gluten.  Every shape I pushed through the metal cylinder produced the same non-descript blob of dough.  I was ready to throw in the kitchen towel, give up the whisk, put my grandma's cookie press in the tag sale box.
A one-for-one conversion was not doing the trick.  How was I going to create a dough that would hold its shape when pressed through the cookie press but still tasted delicate with a pleasant crumb?  Little by little I increased the flour, adjusted the xanthan gum.  And soon I had reached the exact balance, the ratio of butter to flour that produced the right amount of texture but preserved the delicate crumb.  So dust off your cookie press and enjoy!
Spritz Cookies
Makes 60 cookies
These rich, buttery treats are fun to make and decorate.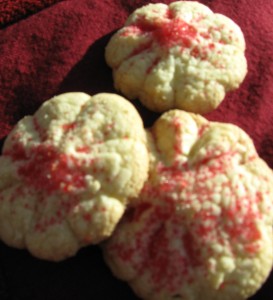 1 cup white rice flour + 2 tablespoons
¾ cup sorghum flour
½ cup cornstarch
1/3 cup tapioca starch
1 ½ teaspoons xanthan gum
½ teaspoon salt
1 cup (2 sticks) unsalted butter, softened
1 ¾ cups confectioners' sugar
2 egg yolks
½ teaspoon almond extract
1 teaspoon vanilla extract
Preheat the oven to 400 degrees F.  Line 3 to 4 cookie sheets with parchment paper and set aside.  In a medium bowl, combine rice flour, sorghum flour, cornstarch, tapioca starch, xanthan gum, and salt.  Whisk to combine.  Sift and set aside.
In a medium bowl, cream the butter until light yellow.  Add the sugar and beat about 3 minutes or until fluffy.  Add the egg yolks and extracts and beat to combine.  Add the
flour ingredients, a little at a time, beating briefly after each addition.  Chill 30 minutes.  Scoop into a cookie press and press out cookies, one at a time.  If they do not release from the tube, loosen with a dull kitchen knife.  Set 1 ½ inches apart.
Decorate with sprinkles or colored sugar and chill on trays for at least 10 and up to 30 minutes so that cookies hold their shape.  Bake 8 to 10 minutes.  Cool completely before storing.
TIP:  Add food color to the dough and beat or divide dough and color each portion with a different color.
For best luck, use cookie press forms with the widest openings and avoid those with small holes in the designs.