Blog Archives
Recipe from Beth Hillson
This healthy, flavorful gluten free meal will be a hit with your family as it's been with mine.  The recipe is made with cooked millet, a nutrient-dense gluten-free grain that is high in fiber and protein.  It adds a nutty, wholesome taste to this recipe, but you can pick another gluten-free grain if you wish. Quinoa, sorghum or brown rice will work.  Store leftover cooked grain in the freezer.
Serves 4 to 6  
6 bell peppers, any color
2 tablespoons olive oil
1 onion, finely diced
2 cloves garlic, chopped
¾ pound lean ground turkey
Salt and freshly ground black pepper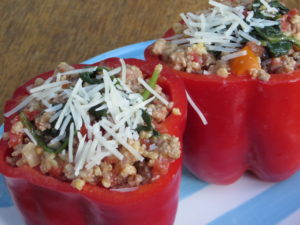 ¼ teaspoon red pepper flakes
1, 15-ounce can petit diced tomatoes, drained
4 ounces baby spinach
4 large crimini mushrooms, coarsely chopped (about ½ cup)
1 cup cooked millet, whole grain sorghum or brown rice
¼ cup grated Parmesan cheese plus 2 tablespoons for topping
Vegetable broth 
Preheat the oven to 400 degrees F. 
Cut the tops off the peppers. Remove and discard the stems, chop the tops; set aside. Scoop out the seeds and as much of the membrane as you can. Cut a thin slice from the bottom of the peppers so they stay upright in the pan.  Place the peppers cut-side up in a baking dish just large enough to hold them.Heat 1 tablespoon of the olive oil in a large skillet over medium-high heat. Add onion and garlic and sauté until onion is translucent.  Add the turkey and cook, breaking up the lumps, until the meat is cooked through and just beginning to brown, 8 to 10 minutes.
Drain any liquid that accumulates as the turkey cooks.  Season with salt and pepper and red pepper flakes.  Transfer to a medium bowl.
Wipe out the skillet and add the remaining tablespoon of olive oil.  Add the spinach and mushrooms and cook until spinach begins to wilt.  Combine with turkey mixture.  Fold in millet and ¼ cup Parmesan cheese.   
Add additional salt and pepper as needed. 
Fill the peppers with the turkey and millet mixture and top each with a sprinkle of the remaining cheese. Pour a small amount of vegetable stock into the bottom of the baking dish. Cover the dish with foil and bake for 30 minutes. Uncover and bake until the peppers are soft about another 15 minutes.
I recently asked people what they missed most after they became gluten-free.  The number one answer was Chicken and Dumplings followed by Roasted Turkey with Gravy and Stuffing, Chicken Pot Pie, and Lasagna – – comfort foods we all equate with nourishing goodness.
Comfort food and I go back a long way.  Before I was diagnosed with celiac disease, when my tummy didn't feel right, I would walk to the nearest Brigham's in downtown Boston and order a hot turkey sandwich.  The plate would be heaped with slices of turkey that had already left their indentation on two slices of Wonder Bread and their intention imprinted on my heart.  The sandwich was swimming in turkey gravy, a mound of sage and celery dressing was casually deposited to the side and a little white pleated paper cup of cranberry sauce was propped against the meat.  It was the only color on the otherwise anemic plate that matched my pasty complexion in those days.   As I took the first bite, a fork full of equal parts turkey, bread and stuffing,  I could feel wellness heading my way.  This was my comfort food.  But, ironically,  I was dosing myself with the same medicine that was making me sick.  Who knew?!
As I got sicker, my craving for comfort food increased.  If it wasn't a hot turkey sandwich,  I ordered chicken and dumplings, or chicken pot pie.  They engaged my soul and I felt good.  My body, however, was another story.  Hours later, I would feel that familiar tightening in my tummy, that slow burn and indigestion.  By then the memories of my comfort food were far away.  I would not correlate the meal I had eaten four hours ago with the queasiness I was experiencing now.  For many years, I would not realize that the food I loved did not love me back.
When people on a gluten-free diet picked the same foods I craved before diagnosis, it made me wonder if they had similar memories. Perhaps they, too,  remembered the days when they sought out these dishes in hopes of feeling better, in hopes of finding comfort.   Perhaps "comfort food" has a double meaning for all of us who are gluten intolerant – – an unrequited love of old and a new, gluten-free love fulfilled.
Hands down, the ultimate comfort food seems to be Chicken and Dumplings, the recipe I am asked to makeover more than any other.  It sends me back to those days when I tried to find comfort at Brigham's lunch counter, when I knew something was missing and tried to replace it with a nourishment that was ultimately my undoing.
And it sent me to my recipe files for a makeover because it seems that making this dish into a delicious gluten-free recipe is a challenge.  Readers say the dumplings are too hard, or they break apart in the liquid;  they are too dense, too dry.  I had the same experience at first.  I dug out the dish from my past, the one my mother made in our Yankee kitchen (although this recipe has its roots in Southern traditional),  and I tried to create something equal to the taste and texture of the meal I remembered.  After several tries, I got it just right!
Here's How I Made it Over 
The first time I made this with a high protein flour blend.  The results were tasty but too dense.  The dumplings didn't rise and fill the pot as I expected.  Then I opted for a white flour blend and added baking powder and butter.  This time, they were just right.  The dumplings had doubled in size; they filled the pan! The texture was light and they had the mouthfeel I remembered from my gluten-filled years.
The first time, I poached a whole chicken in broth and vegetables, the way my mother had done.  But no one has time to wait that long for a delicious meal.   Next time, I poached boneless chicken breasts.  They take 5 to 10 minutes.  You could also purchase a cooked rotisserie chicken, as long as it's gluten-free, and remove the meat from the bone.   As a final tip, you'll want to scoop the dumpling dough onto simmering (not boiling) liquid and cover the pot tightly.  Don't peek while the dumplings cook. These aren't as tasty as leftovers, so you'll have to eat them all in one sitting which should not be difficult.
This is a food that will nourish your soul AND your tummy.
Chicken and Dumplings  Serves 4
Chicken and Vegetables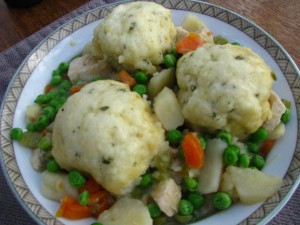 1 quart gluten-free chicken stock, more as needed
1/4 cup dry sherry or vermouth (optional)
1 clove garlic, crushed
1 pound boneless, skinless chicken breast
Salt and freshly ground pepper
1 medium onion, roughly chopped
2 celery stalks, trimmed and chopped
3 medium carrots, peeled and chopped
3 medium parsnips, peeled and chopped
2 medium potatoes peeled and cubed
1 teaspoon dried thyme
3/4 cup frozen peas, thawed
1/4 cup minced fresh parsley leaves
Ground black or white pepper
Dumplings
(Makes about 12 dumplings)
2 cups all-purpose gluten-free flour blend*
3 teaspoons baking powder
3/4 teaspoon salt
2 to 3 tablespoons minced fresh chives or other fresh herbs
2 tablespoons butter, melted
3/4 cup + 2 tablespoons milk of choice
1 large egg, beaten
Heat the chicken stock to a gentle simmer in a medium saucepan.  Add sherry, if used, and garlic.  Add chicken breasts and salt and pepper to taste.  Poach covered for 5 minutes.  Using a slotted spoon, remove the breasts and cool.   Skim foam off the surface of the liquid.
Return the pot of chicken broth to medium-high heat.  Add the onion, celery, carrot, parsnips, potatoes, and thyme.  Cover and simmer vegetables until just fork tender (about 10 minutes), while making the dumplings.
Make the dumpling batter by sifting together flour, baking powder, and salt in a medium bowl. Add chopped chives or other fresh herbs. Add melted butter, milk and egg to the dry ingredients. Gently mix with a wooden spoon or fork until mixture is moist and comes together.  Do not overmix or dumplings will be too dense.
Cube the chicken and return to the pot.  Add additional broth if mixture is too thick or liquid has cooked down too much. Return to a simmer.
Drop dumpling batter into the simmering stew by heaping tablespoonfuls, over the surface of the stew. (Note that the dumplings will double in size as they cook.)  Cover and simmer until dumplings are cooked through, about 15 minutes.   Do not uncover and peek while the dumplings are cooking.  In order for the dumplings to be light and fluffy, they must steam, not boil. Uncovering the pan releases the steam. If after 15 minutes they are still not cooked through (use a toothpick or skewer to test) cover pan again, and cook for another 5 minutes.
Gently stir in peas and parsley. Ladle portions of meat, sauce, vegetables, and dumplings into soup plates and serve. Note that the stew will continue to thicken as it sits.
* If all-purpose flour blend contains salt, do not add additional salt.  If blend does not contain xanthan or guar gum, add 1 teaspoon gum to the dry ingredients.
Here's the blend I like to use:
Basic Blend
2 ¾ cups rice flour
1 ¼ cups corn or potato starch
1/3 cup tapioca flour
Of all the take-your-breath-away vistas, the hikes into remote areas, the climbs over glacier crusted mountains,  one adventure missed my radar entirely until we visited the Canadian Rockies last summer.   In my wildest dreams,  I never imagined a full-grown grizzly bear would be joining us for breakfast!
It was a crystal clear, late summer day and I was enjoying a world free of commercial interruption.  Perhaps it was the berries, the yogurt, or the hour (nearly 8 a.m.).  But, more likely, it was the location – – sleepy Baker Creek (near Lake Louise and Banff)  – – where we stayed in a rustic cabin no more than fifteen feet from the water's edge.  I stood over my husband's shoulder pouring coffee when she caught my eye, sauntering by, not ten feet from the sliding glass door.
"Honey, you might want to look up from your computer for a moment," I said to my husband who had not fully unplugged, yet.  Indeed, a magnificent brownish-gray beast with that unmistakable hump behind its head was wandering by.  Griz held our attention for what seemed like an hour as she slowly meandered past the cabin and down to the chilly brook.  "This might be a good time to get the camera," said my husband.   But, alas,  I couldn't move, could not take my eyes off the gorgeous creature who might have truly joined us for breakfast had I opened the glass door.
So, you'll have to take my word that a grizzly bear came to breakfast one August morning.  But you need not take my word that a visit to the Canadian Rockies affords an extraordinary mix of travel and exploration.   Besides the vistas, the glaciers, the majestic falls, save an appetite for dinner.  Restaurants in the Canadian Rockies are no strangers to the gluten-free diet.  Every eatery seems to speak gluten-free and many offer separate menus, gluten-free pizza, breads, and rolls.
And we ate well – -from the four-star Post Hotel in Lake Louise to the rustic Bakers Creek Lodge at Bakers Creek, to pizza parlors and Cassio's Italian restaurant (with several gluten-free pasta dishes).  It's just across from the railroad station in Jasper, Alberta.
High on my list was Evil Dave's Grill in Jasper.  There's no Dave at this funky, self-styled
café.  What you will find is great service, sublime atmosphere, and wicked food.  Owners Mike and Cyndi Day are known for offering a whimsical menu and casual décor that makes diners feel nourished the moment they enter.  From the gluten-free menu, check out Chinese Lettuce Wraps, Malicious Salmon (blackened salmon with a skewer of grilled shrimp) Fiendish Falafel, and convicted Felon (Asian style salmon over rice noodles).
My favorite was El Diablo Chicken, a signature dish that's bursting with flavor and a bit of spice.  (The heat can be adjusted by cutting back on the chipotle seasoning.)  Chef Nicole shared the recipe which I adapted here.  I'm plannng to serve this at a gathering for the Super Bowl, but its great presentation makes this a perfect company meal, too.
It's not too early to plan a summer vacation to the Canadian Rockies where the season is short and hotels book quickly.  And, about that grizzly – – well, you'll have to find your own.  Our bear was last seen swimming across the creek.
El Diablo Chicken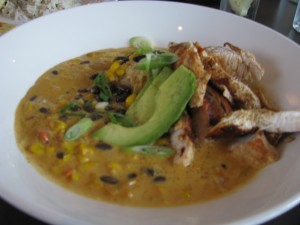 Serves 4 to 6
Adapted from a Recipe by Chef Nicole Langille at Evil Dave's Grill, Jasper, Alberta, Canada
4 to 5 large boneless, skinless chicken breast filets (about 1 to 1 ½ pounds)
Marinade ingredients:
¼ cup olive oil
1tablespoon good quality chili powder
1 tablespoon minced garlic
Juice of one large lime
Combine marinade ingredients and add chicken breasts. Stir to coat and let stand, refrigerated, for at least 3 hours.
The Sauce:
1 tablespoon olive oil
½ of a large yellow onion, diced
Two vine-ripened tomatoes, diced or 1 (15 ounce) can of diced drained tomatoes
½ to 1 teaspoon chipotle powder (adjust for heat)
2 cups gluten-free chicken broth
¼ to ½ cup heavy cream
½ cup corn kernels, thawed, if frozen
½ cup canned black beans, rinsed and drained
1 ½ cups cooked Jasmine rice
Garnish:
1 to 2 ripe avocados, thinly sliced
2 scallions, top third removed, coarsely chopped
To make the sauce:  Heat the olive oil in a medium saucepan. Sauté the onion and tomatoes for 2 to 3 minutes or until onion is translucent.  Add chipotle powder and sauté briefly.  Add the chicken broth and simmer until reduced by half.  While the mixture is simmering, preheat a grill to medium high and grill the chicken on both sides until centers are no longer pink.  Remove from heat.  Let cool slightly and slice each filet diagonally to yield 5 to 6 slices per filet.  Add the cream to the reduced chicken broth mixture and simmer 2 to 3 minutes.  Remove from heat.  Fold in corn and black beans.
Divide rice between 4 to 6 plates (or plate on one serving platter).   Spoon a portion of the tomato mixture over the rice.  Fan out chicken slices over the top and garnish with avocado slices and a sprinkle of chopped scallion.  Or arrange on a platter and serve family-style.
Visit evildavegrill.com