Blog Archives
Pear Coffee Cake
As a baker, I am reluctant to let go of certain sacrosacnt ingredients.  Eggs is one of those precious commodities.  Then a colleague who is gluten and egg-free asked me if I could convert a coffee cake recipe so she could enjoy, too.  I recalled that, back in the days when I owned the Gluten-Free Pantry, I had made many recipes where I replaced eggs with silken tofu,  flax gel (1 tablespoon flax meal with 3 tablespoons of hot water) or even with applesauce.  I dug out my favorite coffee cake recipe, already gluten-free, and went to work. The results were delicious.
This stunning coffee cake uses soy (or coconut) yogurt and pear puree.  The yogurt adds back some of the protein from the eggs and the pear puree, like applesauce, contains pectin which tenderizes the cake.  I added a little bit more baking powder to help it rise, usually another job done by the eggs.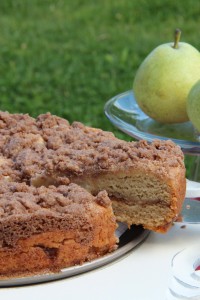 This is comfort food at its best and begs for a cup of coffee or tea.  I also like to make this with apples and applesauce.
1 cup sugar
1 ½  cups All-purpose Gluten-Free Flour Blend
½ cup sorghum flour
2 teaspoons xanthan gum*
½ teaspoon salt*
2 teaspoons baking powder
1 teaspoon baking soda
1½ cups soy or coconut yogurt (flavored yogurt works well)
6 tablespoons vegetable oil
4 tablespoons pureed baby pear puree or unsweetened applesauce
½ cup peeled and chopped ripe Bartlett, Bosc or red pears, or diced canned pears
Crumble Topping (below)
Preheat the oven to 325°F and lightly oil a 9-inch springform pan.
Combine the sugar, flour blend, sorghum flour, xanthan gum, salt, baking powder, and baking soda in a large bowl. Set aside.
Combine the yogurt, vegetable oil, and pear puree in a mixing bowl and beat until smooth. Add the dry ingredients and beat until smooth.  Fold in chopped fruit.
Spoon half the batter over the bottom of the prepared pan and smooth to the edges of the pan.  Cover with half of the crumb mixture. Spoon the remaining batter over the crumb topping and smooth to the edges. Sprinkle the remaining topping over the top.
Bake 50 to 55 minutes, until cake tester comes out clean and center springs back when gently touched.
Cool 10 minutes in the pan. Remove the rim of the pan and cool completely on a wire rack. Serve.
*If your all-purpose blend contains salt and gum, omit the salt and reduce the gum to ½ teaspoon.
Crumble Topping
½ cup rice flour
½ cup packed brown sugar
2 teaspoons ground cinnamon
¼ teaspoon ground allspice
1/8 teaspoon ground cloves
¼ teaspoon salt
4 tablespoons unsalted butter or non-dairy buttery spread, at room temperature
Combine the flour, brown sugar, cinnamon, allspice, cloves, and salt in a large bowl. Mix well. Add the butter and use fingertips or a fork to mix just until crumbly.
This can be made ahead and stored in the refrigerator for up to 2 weeks.
In late September we bicycled through the cranberry bogs in Cape Cod.  The weather was gloriously sunny – -spectacular in fact.  I could not get enough of the sparkling late summer air – – the sun on my face, a faint, salty breeze tussling my hair, an apple-picking crispness brushing cobwebs from my brain.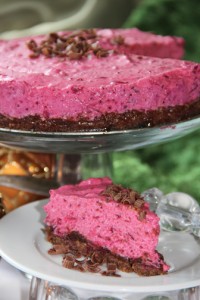 What could be better than a lazy Saturday afternoon on a relatively flat bike trail?  But, as I peddled, I realized something was missing.  The cranberry bogs beside the trail were dry and empty.  Don't cranberries grow in water? And where are the plants, anyway?  I expected to see seas of red as we bicycled.
"What happened to all the cranberries?" I asked the store owner when we returned the bikes.
"Harvested," he said.   (Cape Codders are not known for using more words than needed.)  "Headed for market, " he added.
"Oh," I said, trying to emulate his frugality.
Sure enough.  Two weeks later, fresh cranberries began appearing in the produce aisle of my favorite grocery stores.  Now, I realize that fresh cranberries are frozen and sold all year long.  But I had never quite appreciated the relationship between the harvest and the availability of fresh produce.  Who thinks about these things when they are pushing a grocery cart through a crowded supermarket?
In celebration, I bought three bags of fresh cranberries.  It seemed fitting to honor the cranberry harvest with something sweet, and slightly sour.  I came up with a Chocolate Cranberry Mousse Tart that I served for a recent gathering.  I've made it twice since and the balance of tart and sweet, like the late summer sun, always amazes me.
You may find more superlatives to describe this easy dessert.  But, in keeping with the Cape Cod tradition, I'll just say, "Wow."
The graham cracker crumb crust with a layer of chocolate can be used for many mousse-like pies.  I keep a supply of Kinnikinnick graham-style crumbs on hand to make this dessert.  And now I will keep a supply of fresh and frozen cranberries at the ready, too.
Chocolate Cranberry Mousse Tart
This is as festive as it is delicious.  Decorate with whipped topping and chocolate shavings and garnish with cranberries.
One chocolate graham crumb crust (below) in a 9-inch tart or springform pan.
12-ounce bag fresh or frozen cranberries, rinsed and drained
¾  cup sugar, divided
6 tablespoons orange juice
2 ½ teaspoons dried orange peel
1/3 teaspoon ground ginger
3 tablespoons Triple Sec or other orange liqueur or additional orange juice
1 tablespoon unflavored gelatin softened in 1 1/2  tablespoon orange juice
1 ½ cup whipping cream or non-dairy whipped topping
In a medium saucepan, combine cranberries, 6 tablespoons sugar, orange juice,
orange peel, and ground ginger.  Bring to a boil, stirring frequently.  Lower heat
to medium low and cook, stirring frequently until cranberries break down, about
15 minutes.  Remove from heat.  Add Triple Sec and stir.  Let cool slightly.  Press mixture through a mesh sieve, scraping  puree into a bowl.  Do this until all the liquid has been pressed out of the fruit.  Discard pulp.  Warm the gelatin in a microwave for 10
seconds or until it liquefies.  Pour into the cranberry mixture in a steady stream, stirring while adding.  Scrape into a bowl and chill about 20 minutes.
Beat the cream and remaining 6 tablespoons sugar until stiff.  Fold into cranberry mixture and spoon into prepared crust.  Chill at least 3 hours.  Cut and serve with additional
whipped cream if desired.  Garnish with chocolate shavings.
Chocolate Graham Cracker Crust
This easy and tasty crust can be made several days ahead and stored in refrigerator
until ready to use.
1 cup gluten-free graham cracker style crumbs (such as Kinnikinnick brand)
3 teaspoons unsweetened cocoa
¼ cup sugar
3 tablespoons melted butter or non-dairy spread
½ cup semi-sweet chocolate chips, for dairy-free chips visit enjoylifefoods.com
2 tablespoons light cream or coconut milk
Preheat oven to 325 degrees.  Lightly oil the bottom of a 9-inch springform pan.
Combine cookie crumbs, cocoa and sugar.  Add the melted butter and stir until crumbs are moistened.  Press into the bottom of the prepared pan.  Bake in the center of a preheated oven, 12 minutes.  Remove and cool.
In a microwave safe bowl, combine chocolate chips and cream or coconut milk.  Heat on medium for 1 minutes or until chips are softened.  Blend together until smooth.  Spread mixture over cooled crust.  Chill until set.  Fill with cranberry mousse filling above.