Monthly Archives:
January 2013
I am grateful for good, gluten-free pizza and this one tops my list.  It's chewy, thanks to the addition of millet flour, and flavorful, thanks to the use of high protein flours.  You can use any blend that contains one or more of these flours.   (Chickpea, teff, and sorghum are all good.)  Of course, you have to make this yourself, but it's not difficult and these pizzas (par-baked or fully baked) can be frozen.
Using a pizza stone enhances the texture and fills the crust with a slightly smoky flavor.  It's yumminess to the 10th power.   But, if you don't have a stone, don't fret.  Use a heavy baking sheet or pizza pan and set it on the lowest rack in the oven.
The recipe is versatile, too.  Use the dough to make pizza, pizza pockets, and focaccia.  No need to let the dough rise.  It will puff up nicely in the oven.  However, if you like a thicker crust, let it rise for 10 minutes before adding toppings and bake an addition 3 to 4 minutes.   I've suggested some of my favorite toppings.  However, feel free to use whatever suits your fancy.
The Dough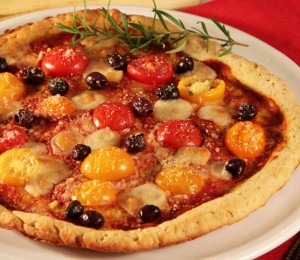 Makes 2, 12-inch pizzas
2 ½ cups high protein blend of choice or my recipe, below
½ cup millet flour
1 tablespoon xanthan gum
1 teaspoon salt
2 teaspoons chopped dry or 1 tablespoon chopped fresh rosemary
5 teaspoons instant active dry yeast
1 1/3 cups warm water
2 tablespoons olive oil
1 tablespoon honey
1 teaspoon cider vinegar
Place the pizza stone on the lowest rack of the oven and preheat the oven to 450 degrees.  (Do this 30 to 60 minutes ahead so the stone is very hot.)  If you are not using a stone, it is not necessary to preheat the oven for an extended amount of time.
In the bowl of a heavy duty mixer fitted with the paddle attachment, combine the
high protein blend, millet flour, xanthan gum, salt, and rosemary.  Blend well.  Add the yeast and blend.  Combine water, oil, honey, and vinegar.  Beat at medium high speed for 3 to 5 minutes or until the dough thickens.  Follow preparation instructions below.
Gourmet Toppings For One Pizza
Makes 1, 12-inch pizza
1 to 2 teaspoons good quality olive oil
2 tablespoons good quality pizza sauce (such as Muir Glen)
4 medium tomatoes (red, yellow and orange) thickly sliced
A handful of small, pitted cured black olives such as Nicoise
¼ cup cubed Manchego or other cheese (optional)
Freshly grated Parmesan cheese
Fresh rosemary for garnish
Preparation
Scoop half the dough onto a lightly oiled sheet of parchment paper.  Cover with a sheet of lightly oiled plastic wrap.  Use finger tips and palm to lightly press the dough into a 12-inch circle.  Use finger tips to create a rim of dough around the edge that will become a pretty crust.  Drizzle olive oil of the surface and top with a light coating of pizza sauce.  Scatter tomato slices, olives and cheese over the sauce.  Sprinkle with freshly grated Parmesan.
Slide onto pizza paddle and transfer to the preheated stone, sliding the parchment off the paddle and onto the stone or slide parchment onto a baking sheet and set in the lowest rack of the preheated oven.  Bake 20 to 24 minutes depending on the thickness.  The bottom of the pizza will be brown.  Slide the pizza paddle under the parchment and slide the pizza out of the oven.  Don't worry if the paper tears a little.  Sprinkle with fresh rosemary and serve.
Note:  Double ingredients and repeat with remaining dough or prepare the crust and par-bake for 12 minutes (without toppings).  Store the crust in the freezer for a later use.  Thaw before adding toppings.
High Protein Blend  (from Gluten-Free Makeovers)
Blend well and scoop out 2 ½ cups for the pizza recipe above.  Reserve the rest for later use.
1¼ cups white or brown rice flour
1¼ cups sweet white sorghum flour
½ cup amaranth flour
¾ cup cornstarch or tapioca starch
As with so many great recipes, this one passed through several channels, but rather than the old-fashioned grandmother to mother to daughter or son kind of hand-me-down, this one went through an internet-compressed timeline.  One day, I read an account from Mark Bittman in the New York Times Magazine about his friend Jean-Georges Vongerichten's squash on toast.  It was not a recipe, per se, but an account, like someone passing along the gist of a recipe, the flavor, the texture, but never the amounts.
The mention of winter squash and caramelized onions caught my attention.  What great flavors and there was nothing unhealthy or fattening, at least in the description.  So I created a recipe from what I thought Jean-Georges might have told Mark and that Mark was recounting to his readers.  I made the recipe for a Thanksgiving appetizer and served it with gluten-free French bread. Needless to say, it was a huge hit.  Even my son wanted the recipe.
So, I figured I would copy the account from the New York Times online and fill in the details with my notes.  But what came up was the original recipe from Jean-Georges Vongerichten.  In some places, it was quite different than what I had created.  It called for cheese, chili flakes, and mint.  By then, I was hooked on my version.  Here it is, a perfect dip or spread or appetizer that I'll be serving at all our winter gatherings, especially for the Super Bowl.
Butternut Squash Spread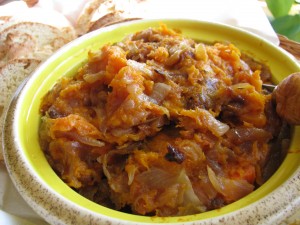 1 medium butternut squash, peeled and cubed
4 tablespoons extra-virgin olive oil, divided
2 teaspoons kosher salt, divided
2 large yellow onions, peeled and thinly sliced
1/4 cup apple cider vinegar
2 tablespoons maple syrup
Gluten-free baguette, thinly sliced and lightly toasted
Extra salt, to taste
Heat the oven to 400.  Toss the squash cubes with 2 tablespoons olive oil and 1 teaspoon of salt and spread the mixture over a parchment-lined baking sheet.  Bake, stirring every few minutes, until tender and slightly colored, about 20 to 25 minutes.  Edges should be  golden brown and squash should be very tender.  Remove from the oven.
Meanwhile, heat remaining 2 tablespoons olive oil over medium-high heat, add the onions and remaining teaspoon salt and cook, stirring frequently, until the onions are well softened and darkening, at least 15 minutes. Add the vinegar and syrup, stir and reduce until broken down, an additional 15 minutes or so. The mixture should be jammy.
Combine squash and onions in a bowl and smash with a fork until combined. Adjust seasoning.  Serve with gluten-free toast or crackers.
Note:  The original recipe says to spread this mixture on toasted bread, top with ricotta, goat cheese or mascarpone cheese, coarse salt and mint.  I did not do this, but now that I'm passing this on, you can try your own version of this wonderful recipe!