Monthly Archives:
July 2012
I envy Northern California for its long growing season, its verdant farms and endless vineyards. But from June to September, Connecticut is in full bloom and I am content to stay close to home, near the local orchards and farms that rival anything I've seen in any other part of the US. Our best chefs know that cooking with fresh, local foods can turn ordinary recipes into three-star meals.  I'm reminded of that secret when Connecticut's harvest smiles.  I load up on fresh corn, heirloom tomatoes, zucchini, blueberries, raspberries, strawberries, and herbs.  I can never have enough!
And just about now, the orchards are bearing fruit – – pears, apples, and peaches.  Ah.  Peaches.  Perhaps my favorite of all the local produce.  Nothing else comes close to that juicy, tree-ripened crop.   Their faint fruit perfume floats over the back roads as I drive by the local orchards.  I buy them by the bushelful.  By the time I get home, I've devoured a sizable number and my car seat and steering wheel bear the sticky evidence.  It's a race to reach my saturation point before the trees return to their dormant state.  So I eat just as many as I possibly can.  But I reserve enough to bake a few special treats.
This peach cake is one. Fresh peach slices, fanned out over the buttery cake, turn this into an elegant dessert that bursts with intense flavor. The cake makes the perfect company dessert that fools most into thinking it's not gluten-free.  Perhaps that's because I started with a great, gluten-filled recipe.  This is a makeover from one I saw in Bon Appetit several years ago.  It can also be packed and taken to a picnic or a pot luck meal. Don't tell, but I make this with frozen peaches when the fresh varieties are not available. They beat the hard, unripened fruit that I find in stores throughout the rest of the year. I've also used fresh plums. The purple skin makes for an equally beautiful presentation.
PEACH CAKE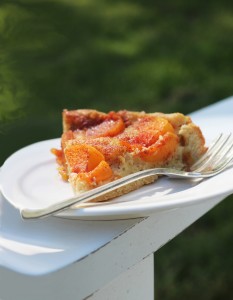 3/4 cup all-purpose gluten-free flour blend *
½ cup sorghum Flour
1½ teaspoons baking powder
½  teaspoon xanthan gum
¾ cup plus 3 tablespoons sugar, divided
8 tablespoons (1 stick) unsalted butter or non-dairy buttery spread, at room temperature
1½ teaspoons finely grated orange zest
2 large eggs or egg replacer of choice
1 tablespoon fresh orange juice
4 ripe, but firm peaches halved and each half cut into 4 slices*
¾ teaspoon ground cinnamon for topping
Whipped cream or whipped dairy-free topping
Second Choice:  Cascadian Farms or other brand Organic sliced peaches can be used.  Thaw fruit before using.  Purchase 2, 10-ounce bags and pick the prettiest slices for this cake.  Save the rest for another use.
Preheat the oven to 350°F. Lightly oil a 9-inch spring form pan. Combine the flour blend, sorghum flour, baking powder, and xanthan gum in a bowl; set aside.
Beat ¾ cup of the sugar and butter in a mixing bowl until fluffy.  Add the dry ingredients and orange zest and beat until crumbly. Add the eggs, one at a time, beating after each addition. Add the orange juice and beat just to incorporate. Spread the batter evenly in the prepared pan.
Arrange the peach slices on top of the batter so that they touch and form concentric circles that cover the batter. Press into the batter lightly. Don't worry if the slices are not perfect. The cake will partially cover the fruit as it bakes. Combine the remaining 3 tablespoons sugar and the cinnamon and sprinkle over the batter.
Bake 55 to 60 minutes, until golden and a tester inserted into the center comes out clean. Run a knife along the side of the pan to release and remove the side of the pan. Serve slightly warm or at room temperature with whipped cream or dairy-free topping.
*  If  the blend you use does not contain salt and gum, add ½ teaspoon salt and ½ teaspoon additional xanthan gum to the dry ingredients.
"I used to serve my family Strawberry Cake before I became gluten-free," said Alice.  Any chance you could create one like that?" 
I told her I had seen a bunch of recipes.  Some used Jell-O and others used real strawberries.  What did she have in mind? 
"Not the one with Jell-O.  Mine was like a white cake with pureed fruit in it," she told me.
"I know how to make a gluten-free cake and I'm a sucker for strawberries," I told Alice.  I mean, I've been known to plan vacations to coincide with the local strawberry crop, I explained.  I was eager to give this a try.  But, as it turns out, our local crop of berries has gone by and the fresh strawberries come from across the United States or South America this time of year.  I ended up using frozen, whole, unsweetened strawberries.  They were easier and tastier.  The flavor was more concentrated and more consistent.  So, you'll see that my recipe calls for frozen berries.  Unless your local berries are in season,  I suggest you do the same.  Use fresh berries for garnish and even dip a few in chocolate for an added touch. 
And use a good gluten-free cake flour blend, one that includes sorghum and cornstarch.  Sorghum is light and less grainy than rice flour.  Plus it has nutrients and fiber.  Cornstarch lightens the texture and adds structure to the cake.  If you are able to have corn products, use it in this recipe.  Otherwise, tapioca or potato starch are okay, but a distant second.  If you can't tolerate dairy products, Earth Balance products work well.
Now about color.  That's a matter of preference.  I've seen versions of strawberry cake that are bright red.  That's not from the berries, I'm afraid.  Rather, it's from red food coloring.  If you like that stuff and that color, by all means, add a drop or two to the batter.  I prefer the subtle pink and don't really like food dyes.
So, here's a really, truly completely from-scratch, fresh strawberry cake. No Jell-O, food coloring, or artificial flavors!  Using frozen strawberries makes this easy and means you can celebrate strawberry season anytime of the year.
Strawberry Cake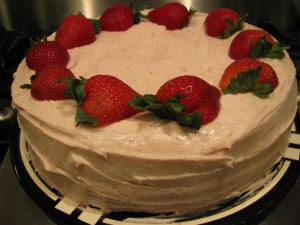 1, 16-ounce bag frozen, unsweetened whole strawberries
1 cup white rice flour, more to dust pans
¾ cup sorghum flour
½ cup cornstarch
4 teaspoons baking powder
1 ¼ teaspoons xanthan gum
½ teaspoon salt
¼ teaspoon baking soda
12 tablespoons unsalted butter (1 1/2 sticks), at room temperature
1 ¾ cup sugar
3 large eggs, room temperature
2 teaspoons vanilla extract
3 tablespoons milk or milk of choice, at room temperature
Preheat oven to 350 degrees F.  Lightly oil 2, 8 or 9 inch round pans.  Dust with rice flour.  Set aside.
Slightly thaw strawberries.  Puree in a food processor.  Transfer to a mesh strainer and set over a bowl large enough to set the strainer over the opening.   Using a rubber spatula, scrape the puree through the strainer, then scrape the underside of the strainer, catching the puree in the bowl.  Repeat until just seeds and pulp remain in the strainer. You should have about 1 ¼ to 1 ½ cups of puree.  Set aside and discard the seeds and pulp.
Combine rice flour, sorghum flour, cornstarch, baking powder, xanthan gum, salt, and baking soda.  Mix well.
In a large mixing bowl, cream the butter and sugar until smooth and fluffy.  Add eggs and vanilla and beat at medium speed for 2 minutes.  Add dry ingredients and beat to combine.  Fold in ¾ cup strawberry puree.  (Reserve remainder for frosting.)  Add milk and beat until smooth.  If you would like a deeper pink color to the batter,  add a drop or two of pink or red food coloring here.
Divide the batter evenly among the pans and smooth tops.
Bake for about 23 to 25 minutes or until a toothpick inserted in the center comes out clean.  Let cakes cool in pan for 10 minutes then turn out onto wire racks. Let cakes cool completely before frosting.
Strawberry Cream Cheese Frosting
1 (8 ounce) package of low-fat cream cheese, softened
½ stick of butter, softened
½ cup pureed strawberries from above
1 teaspoon vanilla extract
3 to 4 cups confectioners' sugar
1 tablespoon milk (if needed)
Beat cream cheese and butter together until smooth.
Slowly add the sugar in 1 cup batches until desired sweetness and consistency is achieved.
Stir in puree and vanilla. Add milk slowly if you need a looser consistency.
Frost cake and garnish with sliced or halved fresh strawberries.  Refrigerate until ready to serve.
You can also make 24 cupcakes from this recipe.