Books
Gluten-Free Makeovers  (Da Capo Press, O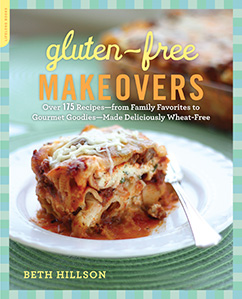 ctober 2011)
This cookbook has nearly 200 favorite recipes to help you bake your way back the to tasty treats you loved before you were gluten free.   Like my blog, it includes tips for converting your own recipes, too.  I share techniques and take you through the back door of food science, unlocking recipe DNA and offering formulas for putting them back together with gluten-free flour blends.
From yeast breads to delicate cookies to mealtime favorites, no one goes away hungry or empty handed when they pick up a copy of Gluten-Free Makeovers.
The results are amazing.  You can share anything you make from my book or my blog with friends and family.  They will never suspect they are eating gluten-free.  As I always say, Gluten-y is its own reward.
Gluten-Free Makeovers (GFMO)  is available in bookstores across the country.  You can also buy it at glutenfreeandmore.com, Amazon.com and barnesandnoble.com.
A Word (or two) from the Publisher
From the founder of Gluten-Free Pantry: nearly 200 favorite recipes—from comfort foods to gourmet classics—made completely gluten-free.
When Beth Hillson was diagnosed with celiac disease more than thirty years ago, she had nowhere to turn for recipes or support. She embarked on a lifelong journey to help provide delicious and healthy food to others who cannot have wheat—as many as 1in 133 Americans, according to recent estimates. In Gluten-Free Makeovers, Hillson makes over some of the most popular recipes—from celeb chef favorites to classic comfort foods, from pot pies to pizza, fig bars to croissants—so wheat-free home cooks can have their cake and eat it too.
With chapters dedicated to the gluten-free kitchen, preparation basics, a resource guide on ingredient sources, and supplemental info on gluten-free living, Gluten-Free
Makeovers offers inspiring meals for both seasoned and novice chefs alike.
Praise for Gluten-Free Makeovers
"This is not your average gluten-free cookbook.  It will keep your kitchen humming and you happy with all the treasures you can now produce."  Gluten-Free Living, Fall, 2011
"I ordered two of your new cookbooks; one for me and one for our daughter;  I think you are an incredible cook and baker and really know the tricks of gf preparations.  The book is full of wonderful recipes that are easy to follow and sound marvelous. You have removed the mystery of baking and cooking gluten free ..this is a cookbook that should be in every celiac's kitchen. "  Lucille G.
"The Croissant are OUTSTANDING!
Yes, they take some time to make and you need to follow the directions
carefully, but the result is DEFINITLEY worth the effort!   They were the
highlight of our Thanksgiving dinner this year.   Even my mother-in-law, who is not
gluten-free, LOVES them! Thanks SO MUCH for this recipe!!"  Rick W.
Just wanted to let you know that I made Jeremy's Fish Tacos tonight (and 5 batches of his chicken nuggets and the General Tso's recipe this weekend!). We have loved all of your recipes so far!  I feel like I can hear your voice when I read your anecdotes and stories!
Thanks so much! Kudos to you.  I'm glad for all you've learned so GF newbie-chefs like me can enjoy delicious "normal" food.   ~Dawn
"We like the beef and beer recipe very much. My husband has been great about my diet restrictions, but all the same its wonderful to find things that appeal to him as well.
I had great success with the chocolate creme coconut cake. It looked beautiful as well…ooh lala! I really appreciate the helpful advice on gluten free baking. My first endeavors often went to the compost, where even the critters wouldn't eat them!  There is a learning curve, and I think I'm beginning to round the bend!  Rita H.
Greetings Beth!
I just received your book and made two of the recipes and all I can say is wow!
THANK YOU!  Your book is incredible and I'm grateful for people like you!  God Bless you!
Best Regards, Pete
Beth,  I am so excited; thank you for responding to me.  I am going to play with the receipe from your cookbook.  I will let you know how I make out.  I have signed up for your newsletter.  I love to bake and since I was diagnosed with Celiac 4 years ago, it has been a challange.  My two children also have celiac.   I can't tell you how much I love your cookbook and have used your flours for my own recipes.
Best Regards, Beth L.
---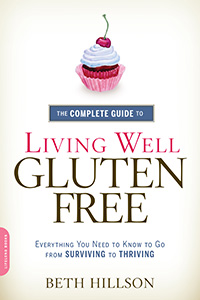 Buy at glutenfreeandmore.com, Amazon.com, barnesandnoble.com and IndieBound.com.
The Complete Guide to Living Well Gluten Free: Everything You Need to Know to go from Surviving to Thriving
Perhaps you've been diagnosed with celiac disease, gluten sensitivity, or a wheat allergy. Or maybe you feel bloated when you eat gluten and want to give the gluten-free diet a try. Whatever the reason, The Complete Guide to Living Well Gluten-Free will help you navigate your new world. President of the American Celiac Disease Alliance Beth Hillson has been living with celiac for more than thirty-five years and raised a child with it. For decades, she has answered questions on the g-f life, tackling everything from diagnosis (Which physicians and specialists are the best choices to get an accurate diagnosis?) to cooking (Is buckwheat a form of wheat?) to lifestyle (What are the most important questions to ask when dining out?). Thisis the everything-you-need-to-know guide to a healthy lifestyle. The book covers a lot of ground, including critical information about celiac disease and the gluten-free diet, shopping and cooking gluten-free, and dealing with family issues, working, socializing, dating and traveling. Beth's trusted recipes for family favorites, which range from lasagna to donut holes, and useful flour blends are deliciously simple. But the real meat lies in Beth's valuable wisdom: naming companies you can trust, ingredients you can use, practices you can follow. All with an attitude that celebrates living well, gluten-free.