Blog Archives
Recipe from Beth Hillson
Serves 16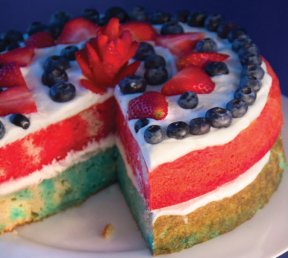 Here's a great way to celebrate the Fourth of July.  Layers are colored red and blue with the help of Jell-O. Fresh strawberries and blueberries are a no-fuss decoration and whipped cream makes the cake look luscious. The cake can be stored, well wrapped, for 3 days in the refrigerator. Do not freeze.
Make this easy, decorative dessert for any celebration by varying the Jell-O flavors and colors to match the holiday.  This works with natural gelatin products, too.  If you can't find the color you want, use unflavored gelatin and color with natural food dye. Add a few drops of a flavor extract of your choice, if desired.
1 recipe (2 layers) baked Perfect Layer Cake (below)
2 cups boiling water, divided
1 (3-ounce) package Jell-O raspberry or strawberry gelatin
1 (3-ounce) package Jell-O berry blue gelatin
1 (8-ounce) container very cold heavy cream, coconut cream or prepared whipped topping, divided
1 cup confectioners' sugar
½ teaspoon pure vanilla extract
1 cup fresh blueberries
1 cup sliced fresh strawberries
Prepare Perfect Layer Cake.  Cool the 2 baked layers in their pans. Pierce each cake with a fork at ½-inch intervals.
Using 2 medium bowls, add 1 cup boiling water to each Jell-O flavor. Stir well to dissolve. Pour raspberry-flavored Jell-O over 1 cake layer and berry blue over other cake layer. Refrigerate several hours until firm.
Make whipped cream by beating heavy cream on medium speed, then high speed until thick. Add confectioners' sugar and vanilla and beat until mixture is very thick. Refrigerate until ready to use. (If using prepared dairy-free whipped topping, skip this step.)
To unmold cake layers, place each pan in a sink with hot water touching just the bottom of the pan for 15 to 30 seconds. Unmold one layer by inverting it onto a cake plate. Spread 1 cup whipped cream on top. Unmold other layer and place on top of whipped cream.
Frost top of cake with more whipped cream. If desired, use extra whipped cream to frost sides of the cake. Decorate with berries. Refrigerate about 1 hour before serving.
Perfect Gluten-Free Layer Cake
Makes 2, 9-inch layers

This makes a great layer cake that can be decorated any way you wish.  For other cakes, you'll want to dust the layer cake pans with white rice flour. For the Fourth of July Cake, do not dust the pans.
2½ cups Cake & Pastry Flour Blend (follows)
4 teaspoons baking powder
1¼ teaspoons xanthan gum
½ teaspoon baking soda
½ teaspoon salt
¾ cup (1½ sticks) unsalted butter, room temperature
1 ½ cups sugar
4 large eggs
2 teaspoons pure vanilla extract
¾ cup milk of choice
Preheat oven to 350°F. Lightly grease two 9-inch round cake pans that are 2 inches deep.  Do not dust with flour if making Fourth of July Cake.
Combine flour blend, baking powder, xanthan gum, baking soda and salt in a large bowl. Whisk until well blended. Set aside.
In a large mixing bowl, beat together butter and sugar until smooth and fluffy. Add eggs and vanilla and beat on medium speed 2 minutes or until batter is smooth. Mix in dry ingredients. Add milk and beat until smooth.
Divide batter evenly between prepared pans and smooth tops. Place in preheated oven and bake 23 to 25 minutes or until tops are golden brown and a toothpick inserted in the center comes out clean.
Remove from oven and let cool in the pans. Follow directions above to make Fourth of July Cake or let cool 10 minutes in pans and turn layers out onto a wire rack to cool completely before frosting.
Baker's Tip:  Use this recipe to make 24 cupcakes.  To make cupcakes, spoon batter evenly into cups, filling about 2/3 full, and bake in preheated oven 15 to 18 minutes or until tops are golden brown and a toothpick inserted in the center comes out clean.  Cool 10 minutes in pans before turning onto a wire rack to cool completely.  Frost when cool.
Cake & Pastry Flour Blend
MAKES 2½ CUPS
1 cup white rice flour
¾ cup sorghum flour
¾ cup cornstarch, tapioca starch/flour or potato starch (not potato flour)
Whisk ingredients together. Store in a tightly covered container in the refrigerator. Bring to room temperature before using.
I am grateful for good, gluten-free pizza and this one tops my list.  It's chewy, thanks to the addition of millet flour, and flavorful, thanks to the use of high protein flours.  You can use any blend that contains one or more of these flours.   (Chickpea, teff, and sorghum are all good.)  Of course, you have to make this yourself, but it's not difficult and these pizzas (par-baked or fully baked) can be frozen.
Using a pizza stone enhances the texture and fills the crust with a slightly smoky flavor.  It's yumminess to the 10th power.   But, if you don't have a stone, don't fret.  Use a heavy baking sheet or pizza pan and set it on the lowest rack in the oven.
The recipe is versatile, too.  Use the dough to make pizza, pizza pockets, and focaccia.  No need to let the dough rise.  It will puff up nicely in the oven.  However, if you like a thicker crust, let it rise for 10 minutes before adding toppings and bake an addition 3 to 4 minutes.   I've suggested some of my favorite toppings.  However, feel free to use whatever suits your fancy.
The Dough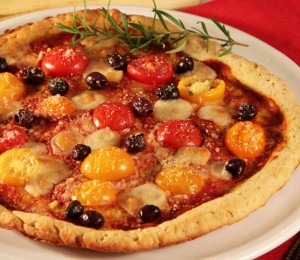 Makes 2, 12-inch pizzas
2 ½ cups high protein blend of choice or my recipe, below
½ cup millet flour
1 tablespoon xanthan gum
1 teaspoon salt
2 teaspoons chopped dry or 1 tablespoon chopped fresh rosemary
5 teaspoons instant active dry yeast
1 1/3 cups warm water
2 tablespoons olive oil
1 tablespoon honey
1 teaspoon cider vinegar
Place the pizza stone on the lowest rack of the oven and preheat the oven to 450 degrees.  (Do this 30 to 60 minutes ahead so the stone is very hot.)  If you are not using a stone, it is not necessary to preheat the oven for an extended amount of time.
In the bowl of a heavy duty mixer fitted with the paddle attachment, combine the
high protein blend, millet flour, xanthan gum, salt, and rosemary.  Blend well.  Add the yeast and blend.  Combine water, oil, honey, and vinegar.  Beat at medium high speed for 3 to 5 minutes or until the dough thickens.  Follow preparation instructions below.
Gourmet Toppings For One Pizza
Makes 1, 12-inch pizza
1 to 2 teaspoons good quality olive oil
2 tablespoons good quality pizza sauce (such as Muir Glen)
4 medium tomatoes (red, yellow and orange) thickly sliced
A handful of small, pitted cured black olives such as Nicoise
¼ cup cubed Manchego or other cheese (optional)
Freshly grated Parmesan cheese
Fresh rosemary for garnish
Preparation
Scoop half the dough onto a lightly oiled sheet of parchment paper.  Cover with a sheet of lightly oiled plastic wrap.  Use finger tips and palm to lightly press the dough into a 12-inch circle.  Use finger tips to create a rim of dough around the edge that will become a pretty crust.  Drizzle olive oil of the surface and top with a light coating of pizza sauce.  Scatter tomato slices, olives and cheese over the sauce.  Sprinkle with freshly grated Parmesan.
Slide onto pizza paddle and transfer to the preheated stone, sliding the parchment off the paddle and onto the stone or slide parchment onto a baking sheet and set in the lowest rack of the preheated oven.  Bake 20 to 24 minutes depending on the thickness.  The bottom of the pizza will be brown.  Slide the pizza paddle under the parchment and slide the pizza out of the oven.  Don't worry if the paper tears a little.  Sprinkle with fresh rosemary and serve.
Note:  Double ingredients and repeat with remaining dough or prepare the crust and par-bake for 12 minutes (without toppings).  Store the crust in the freezer for a later use.  Thaw before adding toppings.
High Protein Blend  (from Gluten-Free Makeovers)
Blend well and scoop out 2 ½ cups for the pizza recipe above.  Reserve the rest for later use.
1¼ cups white or brown rice flour
1¼ cups sweet white sorghum flour
½ cup amaranth flour
¾ cup cornstarch or tapioca starch
Christine from New Zealand wrote to say, "I haven't had a Crumpet for years and wondered if you had a recipe for gluten free crumpets?"
She piqued my interest as I had never had one.  So I did a bit of research.  Crumpets are made with a rather thin yeast batter and are cooked on a bake stone or griddle in crumpet or English muffin rings.  The distinguishing feature of real crumpets is their pliable texture and the characteristic holes into which butter deliciously melts and oozes.
After reading a mainstream formula, I developed this recipe makeover.  These crumpets are soft,  light in texture and quite tasty.  You will not be disappointed.  Add your favorite jam or slather with butter.  I like both.  If you are not able to get one of the all-purpose flour blends I mentioned here, you can use any flour blend you have available.
Crumpets  by Beth Hillson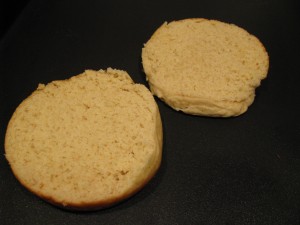 This recipe makes 8 to 10 crumpets.
1 ½ cups all-purpose gluten-free flour blend such as Gluten-Free Pantry All-Purpose Flour or King Arthur Multi-Purpose Flour
½ cup sorghum flour
2 ¼ teaspoons dry active yeast
1 teaspoon of sugar
½ teaspoon cream of tartar
¾ cup warm milk  (about 110 degrees)
½ cup warm water (about 110 degrees)
1 ½ teaspoon baking powder
1 teaspoon baking soda
1 tablespoon melted butter
TIP:  If using a blend that does not contain gum and salt, add 1 teaspoon xanthan gum and ½ teaspoon salt.
1) Combine flours, yeast, sugar, cream of tartar and blend.  Add warm milk and water and beat for 3 minutes.   Cover with plastic wrap and let stand in a warm place for about 20 minutes. The thick batter should double in size.
2) Add baking powder, baking soda and butter and beat for 1 minute or until well mixed.  Cover and let stand 10 minutes.
3) Preheat a griddle to 350 degrees.  Coat 8 to 10, 3 ½ inch English muffin rings well with vegetable spray.   Set on griddle, bake stone or large skillet (see note below).
4) Place enough mixture into the center of each ring to come halfway to the top of the ring.  Cook for 4-6 minutes over medium heat, until bubbles appear over the entire surface, and the dough appears 'dry'.
5) Use tongs to remove the ring.  Turn the crumpet over and cook an additional 2 to 4 minutes to brown the top. Remove from the pan and cool on a baking rack. Split and enjoy.  Or, if thin enough, do not split before eating.
Notes:  Alternatively, make thinner crumpets by filling only one-third of the way up the rings.  These do not need to be cooked on the second side.  If you don't have a griddle, heat a heavy cast iron skillet and line it with as many rings as possible.  You'll need to make these in more than one batch.