Blog Archives
By Beth Hillson
This time of year, rising high school juniors and seniors are starting to visit college campuses as they consider where they would like to spend the next four years.  In addition to curriculum, size, and geographical location, students who have celiac disease or are gluten sensitive also have to consider if campus food service can accommodate their diet.  Read on to see if your college prospects make the grade.
I interview Rob Landolphi, Manager of Culinary Development at the University of Connecticut.  Rob instituted a gluten-free dining option in all the campus dining facilities beginning in 2002.  (UCONN was voted the #1for gluten-free-friendly campus on UDI's web site this year.)
Here are some of Rob's tips to consider when you are looking at colleges:
Contact Dining Services or Residential Life directly.  (The name of the office will vary from college to college.)
Ask how they handle gluten-free diets.
Ask to set up a tour of the dining hall and the kitchen.
If their guard goes up or if they seem hesitant, be wary.
If they show you the kitchen and serve you a gluten-free lunch, that should put your mind at ease.
Ask if the college offers gluten-free foods in all the dining facilities. If not, find out how far the gluten-free dining hall is from your dorm and the buildings where you will be taking most of your classes.
Check the hours of operations.
Find out if gluten-free food is prepared in a designated area.
Does the college label all the food so it's not necessary to locate a chef each time you eat in the dining hall?
Does the dining hall have a gluten-free zone?
Can you eat in the same area as your friends or is gluten-free food only served in a separate dining room?
What gluten-free brands are used?  Are they willing to bring in other brands?
What happens if you don't like the option for that day?  Can you order something else?
Can you call ahead and order food?
Is there a web site where you can find out the options for the day?
Does the gluten-free option cost more money or is it included in meal plan?  (It should be included.)
What restaurants near campus have gluten-free choices?  Do they deliver?  (For times when your friends are ordering out and you don't want to be left out.)
Ask to speak with a student who has been taking the gluten-free option.  Chances are at least one or two have offered to serve as a resource.
Reprinted with permission from Complete Guide to Living Well Gluten Free, by Beth Hillson, 2014, page 248.
For my birthday, I couldn't decide between chocolate and vanilla.  I solved the problem by making a marble cake.  That way I didn't have to choose!  Orange juice and orange zest added a special brightness to this treat.  Instead of a layer cake with lots of frosting and lots of extra calories, I made a Bundt cake and topped it with thin layer of orange glaze.  The results were yummy.
Now, here's the best part.  I made this from chocolate and a vanilla gluten-free cake mixes.  Quick, delicious and such a nice gift!
Orange Marble Birthday Cake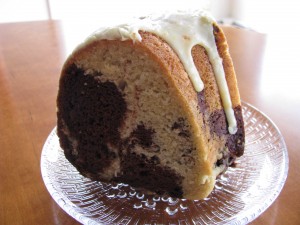 Serves 10 to 12
1 box (15 ounces) Gluten-Free Yellow or White Cake Mix*
1 box (15 ounces) Gluten-Free Chocolate Cake Mix*
2 sticks unsalted butter or dairy-free alternative, softened, divided
4 large eggs, divided
3 teaspoons vanilla extract, divided
2 cups buttermilk, divided (a tad less than 2 cups, really)
Juice and zest of one orange
Preheat oven to 350 degrees.  Lightly oil a 10-cup Bundt cake pan.
Make the Yellow Cake. Cream 1 stick of butter until light and fluffy.  Add yellow cake mix and beat until crumbly.  Add 2 large eggs and beat until smooth.  Beat in 1 ½ teaspoons vanilla and 1 cup buttermilk.  Beat until smooth.  Set aside.
Make the Chocolate Cake. Cream 1 stick of butter until light and fluffy.  Add chocolate cake mix and beat until crumbly.  Add 2 large eggs and beat until smooth.  Pour orange juice into a 1 cup measure.  Add enough buttermilk to measure 1 cup.  Add 1 ½ teaspoons vanilla and 1 cup buttermilk mixture to the cake mix. Fold in zest.  Beat until smooth.   Set aside.
To Assemble.  Start with dollops of yellow cake batter, then chocolate cake batter and keep alternating until both batters are used up. Use a sharp knife, swirl the batter to create a marble effect.  Set on middle rack in preheated oven.  Bake 50-60 minutes or until toothpick comes out clean.  Rest 10 minutes on rack then invert, remove pan, and cool completely.
Orange Glaze
3 tablespoons orange juice
¾ to 1 cup confectioners' sugar
Grated peel of half an orange
Combine juice and sugar and blend until smooth.  Add grated peel and mix to combine.  Drizzle over the top of the cake before serving.
*Hodgson Mill, Betty Crocker, and Gluten-Free Pantry cake mixes are all good choices as they all weigh 15 ounces.  Many other gluten-free cake mixes will work, too.  Just weigh out 15 ounces of each mix before using.