Incredible Ginger Molasses Cookies
Posted by Beth Hillson on December 16th 2017 @ 9:39 pm
Makes 24 large cookies
Looking for an easy, last-minute cookie to round out your holiday baking?  These are just the thing.  Soft and chewy with the right amount of crispness, these cookies will become a staple in your house. Bites of candied ginger add a delightful explosion of flavor and a blend of vibrant spices – cinnamon, allspice and ground ginger- lend festive notes to these simple cookies.  They are even tastier the second day.
If you prefer crispy cookies (aka ginger snaps), bake 10 to 11 minutes. Otherwise, cook a smidge under 10 minutes. Cookies may seem a little underdone when they come out of the oven, but will firm up as they cool.  If you can get your hands on RYZE Blue Flour Blend, it adds remarkable chewiness to these cookies.  However, you can make them with any all-purpose gluten-free flour blend.  (Increase the amount of flour to 2 cups and add 1 teaspoon xanthan gum if it is not in the blend.)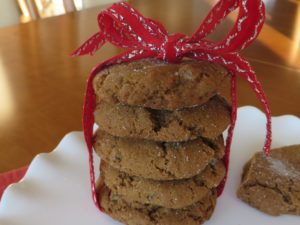 1 ¾ cups Ryze Blue Flour Blend or 2 cups gluten-free flour blend with 1 teaspoon xanthan gum
2 teaspoons baking soda
2 to 3 teaspoons ground ginger (depending on your taste buds)
1 teaspoon ground cinnamon
½ teaspoon ground allspice
¼ teaspoon salt
¾ cup organic shortening
1 cup packed light brown sugar
1 large egg
¼ cup light (Original flavor) molasses
1 teaspoon cider vinegar
½ cup finely chopped candied ginger
Line 2 baking sheets with parchment paper. Preheat oven to 375 degrees.
In a medium bowl, whisk together flour blend, baking soda, ginger, cinnamon, allspice, and salt. Set aside.
In a medium bowl, beat the shortening and the sugar until mixture is fluffy, about 2 minutes.
Add the egg, molasses, and vinegar and beat well.
Add the flour mixture and beat until smooth. Fold in the chopped candied ginger.
Scoop out generous tablespoon-size portions of dough. Roll in a ball and set on baking sheets, at least 1 inch apart. Flatten each ball into a disk about ¼ inch in thickness.
Sprinkle with granulated sugar. Bake 8 to 10 minutes or until the tops of the cookies are set and slightly brown on the edges. Do not overbake. Remove from the oven and let rest on the pans for 5 minutes before turning onto a wire rack to cool completely.
Cooled cookies may be frozen.
Makes 24 large cookies
Post filed under Recipes and tagged Cookies, easy quick gluten-free dessert, gluten free baking, gluten free holiday cookies, gluten free quick recipes, Gluten-Free. Desserts, holidays, recipes.