Monthly Archives:
August 2014
I love to bake, but I can't remember when I've had this much fun in the kitchen.  And it's all because I was on a quest to do a Twinkie makeover. I created this yummy gluten-free version so we could all celebrate the return of the crème-filled snack cakes.
But it's a gluten-filled lifetime ago since I ate a Twinkie. So I scanned the internet for inspiration – – the size, the texture, the filling.  It looked like there were two ways to go – – either a sponge cake or a cake mix. I opted for the sponge cake version, remembering that gluten-free cakes can be delicate and crumbly.  I needed these babies to hold up when I injected them with a creamy frosting center.
Now I needed a clue on forming the cakes.  Knowing gluten-free batter spreads unless corralled, I suspected I would need a special pan.  Aha.  The answer was a Cream Canoe Pan.  Mine came with a cupcake injector/decorating kit.
The checklist of tools complete, I looked into the crème filling. To my surprise, the traditional one was flour based and, although I could substitute gluten-free flour, it did not sound all that appetizing.  I created a yummy filling using Marshmallow Crème another icon of my childhood and, in this case, a good fit.
Finally, I turned to the ingredients.  In place of regular flour, I used a gluten free All Purpose Flour Mix, in this case, the one from Gluten-Free Pantry (Glutino) and my go-to flour blend when I don't want to start from scratch.
The sponge cakes turned out to be a brilliant choice.  They were amazingly sturdy yet delicate and up to the task of holding the filling without falling apart. Voila, Winkees. As you can see, these look (and taste) like the real deal.  Several gluten-eating tasters couldn't tell they were gluten free.
While Winkees don't have a 45-day shelf-life, the cakes keep on the counter for several days. The frosting keeps for several weeks.  If you don't have a canoe pan, you could make these as cupcakes and fill them with the fluffy filling.  But, do yourself a favor and buy the pan. In fact, buy two.  Winkees are addictive.
Makes 20 Snack Cakes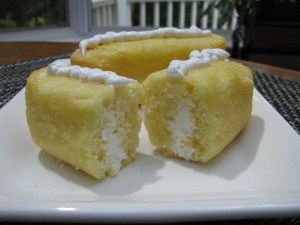 The Cakes
7 large eggs
½ teaspoon cream of tartar
2 cups Gluten-Free All-Purpose Flour Mix or blend below
1 ½ cups granulated sugar
1 tablespoon baking powder
½ cup vegetable oil
¾ cup cold water
1 ½ teaspoon vanilla
The Filling
2 teaspoons hot water
1/4 teaspoon salt
1 (16-ounce) jar of marshmallow crème
¾ cup vegetable shortening
1 1/3 cup powdered sugar
1 ½ teaspoon vanilla
To make the cakes:  Preheat the oven to 350°F. Spray the canoe pan channels lightly with vegetable spray. Set aside.
Separate the eggs, placing the whites in one large mixing bowl and the yolks in another.  Add cream of tartar to the whites and beat until they form stiff peaks.  Set aside.
Place the flour mixture, sugar, baking powder, oil, water and vanilla in the bowl with the yolks and beat until smooth.
Working in thirds, fold the beaten egg whites into the batter. Don't be tempted to stir or beat this mixture or the egg whites will lose their loft.
Fill each section of the snack cake pan 3/4 full.  An over-filled 1/3 cup measure works well for filling these pans. Bake for 18-20 minutes, or until golden brown.
Remove the pan from the oven and let cool for 5 minutes. Using a flexible spatula, gentle turn cakes onto a wire rack to cool flat side (top side) down.   Cool completely.
Wipe out the pan and spray with more vegetable spray.  Add more batter.  Repeat until you've used all the batter.
Let these cool while you make the filling.
To make the filling: Combine the salt with the hot water in a small bowl and stir until salt is dissolved. Let mixture cool. In a large bowl, combine the marshmallow crème, vegetable shortening, powdered sugar, and vanilla and beat until fluffy. Add the water and beat to combine.
Line two cookie sheets with waxed paper.  Set the cakes, flat side down, on the cookie sheets.  Use a thick skewer to make three holes in the bottom of each cake, moving the stick around inside of each cake to create space for the filling.  Don't poke through to the top however. Fill a cake decorator or pastry bag with filling and inject each cake with filling through all three holes. Don't worry if you overfill these and the sides begin to break.  They won't fall apart.  Add a row of squiggles on top for decoration.
All-Purpose Blend
This makes more than you'll need for the recipe above.  Store the remainder in a zip-loc bag.
2 ¾ cups rice flour
1 ¼ cups corn or potato starch
1/3 cup tapioca flour
3 teaspoons xanthan gum
1 teaspoon salt