Monthly Archives:
October 2015
Recipe by Beth Hillson
Serves 4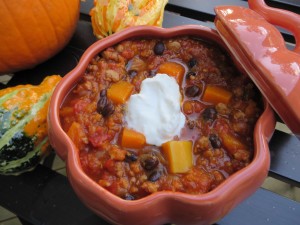 This is an easy chili that everyone will love.  Don't tell them it's healthy, too.  You can double or triple this to feed a crowd and up the spices if your guests like the heat. Try replacing pumpkin with butternut squash, too.  However, do not add brown sugar as the squash is much sweeter than pumpkin. Top with sour cream or cheddar cheese.
2 tablespoons olive oil, divided
1 pound ground dark meat turkey
2 teaspoons fajita or taco seasoning
2 teaspoons chili powder
¼ to ½ teaspoon chipotle powder
1 large onion, chopped
2 cloves garlic, crushed
1 (28-ounce) can diced tomatoes, with juice
3 cups cubed fresh pumpkin or butternut squash
2 tablespoons brown sugar (omit if using butternut squash)
1 tablespoon cider vinegar
1 (15 ounce) can black beans, rinsed and drained
Cooked brown rice
Sour cream or grated cheddar cheese
Heat 1 tablespoon olive oil in a large saucepan over medium heat; brown turkey, stirring often, until crumbly and no longer, pink, about 10 minutes. Drain and discard any fat.  Add the spices and use a slotted spoon to transfer to a plate.
Heat remaining olive oil in the pan and add onion and garlic.  Sauté over low heat until the onion is translucent.  Add back the turkey.  Stir to combine.  Add tomatoes, pumpkin, sugar and vinegar to the pan.  Cook, covered, on low heat until pumpkin is tender and has started to break apart, about 30 to 40 minutes.  Add the beans and cook an additional 15 minutes.  Check seasonings and add salt and pepper if desired.
Serve with rice and sour cream.