Blog Archives
"I used to serve my family Strawberry Cake before I became gluten-free," said Alice.  Any chance you could create one like that?" 
I told her I had seen a bunch of recipes.  Some used Jell-O and others used real strawberries.  What did she have in mind? 
"Not the one with Jell-O.  Mine was like a white cake with pureed fruit in it," she told me.
"I know how to make a gluten-free cake and I'm a sucker for strawberries," I told Alice.  I mean, I've been known to plan vacations to coincide with the local strawberry crop, I explained.  I was eager to give this a try.  But, as it turns out, our local crop of berries has gone by and the fresh strawberries come from across the United States or South America this time of year.  I ended up using frozen, whole, unsweetened strawberries.  They were easier and tastier.  The flavor was more concentrated and more consistent.  So, you'll see that my recipe calls for frozen berries.  Unless your local berries are in season,  I suggest you do the same.  Use fresh berries for garnish and even dip a few in chocolate for an added touch. 
And use a good gluten-free cake flour blend, one that includes sorghum and cornstarch.  Sorghum is light and less grainy than rice flour.  Plus it has nutrients and fiber.  Cornstarch lightens the texture and adds structure to the cake.  If you are able to have corn products, use it in this recipe.  Otherwise, tapioca or potato starch are okay, but a distant second.  If you can't tolerate dairy products, Earth Balance products work well.
Now about color.  That's a matter of preference.  I've seen versions of strawberry cake that are bright red.  That's not from the berries, I'm afraid.  Rather, it's from red food coloring.  If you like that stuff and that color, by all means, add a drop or two to the batter.  I prefer the subtle pink and don't really like food dyes.
So, here's a really, truly completely from-scratch, fresh strawberry cake. No Jell-O, food coloring, or artificial flavors!  Using frozen strawberries makes this easy and means you can celebrate strawberry season anytime of the year.
Strawberry Cake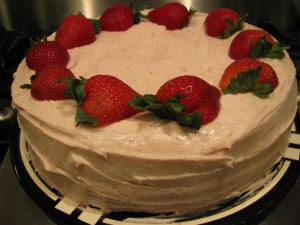 1, 16-ounce bag frozen, unsweetened whole strawberries
1 cup white rice flour, more to dust pans
¾ cup sorghum flour
½ cup cornstarch
4 teaspoons baking powder
1 ¼ teaspoons xanthan gum
½ teaspoon salt
¼ teaspoon baking soda
12 tablespoons unsalted butter (1 1/2 sticks), at room temperature
1 ¾ cup sugar
3 large eggs, room temperature
2 teaspoons vanilla extract
3 tablespoons milk or milk of choice, at room temperature
Preheat oven to 350 degrees F.  Lightly oil 2, 8 or 9 inch round pans.  Dust with rice flour.  Set aside.
Slightly thaw strawberries.  Puree in a food processor.  Transfer to a mesh strainer and set over a bowl large enough to set the strainer over the opening.   Using a rubber spatula, scrape the puree through the strainer, then scrape the underside of the strainer, catching the puree in the bowl.  Repeat until just seeds and pulp remain in the strainer. You should have about 1 ¼ to 1 ½ cups of puree.  Set aside and discard the seeds and pulp.
Combine rice flour, sorghum flour, cornstarch, baking powder, xanthan gum, salt, and baking soda.  Mix well.
In a large mixing bowl, cream the butter and sugar until smooth and fluffy.  Add eggs and vanilla and beat at medium speed for 2 minutes.  Add dry ingredients and beat to combine.  Fold in ¾ cup strawberry puree.  (Reserve remainder for frosting.)  Add milk and beat until smooth.  If you would like a deeper pink color to the batter,  add a drop or two of pink or red food coloring here.
Divide the batter evenly among the pans and smooth tops.
Bake for about 23 to 25 minutes or until a toothpick inserted in the center comes out clean.  Let cakes cool in pan for 10 minutes then turn out onto wire racks. Let cakes cool completely before frosting.
Strawberry Cream Cheese Frosting
1 (8 ounce) package of low-fat cream cheese, softened
½ stick of butter, softened
½ cup pureed strawberries from above
1 teaspoon vanilla extract
3 to 4 cups confectioners' sugar
1 tablespoon milk (if needed)
Beat cream cheese and butter together until smooth.
Slowly add the sugar in 1 cup batches until desired sweetness and consistency is achieved.
Stir in puree and vanilla. Add milk slowly if you need a looser consistency.
Frost cake and garnish with sliced or halved fresh strawberries.  Refrigerate until ready to serve.
You can also make 24 cupcakes from this recipe.
I have exciting news  . . well, sort of.  Gluten-Free Makeovers won an honorable mention at the New England Book Festival.  Ordinarily I would do the always-a-bridesmaid-never-a-bride thing and wallow in butter cream for a few days.  But the category was cookbooks, all types of cookbooks.  Mine was gluten-free, a fairly narrow subject within the category.  And the cookbook that won was Around My French Table by Dorie Greenspan.  It has universal appeal and has taken honors everywhere.  If there is anyone I would want to be the bride in this category, it's Dorie.  I'm a huge fan of this great lady and wonderful chef.  Her book, all her books, are well researched and inspired.  And  her recipes work.  Besides, she lives in Connecticut part of the year.  We are almost neighbors.
So, when I was asked to recreate a spice cake for some readers, this not-too-sweet cake appeared on my radar.  It came from a recipe by Dorie Greenspan that appeared in Bon Appetit Magazine in October 2009.  I knew I couldn't miss if I made over a recipe she had created.
This one is amazing.  It's light and moist and, although considerably revised to make it gluten-free, I thank Dorie for steering me in the right direction.  By frosting only the top and center of the cake with cream cheese frosting and using applesauce for part of the fat, it's lower in calories than it's hi-test cousin.
Dorie says to use fairly sweet apples with a sturdy structure like Gala of Fuji apples. There's no question this is a winner.  And, all things considered, it would make a fabulous wedding cake.
Apple Spice Cake with Spiced Cream Cheese Frosting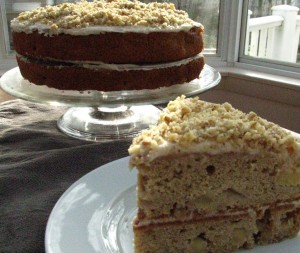 This cake serves 12
Cake:
1 cup brown rice flour
1 cup sorghum flour
½ cup tapioca starch
½ cup cornstarch or potato starch
1 ½ teaspoons xanthan gum
1 ¾ teaspoons ground cinnamon
1 ½ teaspoons baking powder
½ teaspoon salt
½ teaspoon baking soda
½ teaspoon ground nutmeg
¼ teaspoon ground ginger
¼ teaspoon ground cloves
1 cup (2 sticks) unsalted butter, room temperature
1 ¼ cups sugar
¾ cup (packed) light brown sugar
3 large eggs
2 teaspoons vanilla extract
2 tablespoons brandy or rum (optional)
1 1/3 cups unsweetened applesauce
2 medium Fuji or Gala apples, peeled, cut into 1/3-inch cubes (about 2 cups)
Spiced Cream Cheese Frosting:
1, 8-ounce package reduced fat cream cheese, room temperature
½ stick unsalted butter, room temperature
2 teaspoons vanilla extract
Pinch of salt
3 cups powdered sugar
½ teaspoon ground cinnamon
½ teaspoon ground nutmeg
½ cup coarsely ground walnuts
Position rack in center of oven and preheat to 350°F. Lightly oil two 9-inch-round cake pans with 2-inch-high sides. Whisk first 12 ingredients in medium bowl. Using electric mixer, beat butter in large bowl until fluffy. Add both sugars and beat until smooth.  Add eggs one at a time, beating well after each addition. Beat in vanilla, then brandy, if desired (mixture may look curdled).  Add flour mixture to egg mixture in thirds alternating with the applesauce. Beat until blended after each addition.  Fold in apples.  Divide batter between cake pans; smooth tops.
Bake cakes on the center rack until tester inserted into center of each comes out clean, about 45 to 50 minutes. Transfer cakes to racks and cool in pans 15 minutes. Cut around pan sides to loosen cakes. Invert cakes onto racks.   Cool completely.
This can be made a day ahead. Wrap each cake in plastic and store at room temperature.
To Make the Frosting:
Using electric mixer,  beat cream cheese and butter in large bowl until smooth. Beat in vanilla extract and pinch of salt. Gradually add powdered sugar, beating until frosting is smooth and creamy, about 2 minutes.   Add the cinnamon and nutmeg and beat briefly to incorporate.
Transfer one cake to serving platter, flat side down. Drop half of frosting (about 1 1/2 cups) by spoonfuls atop cake.  Spread frosting evenly to edges of cake. Top with second cake, flat  side down. Drop remaining frosting by spoonfuls onto top of cake, leaving sides of cake plain. Spread frosting to top edges of cake, swirling and creating peaks, if desired. Sprinkle with walnuts.  Let cake stand at room temperature 1 hour to allow frosting to set slightly.
Or cover loosely and refrigerate. Let cake stand at room temperature at least 2
hours before serving.
In late September we bicycled through the cranberry bogs in Cape Cod.  The weather was gloriously sunny – -spectacular in fact.  I could not get enough of the sparkling late summer air – – the sun on my face, a faint, salty breeze tussling my hair, an apple-picking crispness brushing cobwebs from my brain.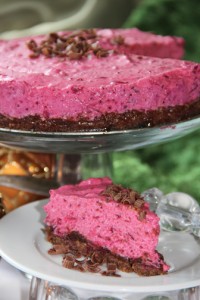 What could be better than a lazy Saturday afternoon on a relatively flat bike trail?  But, as I peddled, I realized something was missing.  The cranberry bogs beside the trail were dry and empty.  Don't cranberries grow in water? And where are the plants, anyway?  I expected to see seas of red as we bicycled.
"What happened to all the cranberries?" I asked the store owner when we returned the bikes.
"Harvested," he said.   (Cape Codders are not known for using more words than needed.)  "Headed for market, " he added.
"Oh," I said, trying to emulate his frugality.
Sure enough.  Two weeks later, fresh cranberries began appearing in the produce aisle of my favorite grocery stores.  Now, I realize that fresh cranberries are frozen and sold all year long.  But I had never quite appreciated the relationship between the harvest and the availability of fresh produce.  Who thinks about these things when they are pushing a grocery cart through a crowded supermarket?
In celebration, I bought three bags of fresh cranberries.  It seemed fitting to honor the cranberry harvest with something sweet, and slightly sour.  I came up with a Chocolate Cranberry Mousse Tart that I served for a recent gathering.  I've made it twice since and the balance of tart and sweet, like the late summer sun, always amazes me.
You may find more superlatives to describe this easy dessert.  But, in keeping with the Cape Cod tradition, I'll just say, "Wow."
The graham cracker crumb crust with a layer of chocolate can be used for many mousse-like pies.  I keep a supply of Kinnikinnick graham-style crumbs on hand to make this dessert.  And now I will keep a supply of fresh and frozen cranberries at the ready, too.
Chocolate Cranberry Mousse Tart
This is as festive as it is delicious.  Decorate with whipped topping and chocolate shavings and garnish with cranberries.
One chocolate graham crumb crust (below) in a 9-inch tart or springform pan.
12-ounce bag fresh or frozen cranberries, rinsed and drained
¾  cup sugar, divided
6 tablespoons orange juice
2 ½ teaspoons dried orange peel
1/3 teaspoon ground ginger
3 tablespoons Triple Sec or other orange liqueur or additional orange juice
1 tablespoon unflavored gelatin softened in 1 1/2  tablespoon orange juice
1 ½ cup whipping cream or non-dairy whipped topping
In a medium saucepan, combine cranberries, 6 tablespoons sugar, orange juice,
orange peel, and ground ginger.  Bring to a boil, stirring frequently.  Lower heat
to medium low and cook, stirring frequently until cranberries break down, about
15 minutes.  Remove from heat.  Add Triple Sec and stir.  Let cool slightly.  Press mixture through a mesh sieve, scraping  puree into a bowl.  Do this until all the liquid has been pressed out of the fruit.  Discard pulp.  Warm the gelatin in a microwave for 10
seconds or until it liquefies.  Pour into the cranberry mixture in a steady stream, stirring while adding.  Scrape into a bowl and chill about 20 minutes.
Beat the cream and remaining 6 tablespoons sugar until stiff.  Fold into cranberry mixture and spoon into prepared crust.  Chill at least 3 hours.  Cut and serve with additional
whipped cream if desired.  Garnish with chocolate shavings.
Chocolate Graham Cracker Crust
This easy and tasty crust can be made several days ahead and stored in refrigerator
until ready to use.
1 cup gluten-free graham cracker style crumbs (such as Kinnikinnick brand)
3 teaspoons unsweetened cocoa
¼ cup sugar
3 tablespoons melted butter or non-dairy spread
½ cup semi-sweet chocolate chips, for dairy-free chips visit enjoylifefoods.com
2 tablespoons light cream or coconut milk
Preheat oven to 325 degrees.  Lightly oil the bottom of a 9-inch springform pan.
Combine cookie crumbs, cocoa and sugar.  Add the melted butter and stir until crumbs are moistened.  Press into the bottom of the prepared pan.  Bake in the center of a preheated oven, 12 minutes.  Remove and cool.
In a microwave safe bowl, combine chocolate chips and cream or coconut milk.  Heat on medium for 1 minutes or until chips are softened.  Blend together until smooth.  Spread mixture over cooled crust.  Chill until set.  Fill with cranberry mousse filling above.