Monthly Archives:
December 2014
A Quick Recipe from Beth 
Merri-Mint Chocolate Brownie Trifle
Serves 6 to 8
People think I am an amazing chef when I serve them gluten free brownies, mind you, straight from the freezer.  When I am in a rush, brownies are my go-to dessert.  Top them with designer ice cream or a layer of chocolate ganache and the crowd goes wild.   But this recipe takes brownies to a whole new level, a simple (but decadent) dessert that I pull out of my bag of gluten-free tricks when company is coming and I'm pressed for time like during the holidays.
Assemble this in one big glass bowl for a buffet or individual glass goblets for a sit down meal.  Either way, this luscious chocolaty mint dessert will make you giggle when you bite into the rich chewy brownies layered with peppermint-laced whipped cream, crushed candy canes, and shaved chocolate.  Could anything be better? This time, I used Glutino Gooey Chocolate Merry Mint Brownie Mix .  They already come with a hint of peppermint and a topping of white chocolate fudge.  But you could add peppermint extract to any brownie mix and top with white chocolate chips. If you are making this for an adult-only gathering, use Crème de Menthe liqueur in place of peppermint extract.  Add nuts, mini marshmallows or hot fudge if you wish.  There are no rules, just the promise of lots of holiday merri-mint.
1 package of gluten free brownie mix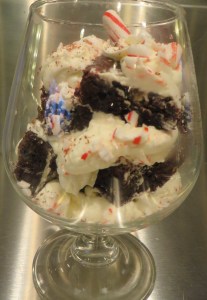 ¼ teaspoon peppermint extract*
1/3 cup white chocolate chips*
*omit if using Glutino Merry Mint Brownies
Whipped Cream
¾ cup (12 ounces) whipping cream, very cold
¼ cup confectioners' sugar
½ teaspoon vanilla extract
¼ teaspoon peppermint extract or 1 tablespoon Crème de Menthe liqueur
1/3 cup crushed candy canes, leave extras whole for decoration
Shaved Semisweet or Bittersweet chocolate for garnish
Prepare the brownie mix according to the directions on the package.  Bake in a foil lined 7×11 inch pan.  I like to under bake these by about 2 minutes so they are very chewy.  Remove and cool completely.
Beat the cream in a chilled bowl until half whipped.  Add sugar and extracts and beat until cream forms stiff peaks.  Refrigerate.
Remove the brownie from the pan using the foil edges and set on a cutting board.  Cut the brownie into ¾ inch squares, trimming the edges if desired.  In individual glass dishes (like large brandy snifters) or one large glass bowl, layer brownie squares  alternating with dollops of whipped cream and crushed candy canes.  Top with more dollops of whipped cream and crushed candy canes and finish with shaved chocolate.  Chill for 2 hours or overnight.  Garnish with whole candy canes.