Blog Archives
A recipe by Beth Hillson
Serves 6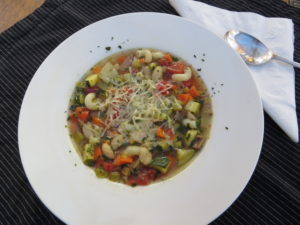 Comfort food meets gluten free with this thick and hearty potage.  Perfect for a winter feast and for feeding a crowd of hungry visitors, this soup is chockfull of vegetables, gluten-free pasta and white cannellini beans.  Serve with gluten-free rolls or biscuits.  Cook the pasta separately and add to the soup just before serving to prevent it from soaking up all the liquids.  Top with parmesan cheese. For more comfort foods, see my article in Gluten Free & More, Feb/Mar 2017.
3 tablespoons extra-virgin olive oil
3 slices turkey bacon, chopped
2 cups finely chopped leeks (about 1 large leek)
2 teaspoons crushed garlic
2 stalks celery, thinly sliced
2 large carrots, peeled and chopped
1 large potato, peeled and diced
1 large diced, unpeeled zucchini (about 1 cup)
1 tablespoon freeze dried or fresh chopped basil
1 teaspoon dried oregano
Salt and freshly ground pepper, to taste
1, 28 -ounce can tomatoes, drained and chopped
6 cups gluten-free chicken broth, more as needed to thin out the soup
1 cup frozen green peas
1, 15 -ounce can cannellini beans, rinsed and drained
1 cup cooked gluten free elbow pasta
1/3 cup finely grated parmesan cheese, divided
2 tablespoons chopped fresh basil, for garnish 
Heat the olive oil in a large pot over medium-high heat. Add the turkey bacon and cook until pieces begin to brown, about 2 minutes.  Add leeks and cook until leeks are translucent, about 4 minutes. Add the garlic and cook 30 seconds. Add the celery, carrot, and potato, and cook until they begin to soften, about 5 minutes. Stir in the zucchini, basil, oregano, salt, and pepper to taste; cook1 minute. 
Add the tomatoes and the chicken broth to the pot and bring to a boil. Reduce the heat to medium low and simmer, covered, 10 minutes. Stir in the peas and beans and cook until the vegetables are fork tender, about 10 minutes.  Divide pasta into 6 bowls and ladle soup over the pasta.  Top with parmesan and chopped basil. Serve. 
Recipe From Beth Hillson
Serves 2 to 3
I was in Charleston, South Carolina for a conference recently and could not leave without trying some of the outstanding cuisine for which Charleston is know.  A signature dish, shrimp and grits, was served everywhere.  Some chefs added other seafood, ham or sausage, and some flavored their dish with Cajun spices.  I wish I could have sampled each one. Since most are gluten free, that wasn't such a far-fetched idea — if I had only had a few extra days.  If you go to Charleston, be forewarned that some chefs add flour to their shrimp and grits.  So check before diving in.
Shrimp and Grits is truly comfort food.  Each bite was pure heaven.  But, what really fascinated me was the grits – chewy and flavorful beyond anything I had eaten before.  One restaurant told me they buy them from Anson Mills in Columbia, SC.  As soon as I got home, I ordered from them.  How great to bring a touch of the South to my Yankee kitchen.
All of Anson Mills' grits are labeled gluten free.  Unfortunately, their products do not come with instructions for preparation.   You'll have to refer back to their web site for that or use the ones I call for.  Here's the recipe I created using Anson Mills' quick white stone-ground grits.  This can be made with other grits, of course.  Follow the product instructions for the ratio of water to grits.
To Make the Grits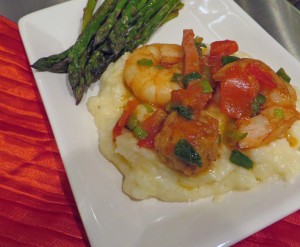 3 cups water
1/2 teaspoon salt
1 tablespoon unsalted butter
1 cup quick white stone-ground grits from Anson Mills or another brand
2 tablespoons heavy cream
2 tablespoons grated cheddar cheese
1 tablespoon Parmesan cheese
Additional salt, to taste
Freshly ground black pepper
To Make the Shrimp Mixture
1 tablespoon olive oil
1 chicken or pork Andouille sausage (about ¼ pound), cut into thin slices
3 ounces smoked ham, cut into julienne strips
1 tablespoon unsalted butter, divided
12 large shrimp, peeled, and deveined if necessary
1 clove garlic, minced
Pinch of Cajun seasoning
1 large tomato, chopped
1/4 cup sliced scallion (about 3 scallions)
1/4 cup white wine or water
Make grits: Bring water, salt, and 1 tablespoon butter to a boil in a 3-quart heavy saucepan. Whisk in grits and cook at a bare simmer, covered, stirring frequently, until grits are tender and have begun to thicken, about 30 minutes. Remove from the heat.  Stir in cream and the cheddar and Parmesan cheese.   Add additional salt, if needed, and several grinds of black pepper.
While the grits are cooking, make the shrimp mixture. Set a 12-inch heavy skillet over moderate heat. Add olive oil.  Cook sausage and ham stirring until sausage is cooked through and ham is golden, about 3 minutes.
Transfer sausage and ham to a plate with a slotted spoon. Add 1/2 tablespoon butter to skillet and heat until foam subsides. Cook shrimp, garlic and Cajun spice, turning, just until shrimp are cooked through, about 3 minutes. Stir in sausage and ham.  Add remaining 1/2 tablespoon butter tomato and scallions.  Toss until tomatoes are wilted.  Add wine and cook down about 2 minutes, stirring and scraping up any brown bits in skillet.  Season with salt and pepper.
Serve shrimp mixture over grits.