Blog Archives
Recipe From Beth Hillson
Makes one 9-inch springform pie or two 9-inch pies
What's easy as pie and three times more decadent?  How about a Cherry Chocolate Hot Fudge Sundae Pie nestled in a chocolate macaroon crust? I drool just thinking about this incredible treat.  Besides, the preparation is quick.  Just assemble and freeze until about 20 minutes before serving.  Your guests will be impressed!
I've made this as a dairy-free ice cream pie (yup, dairy-free) by using Coconut Bliss Cherry Amaretto Frozen Dessert.  However, I've also made it with Ben & Jerry's Cherry Garcia ice cream or frozen yogurt.  The results are always amazing. Perfect for all the summer picnics at hand or make this for a festive winter party, too.  Cut the crust into biscuit-size circles and layer with ice cream and hot fudge sauce in pretty glasses, too.
Macaroon Crust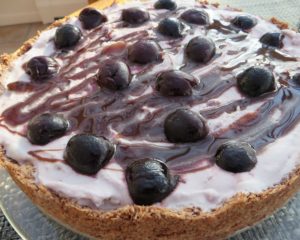 1 tablespoon safflower or coconut oil
1/3 cup chocolate chips, melted
3 1/4 cups unsweetened, shredded coconut
1/3 cup sugar
2 large egg whites
1/4 teaspoon salt
To Make the Crust
Preheat the oven to 325 degrees F. In a microwavable bowl, combine oil and chocolate chips.  Microwave on medium power for 30 second intervals until chips are just melted.  Set aside.
In a large bowl, combine the coconut, sugar, egg whites, and salt, mixing until all of the coconut is moistened. Fold in the melted chocolate mixture.  Press the mixture into a 9-inch springform pan pressing evenly over the bottom of the pan and up the sides.  Alternatively, press into the bottom of 2, 9-inch pie pans. Place the pan (s) on a baking sheet and bake for 20-25 minutes, or until golden and slightly crispy. Let cool completely.
To Make the Filling
2 pints Coconut Bliss Cherry Amaretto Frozen Dessert or use your favorite ice cream
Gluten-free hot chocolate fudge sauce, warmed or Hershey's Chocolate Sauce
Pitted dark cherries, frozen or fresh, for topping
While preparing the crust, set the ice cream on the counter to soften slightly.  Spread one pint of ice cream over the cooled crust.  Smooth the top. Spread the second pint over the first layer. Spread evenly on top. (You may not need all of the second pint.)  Freeze until the ice cream is totally frozen, about 4 to 6 hours or overnight. Right before serving, drizzle with warm hot fudge sauce.  Top with cherries, if desired.
To slice, let sit at room temperature for a few minutes.  Use a large knife dipped in warm water to cut the slices. Serve immediately with extra chocolate fudge sauce and cherries.