Blog Archives
Get your Mojo on!
Garlic, red-pepper flakes, and citrus give this Cuban mojo a little kick. Adding molasses to the marinade gives the pork a rich bronze hue and adds wonderful flavor to the tenderloin. This can also be made with chicken thighs. Wedges of orange and pineapple make for a colorful presentation. Marinate the pork overnight for maximum flavor. Serve with polenta or rice and beans for a complete meal.
Serves 6 to 8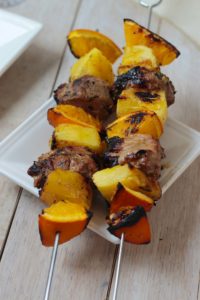 Marinade
2 tablespoons olive oil, more for grill
4 cloves garlic, minced
1/2 teaspoon red-pepper flakes
¼ cup chopped fresh mint
1 tablespoon fresh oregano, chopped or 1 ½ teaspoons dried oregano
¼ cup orange juice
1 tablespoon lime juice (about 1 lime)
2 tablespoons molasses (preferably dark)
2 pork tenderloins (about 2 pounds total), cut into 1 ½ -inch cubes *
1 large orange, preferably seedless, cut into 16 wedges
½ fresh pineapple cut into large chunks or 1 ½ cups canned or frozen pineapple chunks
Salt and freshly ground pepper, to taste
Extra orange wedges and pineapple chunks for garnish
In a zip-lock bag, combine oil, garlic, red-pepper flakes, mint, oregano, orange juice, lime juice, and molasses. Seal the bag and shake the ingredients to blend. Add the pork and toss with the marinade. Refrigerate at least 2 hours or up to 12 hours.
Heat a grill to medium heat (about 375 degrees). Clean and lightly oil hot grill. Thread pork, orange, and pineapple chunks onto skewers, reserving leftover marinade. Season with salt and pepper. Grill kebabs (with the cover closed) 3 to 5 minutes per side for medium. Keep an eye on the kebabs so they don't burn.
Heat the reserved marinade to a boil. Drizzle over kebabs or pass with the kebabs, if desired. Garnish platter with extra orange and pineapple.
*Cut the pork tenderloin into 2-inch slices and cut each slice in half to make cubes.