Blog Archives
A Recipe by Beth Hillson
Yield: 24 bars
This is my latest go-to dessert.  I take it to pot luck dinners, bake sales, you name it!  It's easy, delicious and amazingly versatile.  Use whatever fruit is in season.  Vary the sweetness of this recipe by adding more or less sugar depending on your tastebuds and the natural sweetness of the fruit.  The bars freeze well.
I made these using RYZE Blue Flour Blend.  Instead of measuring out a bunch of flours, I use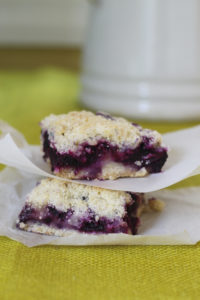 one ingredient.  However, you could certainly make this with any A/P flour blend.  Make sure it contains xanthan gum or add 1 teaspoon xanthan gum to the recipe.
For the Dough
3 cups RYZE Blue Flour Blend or an A/P Gluten-Free Flour Blend that contains xanthan gum
1 cup granulated sugar
1 teaspoon baking powder
¼ teaspoon salt
1 cup (2 sticks) unsalted butter, cold, cut into small pieces
1 large egg, lightly beaten
For the Filling
4 cups (2 pints) fresh blueberries of 5 cups peeled, sliced peaches or apples (about 6-7)
1 tablespoon lemon juice
1 teaspoon vanilla
½ cup RYZE Blue Flour Blend or an A/P Gluten-Free Flour Blend that contains xanthan gum
½ to ¾ cup granulated sugar
¼ teaspoon salt
½ teaspoon ground cinnamon
¼ teaspoon ground nutmeg
Preheat the oven to 375 degrees F. Line a 9×13-inch baking pan with aluminum foil and coat with vegetable spray.
Make the Dough: In the bowl of a food processor fitted with the knife blade, add the flour, sugar, baking powder and salt. Pulse several times to combine.  Add butter and pulse until mixture resembles coarse meal (about 10 pulses).  Add the egg and pulse briefly.  Empty contents into a large bowl. With a fork, mix the dough until egg is distributed evenly.  Dough will be crumbly.  Or combine dry ingredients in a medium bowl.  Use a pastry blender to cut in the butter, and then the egg.
Pat half of the dough into the prepared pan. Place the pan and the remainder of the dough in the refrigerator to stay cold while preparing the filling.
Make the Filling: Place the washed and drained blueberries in a large bowl and sprinkle with lemon juice and vanilla. Mix gently. In a separate bowl, whisk together the flour, sugar, salt, cinnamon and nutmeg. Sprinkle over the fruit and toss gently with a wooden spoon.
Spread the fruit mixture evenly over the crust. Crumble the remaining dough over the blueberries.
Bake in the preheated oven for 45 minutes, or until the top is slightly brown. Cool completely before cutting into squares.