Monthly Archives:
January 2012
Of all the take-your-breath-away vistas, the hikes into remote areas, the climbs over glacier crusted mountains,  one adventure missed my radar entirely until we visited the Canadian Rockies last summer.   In my wildest dreams,  I never imagined a full-grown grizzly bear would be joining us for breakfast!
It was a crystal clear, late summer day and I was enjoying a world free of commercial interruption.  Perhaps it was the berries, the yogurt, or the hour (nearly 8 a.m.).  But, more likely, it was the location – – sleepy Baker Creek (near Lake Louise and Banff)  – – where we stayed in a rustic cabin no more than fifteen feet from the water's edge.  I stood over my husband's shoulder pouring coffee when she caught my eye, sauntering by, not ten feet from the sliding glass door.
"Honey, you might want to look up from your computer for a moment," I said to my husband who had not fully unplugged, yet.  Indeed, a magnificent brownish-gray beast with that unmistakable hump behind its head was wandering by.  Griz held our attention for what seemed like an hour as she slowly meandered past the cabin and down to the chilly brook.  "This might be a good time to get the camera," said my husband.   But, alas,  I couldn't move, could not take my eyes off the gorgeous creature who might have truly joined us for breakfast had I opened the glass door.
So, you'll have to take my word that a grizzly bear came to breakfast one August morning.  But you need not take my word that a visit to the Canadian Rockies affords an extraordinary mix of travel and exploration.   Besides the vistas, the glaciers, the majestic falls, save an appetite for dinner.  Restaurants in the Canadian Rockies are no strangers to the gluten-free diet.  Every eatery seems to speak gluten-free and many offer separate menus, gluten-free pizza, breads, and rolls.
And we ate well – -from the four-star Post Hotel in Lake Louise to the rustic Bakers Creek Lodge at Bakers Creek, to pizza parlors and Cassio's Italian restaurant (with several gluten-free pasta dishes).  It's just across from the railroad station in Jasper, Alberta.
High on my list was Evil Dave's Grill in Jasper.  There's no Dave at this funky, self-styled
café.  What you will find is great service, sublime atmosphere, and wicked food.  Owners Mike and Cyndi Day are known for offering a whimsical menu and casual décor that makes diners feel nourished the moment they enter.  From the gluten-free menu, check out Chinese Lettuce Wraps, Malicious Salmon (blackened salmon with a skewer of grilled shrimp) Fiendish Falafel, and convicted Felon (Asian style salmon over rice noodles).
My favorite was El Diablo Chicken, a signature dish that's bursting with flavor and a bit of spice.  (The heat can be adjusted by cutting back on the chipotle seasoning.)  Chef Nicole shared the recipe which I adapted here.  I'm plannng to serve this at a gathering for the Super Bowl, but its great presentation makes this a perfect company meal, too.
It's not too early to plan a summer vacation to the Canadian Rockies where the season is short and hotels book quickly.  And, about that grizzly – – well, you'll have to find your own.  Our bear was last seen swimming across the creek.
El Diablo Chicken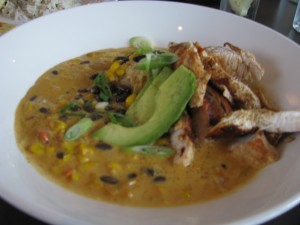 Serves 4 to 6
Adapted from a Recipe by Chef Nicole Langille at Evil Dave's Grill, Jasper, Alberta, Canada
4 to 5 large boneless, skinless chicken breast filets (about 1 to 1 ½ pounds)
Marinade ingredients:
¼ cup olive oil
1tablespoon good quality chili powder
1 tablespoon minced garlic
Juice of one large lime
Combine marinade ingredients and add chicken breasts. Stir to coat and let stand, refrigerated, for at least 3 hours.
The Sauce:
1 tablespoon olive oil
½ of a large yellow onion, diced
Two vine-ripened tomatoes, diced or 1 (15 ounce) can of diced drained tomatoes
½ to 1 teaspoon chipotle powder (adjust for heat)
2 cups gluten-free chicken broth
¼ to ½ cup heavy cream
½ cup corn kernels, thawed, if frozen
½ cup canned black beans, rinsed and drained
1 ½ cups cooked Jasmine rice
Garnish:
1 to 2 ripe avocados, thinly sliced
2 scallions, top third removed, coarsely chopped
To make the sauce:  Heat the olive oil in a medium saucepan. Sauté the onion and tomatoes for 2 to 3 minutes or until onion is translucent.  Add chipotle powder and sauté briefly.  Add the chicken broth and simmer until reduced by half.  While the mixture is simmering, preheat a grill to medium high and grill the chicken on both sides until centers are no longer pink.  Remove from heat.  Let cool slightly and slice each filet diagonally to yield 5 to 6 slices per filet.  Add the cream to the reduced chicken broth mixture and simmer 2 to 3 minutes.  Remove from heat.  Fold in corn and black beans.
Divide rice between 4 to 6 plates (or plate on one serving platter).   Spoon a portion of the tomato mixture over the rice.  Fan out chicken slices over the top and garnish with avocado slices and a sprinkle of chopped scallion.  Or arrange on a platter and serve family-style.
Visit evildavegrill.com
I have exciting news  . . well, sort of.  Gluten-Free Makeovers won an honorable mention at the New England Book Festival.  Ordinarily I would do the always-a-bridesmaid-never-a-bride thing and wallow in butter cream for a few days.  But the category was cookbooks, all types of cookbooks.  Mine was gluten-free, a fairly narrow subject within the category.  And the cookbook that won was Around My French Table by Dorie Greenspan.  It has universal appeal and has taken honors everywhere.  If there is anyone I would want to be the bride in this category, it's Dorie.  I'm a huge fan of this great lady and wonderful chef.  Her book, all her books, are well researched and inspired.  And  her recipes work.  Besides, she lives in Connecticut part of the year.  We are almost neighbors.
So, when I was asked to recreate a spice cake for some readers, this not-too-sweet cake appeared on my radar.  It came from a recipe by Dorie Greenspan that appeared in Bon Appetit Magazine in October 2009.  I knew I couldn't miss if I made over a recipe she had created.
This one is amazing.  It's light and moist and, although considerably revised to make it gluten-free, I thank Dorie for steering me in the right direction.  By frosting only the top and center of the cake with cream cheese frosting and using applesauce for part of the fat, it's lower in calories than it's hi-test cousin.
Dorie says to use fairly sweet apples with a sturdy structure like Gala of Fuji apples. There's no question this is a winner.  And, all things considered, it would make a fabulous wedding cake.
Apple Spice Cake with Spiced Cream Cheese Frosting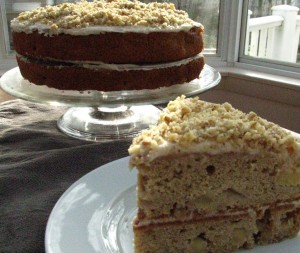 This cake serves 12
Cake:
1 cup brown rice flour
1 cup sorghum flour
½ cup tapioca starch
½ cup cornstarch or potato starch
1 ½ teaspoons xanthan gum
1 ¾ teaspoons ground cinnamon
1 ½ teaspoons baking powder
½ teaspoon salt
½ teaspoon baking soda
½ teaspoon ground nutmeg
¼ teaspoon ground ginger
¼ teaspoon ground cloves
1 cup (2 sticks) unsalted butter, room temperature
1 ¼ cups sugar
¾ cup (packed) light brown sugar
3 large eggs
2 teaspoons vanilla extract
2 tablespoons brandy or rum (optional)
1 1/3 cups unsweetened applesauce
2 medium Fuji or Gala apples, peeled, cut into 1/3-inch cubes (about 2 cups)
Spiced Cream Cheese Frosting:
1, 8-ounce package reduced fat cream cheese, room temperature
½ stick unsalted butter, room temperature
2 teaspoons vanilla extract
Pinch of salt
3 cups powdered sugar
½ teaspoon ground cinnamon
½ teaspoon ground nutmeg
½ cup coarsely ground walnuts
Position rack in center of oven and preheat to 350°F. Lightly oil two 9-inch-round cake pans with 2-inch-high sides. Whisk first 12 ingredients in medium bowl. Using electric mixer, beat butter in large bowl until fluffy. Add both sugars and beat until smooth.  Add eggs one at a time, beating well after each addition. Beat in vanilla, then brandy, if desired (mixture may look curdled).  Add flour mixture to egg mixture in thirds alternating with the applesauce. Beat until blended after each addition.  Fold in apples.  Divide batter between cake pans; smooth tops.
Bake cakes on the center rack until tester inserted into center of each comes out clean, about 45 to 50 minutes. Transfer cakes to racks and cool in pans 15 minutes. Cut around pan sides to loosen cakes. Invert cakes onto racks.   Cool completely.
This can be made a day ahead. Wrap each cake in plastic and store at room temperature.
To Make the Frosting:
Using electric mixer,  beat cream cheese and butter in large bowl until smooth. Beat in vanilla extract and pinch of salt. Gradually add powdered sugar, beating until frosting is smooth and creamy, about 2 minutes.   Add the cinnamon and nutmeg and beat briefly to incorporate.
Transfer one cake to serving platter, flat side down. Drop half of frosting (about 1 1/2 cups) by spoonfuls atop cake.  Spread frosting evenly to edges of cake. Top with second cake, flat  side down. Drop remaining frosting by spoonfuls onto top of cake, leaving sides of cake plain. Spread frosting to top edges of cake, swirling and creating peaks, if desired. Sprinkle with walnuts.  Let cake stand at room temperature 1 hour to allow frosting to set slightly.
Or cover loosely and refrigerate. Let cake stand at room temperature at least 2
hours before serving.