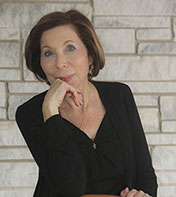 About Beth
Beth created one of the first gluten-free companies in the US, wrote books, and now shares 40 years of living well without gluten in her latest book,
The Complete Guide to Living Well Gluten Free
. She believes no one should go without because of gluten. Through her cookbooks, lifestyle book and essays, she shows us how. Travel, restaurant dining, parties, dating, raising kids – she's been there and takes celiac disease and the gluten free diet along for the ride. Join her as she answers all your baking and lifestyle questions.
Recipe By Beth Hillson
Serves 12
You'll love this winning combination of chocolate and banana.  Not only does it make for a moist cake, but one that can also be Passover-friendly by using potato starch in place of the flour blend. I've served this with a chocolate glaze and sliced strawberries or sliced bananas to dress it up.  But it's also delicious as it is.
5 large eggs at room temperature, separated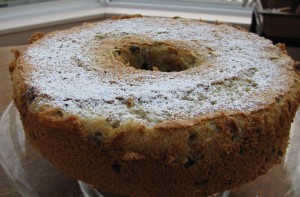 ¾ cup sugar
1 cup Gluten Free Pantry all/purpose flour or other g-f all/purpose blend*
1/4 cup vegetable oil
1 teaspoon vanilla extract
3 large ripe bananas, pureed to yield 1 cup
4 ounces (1/2 cup) semisweet or bittersweet chocolate chips
Preheat oven to 350° F.
Beat egg whites to soft peaks and gradually add the sugar and continue beating the egg whites until they are very stiff.
In a mixing bowl, add the flour.  Make a well and add the egg yolks, oil, and the vanilla.  Beat with a portable mixer on high until mixture is very smooth.
Add bananas to the egg mixture and mix gently to incorporate, but do not beat.  Fold in the chocolate chips.
Using a rubber spatula, gently fold in the egg whites into the banana mixture by placing the spatula at the far side of the bowl, following the bowl's far side to the bottom, scraping along the bottom and up the side of the bowl closest to you. Lift the spatula and rotate the bowl slightly, repeating. Don't be tempted to mix the ingredients at this point or you will deflate the egg whites. Continue until the mixture is pretty homogenous.
Transfer to an ungreased 10″ tube pan, preferably one with tips (feet) on the top and bake for 50 – 60 minutes or until a cake tester comes out clean and dry.
Remove from oven and invert pan on a wire rack to cool.
When cool, run a sharp kitchen knife along the edges of the tube pan, including the tube, and remove the cake.
Serve with a chocolate glaze and sliced strawberries or bananas if desired.
*Add 1 teaspoon xanthan gum and ¼ teaspoon salt to flour mix if not included in the blend.  If making this for Passover, use ¾ cup potato starch and ¼ teaspoon salt in place of the gluten free flour blend.  Add 1 teaspoon of xanthan gum if you wish or omit if you are observing Passover.
A Recipe From Beth
Serves 10 to 12
Is there anyone alive who doesn't love Tiramisu?  When I make this, it literally disappears when I turn my back for one second.  Delicious doesn't begin to describe this decadent Italian dessert. The rich flavors of mascarpone and cream cheese (or dairy-free alternatives) marry well with the light, airy texture of angel food cake. Make this at least a day ahead to guarantee that all the flavors blend together.  Start with the Espresso Chocolate Chip Angel Food Cake as the base for this yummy dessert, as it boasts flavors of coffee and chocolate. However, any angel food or yellow cake recipe can be used.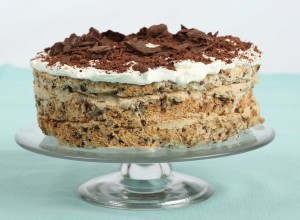 1 cup very cold heavy cream*
1 (8-ounce) container coffee-flavored or plain mascarpone (Italian cream cheese) or 8 ounces softened cream cheese*
4 ounces low-fat cream cheese, softened*
1/3 cup confectioners' sugar
½ cup strong coffee, divided
2 teaspoons pure vanilla extract
3 tablespoons Cognac or brandy
1 Espresso Chocolate Chip Angel Food Cake  (or other cake)
1/3 cup shaved (curled) semisweet chocolate shavings
Line the bottom and sides of a 9-inch springform pan with waxed paper or parchment paper.
With stand or hand mixer, whip heavy cream until stiff and set aside.
In a large bowl, beat mascarpone, cream cheese, confectioners' sugar, 1/4 cup espresso and vanilla. Fold 1 cup whipped cream into the mascarpone mixture, reserving the rest of the whipped cream for topping.
In a small bowl, mix remaining 1/4 cup espresso with Cognac.
With a serrated knife, cut cake horizontally to yield three even layers. Set one layer in the bottom of the prepared springform pan, pressing it to the edges of the pan. Brush the surface with some of the espresso-Cognac mixture. Spread half the mascarpone mixture over the first layer of cake and top with the middle layer of cake. Brush with espresso mixture and top with remaining mascarpone mixture. Top with remaining layer of cake and brush with espresso mixture. Spoon the reserved whipped cream over the top.
Cover with plastic wrap. Chill for at least 6 hours. Unmold and sprinkle with shaved chocolate curls.
* For dairy-free Tiramisu, replace all the cream cheese with a total of 12 ounces dairy-free cream cheese and use So Delicious CocoWhip in place of whipped cream
To Make Chocolate Curls
Melt 1/2 cup semi-sweet chocolate chips with 1 tablespoon of unsalted butter.  Spread in a thin layer over the bottom of a cookie sheet or plate and chill for 30 minutes.  Using a spatula or a knife, scrape away pieces of the chocolate from the surface of the pan or plate in strips.  These should curl slightly as you scrape them from the surface.  Top the Tiramisu just before serving.
This recipe is part of a comprehensive article on how to successfully make angel food cake that will appear in the Spring Baking Guide from Gluten Free & More.  Pick up a copy on newsstands in March 2015.
A Recipe from Beth
Serves 10 to 12 
Your Sweetheart will swoon over this sinfully delicious cake that is just about perfect – light and fluffy with notes of chocolate and coffee.  The only thing better is when you turn this cake into Tiramisu.  You'll find the recipe on this blog, too. Or, if you prefer, serve slices of Espresso Chocolate Chip Angel Food Cake with whipped cream that's infused with coffee flavored liqueur. Either way, Cupid says you can't miss. 
The cake keeps for several days wrapped well in plastic wrap and stored at room temperature. It can also be frozen for up to two months.  Remove wrap before thawing as ice crystals can cause the cake to become soggy.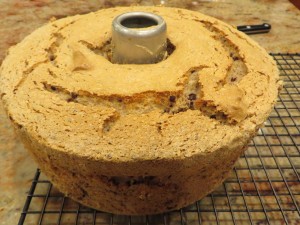 2 teaspoons instant espresso coffee powder
1 cup Beth's Cake Flour (below)
3 tablespoons cornstarch
1½ cups sugar, divided
12 large egg whites or 1½ cups, at room temperature
½ teaspoon salt
1½ teaspoons pure vanilla extract
1½ teaspoons cream of tartar
¾ cup chocolate chips, coarsely chopped in a food processor
Preheat oven to 350°F. Sift espresso coffee powder with cake flour, cornstarch and ¾ cup sugar in a medium bowl. Set aside.
Place egg whites in the clean, dry bowl of a stand mixer or a large mixing bowl. Beat egg whites with salt and vanilla at medium speed until foamy. Add cream of tartar. Beat at high speed until whites form soft peaks. With the mixer running, add remaining ¾ cup sugar in a slow, steady stream. Beat until whites are shiny and form stiff peaks (4 to 5 minutes).
Sprinkle half the flour mixture over the egg whites and fold in by reaching a spatula to the bottom of the whites and drawing it back through the mixture gently to incorporate. Don't stir or mix the ingredients. Repeat with remaining flour.
When flour mixture is nearly incorporated, fold in chopped chocolate chips. Make sure chips are spread evenly throughout the batter. Pour into a 10-inch ungreased tube or angel food cake pan. Spread evenly.
Place in preheated oven and bake 45 to 55 minutes or until a skewer inserted in the middle comes out clean. Invert the cake on a rack and let cool completely upside down in the pan. To unmold the cake, run a thin knife around the side of the pan and the tube and gently push the base up if using a two-piece pan, or invert the cake onto a serving plate.
Slice with a serrated knife. Serve with whipped cream that's infused with coffee flavored liqueur, or use as the base for the Tiramisu recipe, coming next.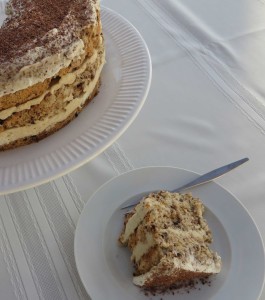 Beth's Cake Flour Blend

1 cup sweet white sorghum flour
1 cup white rice flour
¾ cup cornstarch
1½ teaspoons xanthan gum
Whisk ingredients together in a large bowl until well combined.
This recipe is part of a comprehensive article on how to successfully make angel food cake that will appear in the Spring Baking Guide from Gluten Free & More.  Pick up a copy on newsstands in March 2015.
Makes Two 12-inch Pizzas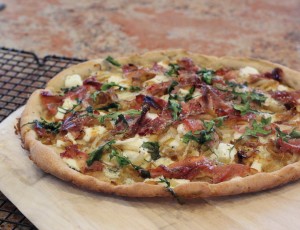 This is National Pizza Week.  But, seriously, isn't homemade pizza worth celebrating any time of the year?  This pizza has endless possibilities. It's called white because there are no tomatoes or sauce on this pie.  However, add some tomatoes or pizza sauce, if you prefer a more traditional pizza.  Experiment with your favorite cheeses and herbs, too.  And leave the cheese off or use dairy free cheese, if milk is not on your list.  If you have a pizza stone and a peel (wooden paddle) use those as the crust will be chewier.  Otherwise, use a heavy baking sheet or a round pizza pan and set it on the lowest rack in the oven so it browns nicely.   Cut all ingredients in half if you wish to make one pizza.   This freezes nicely (especially without pizza sauce) so you might want to make both and save one for another day.
The Toppings
4 tablespoons extra virgin olive oil, divided
1 large onion, thinly sliced
Pinch of sugar
½ teaspoon salt
6 ounces fresh ricotta cheese (part skim milk cheese is fine)
2 ounces Gorgonzola cheese, crumbled, optional
4 ounces thinly sliced prosciutto or other Italian meat
½-1 cup baby arugula
Italian seasoning, to taste
Pecorino Romano cheese, to taste
The Dough
Makes 2, 12-inch pizzas
2 ½ cups high protein blend, below
½ cup millet flour
1 tablespoon xanthan gum
1 teaspoon salt
5 teaspoons instant active dry yeast
1 1/3 cups warm water
2 tablespoons olive oil
1 tablespoon honey
1 teaspoon cider vinegar
Preheat oven to 425°F. If using a pizza stone, place it on the lowest rack and preheat the oven. Do this 30 to 60 minutes ahead so the stone is very hot. If you're not using a stone, it's not necessary to preheat the oven for an extended amount of time.
Make the toppings.  In a medium skillet, heat 2 tablespoons olive oil over medium heat. Add onion and sauté to soften, about 2 minutes. Add sugar and salt and reduce heat to lowest setting. Cook onions until they turn a rich golden brown, about 10 minutes. Remove from heat and set aside.  Lay out all the other toppings you will be using.
Make the dough.  In the bowl of a heavy duty mixer fitted with the paddle attachment, combine the high protein blend, millet flour, xanthan gum, and salt.   Blend well.  Add the yeast and blend.  Combine water, oil, honey, and vinegar.  Beat at medium high speed for 3 to 5 minutes or until the dough thickens.
Scoop half the dough onto a lightly oiled sheet of parchment paper.  Cover with a sheet of lightly oiled plastic wrap.  Use finger tips and palm to lightly press the dough into a 12-inch circle.  Use finger tips to create a rim of dough around the edge that will become a pretty crust.  Drizzle olive oil of the surface and top with a light coating of pizza sauce.
Scoop half the dough onto a lightly oiled sheet of parchment paper. Cover with a sheet of lightly oiled plastic wrap. Using fingertips, lightly press the dough into a 12-inch circle, creating a rim of dough around the edge to form a crust.
Drizzle 1 tablespoon of remaining olive oil over the surface of 1 crust. Place small dollops of half the ricotta evenly over the olive oil, followed by half the Gorgonzola cheese. Top with half the cooked onions and slices of prosciutto. Scatter half the arugula over the top. Sprinkle with Italian seasoning and Pecorino Romano cheese.
Slide pizza (with parchment paper) onto a pizza paddle and then onto the stone, pizza pan, or baking sheet set on the lowest rack of preheated oven. Bake 16 to 20 minutes. When done, the bottom of the pizza will be lightly browned. (While first pizza is baking, repeat with remaining dough and ingredients.)
Remove pizza from oven and let cool briefly. Slice and serve warm.
High Protein Blend (from Gluten-Free Makeovers)
Blend well and scoop out 2 ½ cups for the pizza recipe above.  Reserve the rest for later use.
1¼ cups white or brown rice flour
1¼ cups sweet white sorghum flour
½ cup amaranth flour
¾ cup cornstarch or tapioca starch
Shortcut:  Use a commercial pizza crust mix and follow my instructions for preparing it.  I've had good luck with pizza mix from Glutino Gluten Free Pantry, King Arthur brand, and Bob's Red Mill mix.
A Quick Recipe from Beth 
Merri-Mint Chocolate Brownie Trifle
Serves 6 to 8
People think I am an amazing chef when I serve them gluten free brownies, mind you, straight from the freezer.  When I am in a rush, brownies are my go-to dessert.  Top them with designer ice cream or a layer of chocolate ganache and the crowd goes wild.   But this recipe takes brownies to a whole new level, a simple (but decadent) dessert that I pull out of my bag of gluten-free tricks when company is coming and I'm pressed for time like during the holidays.
Assemble this in one big glass bowl for a buffet or individual glass goblets for a sit down meal.  Either way, this luscious chocolaty mint dessert will make you giggle when you bite into the rich chewy brownies layered with peppermint-laced whipped cream, crushed candy canes, and shaved chocolate.  Could anything be better? This time, I used Glutino Gooey Chocolate Merry Mint Brownie Mix .  They already come with a hint of peppermint and a topping of white chocolate fudge.  But you could add peppermint extract to any brownie mix and top with white chocolate chips. If you are making this for an adult-only gathering, use Crème de Menthe liqueur in place of peppermint extract.  Add nuts, mini marshmallows or hot fudge if you wish.  There are no rules, just the promise of lots of holiday merri-mint.
1 package of gluten free brownie mix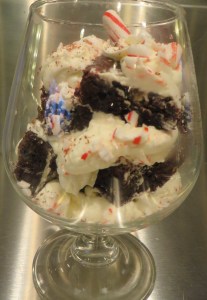 ¼ teaspoon peppermint extract*
1/3 cup white chocolate chips*
*omit if using Glutino Merry Mint Brownies
Whipped Cream
¾ cup (12 ounces) whipping cream, very cold
¼ cup confectioners' sugar
½ teaspoon vanilla extract
¼ teaspoon peppermint extract or 1 tablespoon Crème de Menthe liqueur
1/3 cup crushed candy canes, leave extras whole for decoration
Shaved Semisweet or Bittersweet chocolate for garnish
Prepare the brownie mix according to the directions on the package.  Bake in a foil lined 7×11 inch pan.  I like to under bake these by about 2 minutes so they are very chewy.  Remove and cool completely.
Beat the cream in a chilled bowl until half whipped.  Add sugar and extracts and beat until cream forms stiff peaks.  Refrigerate.
Remove the brownie from the pan using the foil edges and set on a cutting board.  Cut the brownie into ¾ inch squares, trimming the edges if desired.  In individual glass dishes (like large brandy snifters) or one large glass bowl, layer brownie squares  alternating with dollops of whipped cream and crushed candy canes.  Top with more dollops of whipped cream and crushed candy canes and finish with shaved chocolate.  Chill for 2 hours or overnight.  Garnish with whole candy canes.
A Recipe from Beth
Here's a chance to play with your food and take some of the stress out of the hectic Thanksgiving holiday, too.  Even young children can make these treats.  Use them as favors and set one by each plate or fill a tray with these little birds and pass them out at dessert.  Either way, these turkey favors are sure to become part of your Thanksgiving tradition from now on.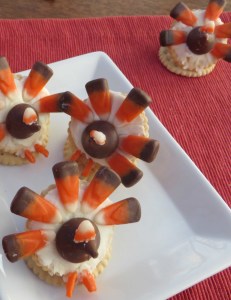 I used Glutino Original Crackers to make these and the recipe first appeared on Glutino's blog.  They are so darn cute, I had to share them with you.
You'll Need:
1 box Glutino Original Flavor Crackers
1 bag Miniature Reese's Peanut Butter Cups, 1 per turkey
1 bag Hershey's Milk Chocolate Kisses, 1 per turkey
1 bag Indian Candy Corn, You'll need 5 for tail feathers per turkey plus 1 for each beak and feet*
Frosting:
6 tablespoons softened unsalted butter
2 cups confectioners' sugar
2 ½ tablespoons milk
To Make the Frosting: Beat the butter until fluffy.  Add the sugar and beat until crumbly.  Add the milk and beat until smooth.  Add a little more milk, if necessary, to create a smooth frosting.  However, remember, this is the spackle that holds everything together.  It needs to be thick.
To Assemble:
Follow these steps to make assembly easier and prevent crackers from breaking.
Lay out the crackers on wax paper-lined cookie sheets.
Spread some frosting over the bottom of Reese's Peanut Butter Cups.  Set them slightly back from the center of a cracker and away from you.  Put a small blob of frosting on the front of the peanut butter cup (facing you).
Spread a thick layer of frosting over the front of a second cracker and on the bottom edge of the cracker. This should be a fairly thick layer so the candy corn and kiss can adhere.
Press the frosted cracker against the blob of frosting on the peanut butter cup at a slight angle and press the bottom edge of frosting onto the first cracker.  Hold it there for a minute to steady the cracker.
Now comes the fun part.  Put a generous dollop of frosting on the bottom of a Hershey's Kiss and set it in the center of the frosted cracker.  This will be the beak.  Press five candy corn in an arc around the cracker with the points toward the kiss.  Start by placing one at the top of the cracker and two on each side so your turkey's feathers will be even.
Note:  It's important to plant the kiss on the cracker first to stabilize it.
For the beak, cut the white and a little of the orange from a candy corn, smear a little frosting on the back, and smoosh it down above the pointy part of the kiss.
Cut two slices from the remaining orange part of this candy corn.  Smear a little frosting on the narrow side of each and set them at the base of the cracker for feet.  Voila.  Your turkey favors are ready.
Put these in the fridge to harden or just leave them at room temperature, especially if your kitchen is cool. Don't wrap them right away or the feathers may come loose.
Make these ahead if you are planning to use them for favors or set out all the ingredients and let the kids create decorations for the table on Thanksgiving Day.
* Indian Candy Corn is best because it is brown, orange and white (like turkey feathers).  However, you can also use Candy Corn if you have it leftover from Halloween (It's brighter orange, yellow, and white.)  Brach's, CVS and others state that their candy corn is free of gluten and the 8 top allergens.  Brach's does have a disclaimer that their products are made in a facility that also processes wheat.  But CVS seems to go the extra mile to say their candy corn is gluten free.  If you can't find gluten free candy corn, you can use g-f  pretzel sticks instead.  Still cute and very safe
From Beth Hillson
Makes 24 balls
Preparation time: 10 minutes
Here's the ultimate quick, delicious dessert from Carol Fenster's new cookbook, 100 BEST QUICK GLUTEN-FREE RECIPES.  My friend, Carol, is a master of gluten-free cooking and baking.  She has produced eleven cookbooks and each one is better than the last.  But this one truly takes the proverbial gluten-free cake!  Every recipe can be made in 30 minutes or less.  With the holiday season around the corner, you'll welcome these simple and yummy recipes for meals, entertaining and all your holiday treats.  Here's one of my favorites.
Serve these bite-size treats during the holidays or at dinner parties in little foil or paper candy liners. Their small size and rich, satisfying flavor makes them ideal for when you want just a little something sweet, not an entire dessert. A food processor makes the prep super-fast. You can replace the white chocolate with dark chocolate, if you wish.
1 cup whole almonds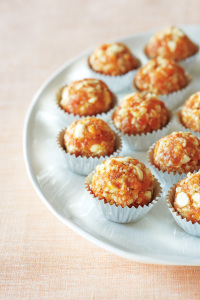 2/3 cup powdered sugar
2 cups dried apricots (about 12 ounces)
2 tablespoons light or dark rum or orange juice
2 teaspoons grated orange zest
1 teaspoon pure vanilla extract
3 ½ ounces white chocolate chips (or a 3.5- ounce bar of white chocolate, chopped or broken into ¼ -inch chunks)
In a food processor, process the almonds and powdered sugar until the almonds are very finely ground. Add the apricots and pulse until the apricots are very finely chopped.
Add the rum, orange zest, vanilla, and white chocolate chips and pulse until the mixture is just blended. With lightly oiled hands, roll and compress the dough into 24 balls, each 1 -inch in diameter. Refrigerate for at least 1 hour to firm up. Serve in foil or paper candy liners.
STORAGE: Store leftovers, tightly covered, for up to 2 days in the refrigerator or for up to 1 month in the freezer for up to 1 month.
Per ball: 130 calories; 3g protein; 6g total fat; 2g fiber; 17g carbohydrates; 0mg cholesterol; 8mg sodium
Excerpted from 100 BEST QUICK GLUTEN-FREE RECIPES © 2014 by Carol Fenster. Reproduced by permission of Houghton Mifflin Harcourt. All rights reserved.
By Beth Hillson
If you love salmon, you'll want to try this easy and flavorful recipe from Silvana's Gluten-Free and Dairy-Free Kitchen by Silvana Nardone.  You might know Silvana from her blog, Silvana's Kitchen or from her previous book, Cooking for Isaiah.  Released earlier this month, Silvana's Gluten-Free and Dairy-Free Kitchen contains125 gluten-free, dairy-free recipes for breakfast, brunch, breads, appetizers, salads, soups, homemade pasta, fake-out takeout, TV dinners, restaurant classics, dessert classics, reinvented baking mixes and reinvented dairy-free favorites.
Congratulations, Silvana!  Pick up a copy of the book at Amazon.com or anywhere books are sold.
Sticky Sesame Salmon with Orange Sauce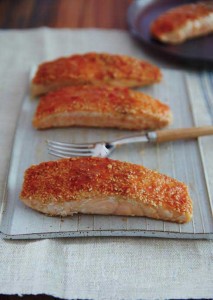 Serves 4
For the Sauce
1⁄4 cup ketchup
1⁄4 cup orange juice, preferably freshly squeezed
2–4 tablespoons sugar
2 tablespoons chili paste, such as sambal oelek, or to taste
1 tablespoon sesame oil
For the Fish
4  6-ounce salmon fillets, skin removed
Salt and black pepper
3 tablespoons olive oil
1∕3 cup sesame seeds
Preheat the oven to 350 ̊F.
Make the sauce: In a large bowl, stir together the ketchup, orange juice, sugar, chili paste
and sesame oil. Set aside.
Make the fish: Season the salmon generously with salt and pepper, then drizzle with 2 tablespoons of the olive oil. Place the seeds on a plate and dredge the tops of the fillets in the sesame seeds to coat.
In an ovenproof skillet, heat the remaining 1 tablespoon olive oil over medium-high heat.
Add the salmon, sesame seed side down, to the pan and sear, turning once, until golden
brown, about 3 minutes on each side.
Transfer the skillet to the oven and roast the salmon until cooked through, about 6 minutes.
Generously brush with the orange sauce and serve.
Excerpted from Silvana's Gluten-Free and Dairy-Free Kitchen © 2014 by Silvana Nardone. Reproduced by permission of Houghton Mifflin Harcourt. All rights reserved.
I love to bake, but I can't remember when I've had this much fun in the kitchen.  And it's all because I was on a quest to do a Twinkie makeover. I created this yummy gluten-free version so we could all celebrate the return of the crème-filled snack cakes.
But it's a gluten-filled lifetime ago since I ate a Twinkie. So I scanned the internet for inspiration – – the size, the texture, the filling.  It looked like there were two ways to go – – either a sponge cake or a cake mix. I opted for the sponge cake version, remembering that gluten-free cakes can be delicate and crumbly.  I needed these babies to hold up when I injected them with a creamy frosting center.
Now I needed a clue on forming the cakes.  Knowing gluten-free batter spreads unless corralled, I suspected I would need a special pan.  Aha.  The answer was a Cream Canoe Pan.  Mine came with a cupcake injector/decorating kit.
The checklist of tools complete, I looked into the crème filling. To my surprise, the traditional one was flour based and, although I could substitute gluten-free flour, it did not sound all that appetizing.  I created a yummy filling using Marshmallow Crème another icon of my childhood and, in this case, a good fit.
Finally, I turned to the ingredients.  In place of regular flour, I used a gluten free All Purpose Flour Mix, in this case, the one from Gluten-Free Pantry (Glutino) and my go-to flour blend when I don't want to start from scratch.
The sponge cakes turned out to be a brilliant choice.  They were amazingly sturdy yet delicate and up to the task of holding the filling without falling apart. Voila, Winkees. As you can see, these look (and taste) like the real deal.  Several gluten-eating tasters couldn't tell they were gluten free.
While Winkees don't have a 45-day shelf-life, the cakes keep on the counter for several days. The frosting keeps for several weeks.  If you don't have a canoe pan, you could make these as cupcakes and fill them with the fluffy filling.  But, do yourself a favor and buy the pan. In fact, buy two.  Winkees are addictive.
Makes 20 Snack Cakes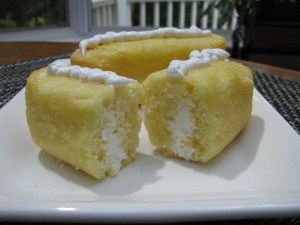 The Cakes
7 large eggs
½ teaspoon cream of tartar
2 cups Gluten-Free All-Purpose Flour Mix or blend below
1 ½ cups granulated sugar
1 tablespoon baking powder
½ cup vegetable oil
¾ cup cold water
1 ½ teaspoon vanilla
The Filling
2 teaspoons hot water
1/4 teaspoon salt
1 (16-ounce) jar of marshmallow crème
¾ cup vegetable shortening
1 1/3 cup powdered sugar
1 ½ teaspoon vanilla
To make the cakes:  Preheat the oven to 350°F. Spray the canoe pan channels lightly with vegetable spray. Set aside.
Separate the eggs, placing the whites in one large mixing bowl and the yolks in another.  Add cream of tartar to the whites and beat until they form stiff peaks.  Set aside.
Place the flour mixture, sugar, baking powder, oil, water and vanilla in the bowl with the yolks and beat until smooth.
Working in thirds, fold the beaten egg whites into the batter. Don't be tempted to stir or beat this mixture or the egg whites will lose their loft.
Fill each section of the snack cake pan 3/4 full.  An over-filled 1/3 cup measure works well for filling these pans. Bake for 18-20 minutes, or until golden brown.
Remove the pan from the oven and let cool for 5 minutes. Using a flexible spatula, gentle turn cakes onto a wire rack to cool flat side (top side) down.   Cool completely.
Wipe out the pan and spray with more vegetable spray.  Add more batter.  Repeat until you've used all the batter.
Let these cool while you make the filling.
To make the filling: Combine the salt with the hot water in a small bowl and stir until salt is dissolved. Let mixture cool. In a large bowl, combine the marshmallow crème, vegetable shortening, powdered sugar, and vanilla and beat until fluffy. Add the water and beat to combine.
Line two cookie sheets with waxed paper.  Set the cakes, flat side down, on the cookie sheets.  Use a thick skewer to make three holes in the bottom of each cake, moving the stick around inside of each cake to create space for the filling.  Don't poke through to the top however. Fill a cake decorator or pastry bag with filling and inject each cake with filling through all three holes. Don't worry if you overfill these and the sides begin to break.  They won't fall apart.  Add a row of squiggles on top for decoration.
All-Purpose Blend
This makes more than you'll need for the recipe above.  Store the remainder in a zip-loc bag.
2 ¾ cups rice flour
1 ¼ cups corn or potato starch
1/3 cup tapioca flour
3 teaspoons xanthan gum
1 teaspoon salt