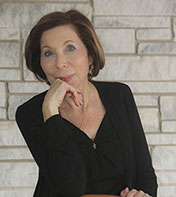 About Beth
Beth created one of the first gluten-free companies in the US, wrote books, and now shares 40 years of living well without gluten in her latest book,
The Complete Guide to Living Well Gluten Free
. She believes no one should go without because of gluten. Through her cookbooks, lifestyle book and essays, she shows us how. Travel, restaurant dining, parties, dating, raising kids – she's been there and takes celiac disease and the gluten free diet along for the ride. Join her as she answers all your baking and lifestyle questions.
Makes 15 Small Scones
These not-too-sweet scones are so cute and fun to serve.  They go well with a meal or a cup of tea or coffee.  Serve warm or at room temperature.  The scones are inspired by a recipe from my friend Rebecca Reilly who is one of the best gf bakers I know! I used RYZE Blue Flour Blend– so simple 'cause the blend is all I needed, plus there are no gums or starches. 
1 ¾ cups RYZE Blue Flour Blend, more for shaping dough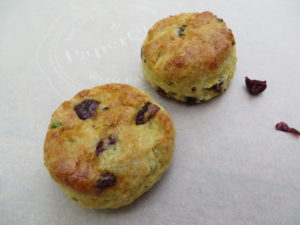 2 tablespoons chopped fresh chives
3 teaspoons baking powder
½ teaspoon baking soda
½ teaspoon salt
8 tablespoons cold unsalted butter or non-hydrogenated shortening, cut into small pieces
½ cup coarsely chopped dried cranberries (Craisins)
½ cup finely grated cheddar cheese
2 large eggs
1 tablespoon honey 
1/3 cup milk
Egg wash (1 egg yolk mixed with 1 tablespoon milk)   
Preheat oven to 400°F. Line a cookie sheet with parchment paper.
In a large bowl, whisk together flour blend, chives, baking powder, baking soda, and salt.
Add butter to dry ingredients. Using your fingers or a pastry cutter, work butter into dry ingredients to create a coarse meal. Stir in chopped cranberries and cheese.
Make a well in the middle of dry mixture. Break eggs into the well. Add honey and milk and mix together to form a soft, slightly sticky dough.  Mix until dough comes together.
Sprinkle 1 to 2 teaspoons flour blend onto a sheet of plastic wrap or parchment paper.  Turn dough onto lightly-floured surface and shape into a round that is about 1 inch thick.  Using a 1 ¾-inch biscuit cutter, cut as many rounds as possible from the dough and set about 1 inch apart on prepared cookie sheet.  Press the remnants of dough together to form another round about 1 inch thick and cut more scones.  Repeat until all the dough is used. 
Brush scones lightly with egg wash.  Place in preheated oven and bake 15 minutes or until bottoms are golden brown.
Remove scones from oven and let cool slightly on a wire rack before serving or cool completely and store in an airtight container on the counter for up to 2 days or in the freezer for up to 6 weeks.
A recipe from Beth Hillson

Serves 6
This flavorful stew is great for weekday meals, as a company dinner, or a Super Bowl supper. It can be made in a Dutch oven or in the slow cooker. The flavors improve when this dish is made a day ahead.
2 ½ pounds boneless beef chuck, cut into 1 ½ -inch pieces
2 teaspoons salt
1 teaspoon freshly ground black pepper
3 tablespoons olive oil, divided
2 large or 3 medium yellow onions, cut into thin wedges (about 8 wedges per half)
5 teaspoons crushed garlic
2 tablespoons red wine vinegar
1 ½ tablespoons tomato paste
1/4 cup rice flour
4 cups gluten-free beef broth
2 bay leaf
6 sprigs fresh thyme
2 teaspoons sugar
5 large carrots, peeled and cut into one-inch chunks on a diagonal
1 pound small red bliss or pee wee potatoes, cut in half
1 cup frozen, jarred, or fresh pearl onions
Fresh chopped parsley or fresh thyme, for garnish (optional)
Preheat oven to 325°F with rack in middle.
Pat beef dry and season salt and pepper. In a large Dutch oven or heavy pot, heat 1 tablespoon olive oil over medium-high heat until hot and shimmering. Brown meat in 3 batches, turning, about 5 minutes per batch, adding one tablespoon more oil for each batch. (To sear meat properly, do not crowd the pan and let meat develop brown crust before turning.) Transfer meat to a large plate and set aside.
Add onions and garlic and sauté for 2 minutes. Add vinegar; cook, stirring with a wooden spoon to scrape brown bits from bottom of pan, about 3 minutes. Add tomato paste and cook a few minutes more. Return beef with juices to pan and sprinkle with flour; stir with wooden spoon until flour is dissolved, 1-2 minutes. Add broth, bay leaf, thyme, and sugar; stir to loosen any brown bits from bottom of pan and bring to a simmer. Cover pot with lid, transfer to preheated oven and braise for 2 hours.
Remove pot from oven and add carrots and potatoes. Cover and place back in oven for 50-60 minutes more, or until vegetables are cooked and meat is very tender. Taste and adjust seasoning if necessary. Add onions and cook another 10 minutes. Serve or let cool, and refrigerate overnight or until ready to serve. This stew improves in flavor if made at least 1 day ahead. Reheat, covered, over medium heat or in a 350°F oven. Garnish with fresh parsley or thyme if desired.
A recipe by Beth Hillson
Serves 6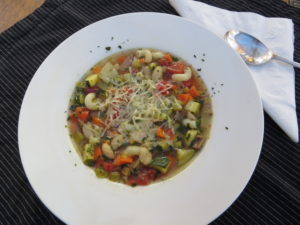 Comfort food meets gluten free with this thick and hearty potage.  Perfect for a winter feast and for feeding a crowd of hungry visitors, this soup is chockfull of vegetables, gluten-free pasta and white cannellini beans.  Serve with gluten-free rolls or biscuits.  Cook the pasta separately and add to the soup just before serving to prevent it from soaking up all the liquids.  Top with parmesan cheese. For more comfort foods, see my article in Gluten Free & More, Feb/Mar 2017.
3 tablespoons extra-virgin olive oil
3 slices turkey bacon, chopped
2 cups finely chopped leeks (about 1 large leek)
2 teaspoons crushed garlic
2 stalks celery, thinly sliced
2 large carrots, peeled and chopped
1 large potato, peeled and diced
1 large diced, unpeeled zucchini (about 1 cup)
1 tablespoon freeze dried or fresh chopped basil
1 teaspoon dried oregano
Salt and freshly ground pepper, to taste
1, 28 -ounce can tomatoes, drained and chopped
6 cups gluten-free chicken broth, more as needed to thin out the soup
1 cup frozen green peas
1, 15 -ounce can cannellini beans, rinsed and drained
1 cup cooked gluten free elbow pasta
1/3 cup finely grated parmesan cheese, divided
2 tablespoons chopped fresh basil, for garnish 
Heat the olive oil in a large pot over medium-high heat. Add the turkey bacon and cook until pieces begin to brown, about 2 minutes.  Add leeks and cook until leeks are translucent, about 4 minutes. Add the garlic and cook 30 seconds. Add the celery, carrot, and potato, and cook until they begin to soften, about 5 minutes. Stir in the zucchini, basil, oregano, salt, and pepper to taste; cook1 minute. 
Add the tomatoes and the chicken broth to the pot and bring to a boil. Reduce the heat to medium low and simmer, covered, 10 minutes. Stir in the peas and beans and cook until the vegetables are fork tender, about 10 minutes.  Divide pasta into 6 bowls and ladle soup over the pasta.  Top with parmesan and chopped basil. Serve. 
Recipe from Beth Hillson
This healthy, flavorful gluten free meal will be a hit with your family as it's been with mine.  The recipe is made with cooked millet, a nutrient-dense gluten-free grain that is high in fiber and protein.  It adds a nutty, wholesome taste to this recipe, but you can pick another gluten-free grain if you wish. Quinoa, sorghum or brown rice will work.  Store leftover cooked grain in the freezer.
Serves 4 to 6  
6 bell peppers, any color
2 tablespoons olive oil
1 onion, finely diced
2 cloves garlic, chopped
¾ pound lean ground turkey
Salt and freshly ground black pepper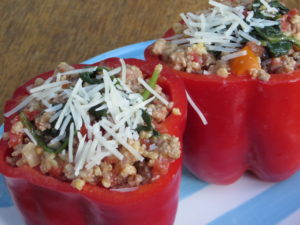 ¼ teaspoon red pepper flakes
1, 15-ounce can petit diced tomatoes, drained
4 ounces baby spinach
4 large crimini mushrooms, coarsely chopped (about ½ cup)
1 cup cooked millet, whole grain sorghum or brown rice
¼ cup grated Parmesan cheese plus 2 tablespoons for topping
Vegetable broth 
Preheat the oven to 400 degrees F. 
Cut the tops off the peppers. Remove and discard the stems, chop the tops; set aside. Scoop out the seeds and as much of the membrane as you can. Cut a thin slice from the bottom of the peppers so they stay upright in the pan.  Place the peppers cut-side up in a baking dish just large enough to hold them.Heat 1 tablespoon of the olive oil in a large skillet over medium-high heat. Add onion and garlic and sauté until onion is translucent.  Add the turkey and cook, breaking up the lumps, until the meat is cooked through and just beginning to brown, 8 to 10 minutes.
Drain any liquid that accumulates as the turkey cooks.  Season with salt and pepper and red pepper flakes.  Transfer to a medium bowl.
Wipe out the skillet and add the remaining tablespoon of olive oil.  Add the spinach and mushrooms and cook until spinach begins to wilt.  Combine with turkey mixture.  Fold in millet and ¼ cup Parmesan cheese.   
Add additional salt and pepper as needed. 
Fill the peppers with the turkey and millet mixture and top each with a sprinkle of the remaining cheese. Pour a small amount of vegetable stock into the bottom of the baking dish. Cover the dish with foil and bake for 30 minutes. Uncover and bake until the peppers are soft about another 15 minutes.
Recipe By Beth Hillson
Makes 1 Boule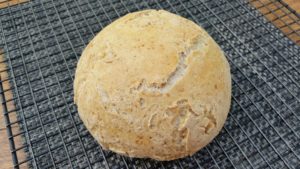 No-Knead Bread seems like an oxymoron to me.  Aren't we all looking for a texture that allows us to touch and knead our gluten free dough?  Although you actually can knead the dough in this recipe, it's not necessary.
This bread is a makeover from the wildly popular no-knead wheat loaf that's based on a recipe published in the New York Times courtesy of Jim Lahey of Sullivan Street Bakery fame. I know a number of bread bakers who make this regularly.  It's beautiful, tastes terrific, requires no special ingredients and, best of all, it takes virtually no effort to produce a perfect loaf.
When no-knead bread became the rage a couple of years ago for people who bake with wheat flour, it caught my attention. Its popularity was based on an easy prep: Mix it up in a bowl, let it rest on the counter up to 18 hours and stick it in the oven. Voila! Homemade bread.
I used my makeover magic to create this great-tasting, gorgeous loaf, the gluten-free version of Jim Lahey's recipe.  I used flax meal so the structure benefitted from eggs but could rest on the counter overnight. In place of wheat flour, I used a blend of gluten-free flours, starches and xanthan gum.
The amount of water was the tricky part.  Too much water made the dough clay-like in texture and produced a hard rather than crusty exterior. Too little resulted in a dry, crumby loaf.
The original recipe called for a tiny bit of yeast. That might work with wheat dough but didn't produce enough lift for dense, gluten-free dough. I increased the amount of yeast to create a steady fermentation process and a subtle sourdough taste. My loaf did not benefit from a lengthy resting period.  The original recipe suggests 18 hours.  This dough seems best if you let is rest 8 to 12 hours or overnight.
If you have a Dutch oven, I recommend using it. This produces just enough steam to create a chewy crust.  Otherwise, set the boule on a baking stone or baking sheet to bake.
I've doubled the recipe and pulled off dough for rolls and breadsticks, too.  It's pretty cool dough and very easy to make.
Note:  A version of this recipe appears in the Oct/Nov 2016 issue of Gluten Free & More Magazine.
My Makeover of No-Knead Bread
2 tablespoons flax meal
6 tablespoons hot water
1 ½ cups sorghum flour
¾ cup potato starch
½ cup sweet rice flour
¼ cup tapioca starch flour
2 ½ teaspoons xanthan gum
1 teaspoon salt
2 teaspoons yeast
1 cup warm water, divided, more as needed
2 tablespoons honey 
In a medium bowl, combine flax meal with hot water and let sit until thick, about 5 minutes.  Meanwhile, mix together sorghum flour, potato starch, sweet rice flour, tapioca starch flour, xanthan gum and salt.  Set aside.
Stir yeast, ½ cup warm water and honey into flax gel.  Let sit for 15 minutes or until mixture becomes foamy.
Stir mixture into dry ingredients.  Add remaining ½ cup warm water, 2 tablespoons at a time, until mixture is smooth and silky to touch but not sticky.  It may take the full ½ cup of water.  If mixture has dry spots, add 1 tablespoon additional warm water.  Dough will be shaggy (not smooth) at this point. 
Set in a bowl.  Cover with plastic wrap and let the dough sit in a warm spot on the counter for 8 hours or overnight.  It should rise, but won't double in size.  As the dough sits, it will give off moisture that will soften the texture.
Coat a sheet of parchment paper with oil.  Set the dough on parchment and roll it to coat in the oil.  Smooth into a ball.  Set it in a 4-quart Dutch oven, cover with the lid and let it rise 1 hour. 
Preheat the oven to 450 degrees.  After 1 hour, remove the lid and score the top with a sharp knife.  Brush with oil or egg wash, if desired.  (This will cause the crust to brown.) 
Cover and bake for 30 minutes.  Remove the lid and bake another 20 to 30 minutes.
Cool completely before cutting.
Recipe From Beth Hillson
Makes 9 to 12 Patties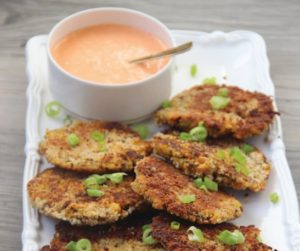 Here's a delicious way to enjoy leftover quinoa. Chickpeas and sweet potato boost the nutritional profile and add flavor and texture. Enjoy these for lunch, dinner or a wholesome snack. You can also serve these on gluten-free rolls or hamburger buns and garnish with lettuce and tomato slices.
Patties will keep 3 to 5 days in the refrigerator. Red Pepper Mayonnaise can be made ahead and stored in a tightly sealed container in the refrigerator for up to a week.
1 cup cooked black and white quinoa
1 cup sweet potato puree or pumpkin puree
1 cup chickpeas, rinsed, drained and mashed
2 teaspoons crushed garlic
2 teaspoons crushed ginger
¼ cup quinoa flour
4 scallions, green part removed, white part chopped
2 large eggs
Salt and pepper, to taste
1-1½ cups gluten-free panko crumbs
1 tablespoon olive oil, more as needed
Red Pepper Mayonnaise (Below)
To make the patties, place quinoa, sweet potato puree, mashed chickpeas, garlic, ginger, quinoa flour, chopped scallions, eggs, salt and pepper in a bowl. Mix together until well combined.
Spread panko crumbs over a medium plate.
Scoop out a heaping 1/4 cup of quinoa mixture and pat into a patty about 3 to 4 inches in diameter. Dredge in panko crumbs on both sides. Repeat with remaining quinoa mixture.
Place olive oil in a heavy skillet and heat over medium heat. Sauté patties in olive oil, about 2 minutes a side. Remove from pan and let cool. (Patties can be refrigerated at this point and baked later.)
Preheat oven to 350°F. Line a baking sheet with parchment paper or aluminum foil.
Set patties on prepared baking sheet in a single layer. Place in preheated oven and bake 10 minutes. Serve warm with Red Pepper Mayonnaise.
Red Pepper Mayonnaise
Makes 1¼ cups
¾ cup packed jarred roasted red peppers, without liquid
½ cup lite mayonnaise
1 tablespoon honey
½ teaspoon cayenne pepper, optional
Place roasted red peppers, mayonnaise, honey and cayenne pepper (if using) in the bowl of a food processor fitted with the blade. Blend until smooth.
Recipe by Beth Hillson
Serves 6
Gluten-Free whole-grain sorghum is a newcomer to our great grain choices.  A powerhouse of nutrients, vitamins and fiber, sorghum is rich in B vitamins and minerals, it promotes digestion, lowers blood sugar levels and reduces cholesterol. Whole-grain sorghum takes an hour to cook. Pearled sorghum contains fewer nutrients and less fiber but cooks in less time (about 40 minutes). Either way, prepare sorghum a day ahead and refrigerated until ready to use. Add delicious veggies like corn, tomatoes and kale and you've got a full meal.   
This recipe is part of my Healthy Plate Project, a wellness program to make life healthier one meal at a time.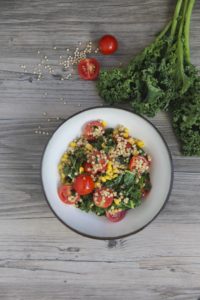 3 cups water
1 cup uncooked sorghum or pearled sorghum
½ teaspoon salt
6 teaspoons olive oil
1 tablespoon fresh tarragon
2 tablespoons white balsamic vinegar
2 teaspoons sugar, optional
2 teaspoons Dijon mustard
2 teaspoons crushed garlic
½ teaspoon kosher salt
¼ teaspoon black pepper
2-3 cups lightly sautéed chopped kale or baby kale
2 cups halved cherry tomatoes
1 ½ cups fresh corn kernels* 
Combine water, sorghum, and ½ teaspoon salt in a medium saucepan. Bring to a boil; cover, reduce heat to low, and simmer 1 hour or until. tender. Drain; cool.
Combine olive oil, tarragon, vinegar, mustard, garlic, salt, and pepper in a large bowl.  Whisk well . Add cooked sorghum, kale, tomatoes, and corn kernels; toss.

*Grill corn on the cob.  Cool and scrape the kernels off the cob.  
Recipe from Beth Hillson
 Kale has been the darling of the super food movement for several years.  High in nutrients and fiber, filling and versatile, kale is one of my favorites, too.  This year, we planted kale in the garden.  The plants produce delicate leaves that are not woody like some of the more mature kale you buy in supermarkets.  However, you'll want to make this year round so buy the mature stalks in the produce section and trim the woody stems from the leaves before preparing.  It's best if you can buy organic kale.  The convention version is one of the Dirty Dozen, meaning it is a sponge for pesticides. 
This recipe is part of my Healthy Plate Project, a wellness program to make life healthier one meal at a time. 
Check out my crop of homegrown kale.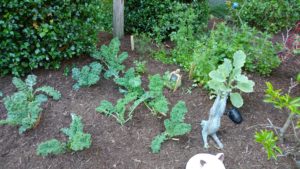 The Salad
Serves 6
3 red or golden beets, peeled and cubed
3 tablespoons olive oil, divided
Sea salt, as needed
2 bunches curly kale (about 10 cups)
3 peaches, cut in slices or frozen peach slices, thawed
2 large plum tomatoes, cut into slices from top to bottom
6 – 8 ounces feta or goat cheese
1/3 cup pistachios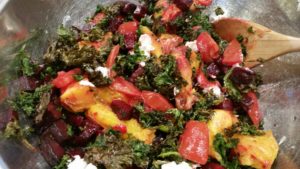 The Dressing
2 tablespoons olive oil
2 tablespoons balsamic vinegar
1 teaspoon honey
Sea salt
Preheat oven to 400 degrees.  Line two pans with aluminum foil or parchment paper.  On one baking sheet, toss the beets with 1 tablespoon olive oil and salt and roast for 20- 25 minutes.  Remove and cool.
Lower oven temperature to 350 degrees.  On the other baking sheet, toss the peaches and tomatoes with 1 tablespoon oil and salt.  Bake 20 minutes.  Remove and cool. 
Cut and stem the kale.  Toss the pieces with olive oil and salt and spread over cookie sheet.  Bake until crisp, about 15 minutes. 
Make the dressing:  Whisk together all of the ingredients. 
Gently mix together the roasted beets, kale, peaches and tomatoes.  Toss with feta cheese and the dressing.  Top with nuts and serve.