Monthly Archives:
December 2012
My friend Pat sent me her recipe for Fruit Rocks.  It called for all-purpose flour.  That was the easy part.  It also called for a supermarket's worth of candied fruit, chopped pecans and dates.  The amount seemed like a lot for the quantity of flour.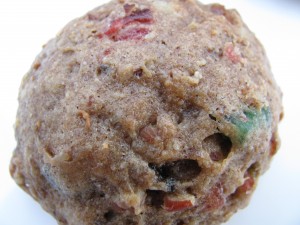 To my delight, I met Pat and her husband at a cooking class I did in Atlanta in March.  She brought me some of her fruit rock cookies made gluten free.  They were yummy, but very dense.  Chockfull of fruit and nuts, they reminded me of fruitcake.  But they were crumbly, too.  My baker's instinct told me, indeed, there was too much fruit.
Upon researching this old fashion cookie, I discovered a number of variations.  Some were listed as Russian Rock Cookies.  Others were called Christmas Rock Cookies.  One called for cocoa, another for lemon juice, a third for raisins.
I kept many parts of Pat's recipe – – the candied cherries, chopped dates, and pecans.  I added cocoa but did not add raisins. Then I created a flour blend – – an enhanced version of my cake and pastry flour from Gluten-Free Makeovers and increased the fat a bit, but not as much as one of the other recipes would have added.  It seemed like the cookies should be delicate, but sturdy enough to keep the chopped fruit suspended.
The results were delicious. These are like "loaded" miniature fruitcakes only better.  The flavor and texture will keep you coming back for more.
One batch makes enough for all your holiday gifts.
Fruit Rock Cookies (makes about 96 cookies)
1 cup white rice flour
1 cup sorghum flour
1 cup cornstarch (or tapioca starch)
2 teaspoons xanthan gum
1 teaspoon salt
2 tablespoon cocoa powder
3/4 teaspoon baking soda
3 teaspoons ground cinnamon
1 teaspoon allspice
¾ pound (12 ounces) chopped pecans
1, 4-ounce container red candied cherries, chopped
1, 4-ounce container green candied cherries, chopped
½  pound candied peel and fruit mix
½  pound chopped dates
1-1/2 cups granulated sugar
6 tablespoons unsalted butter or dairy-free alternative, at room temperature
6 tablespoons Earth Balance organic shortening, at room temperature
3 large eggs
2 tablespoons lemon juice
1 teaspoon vanilla extract
½ cup water
Preheat oven to 350 degrees.  Line 4 baking sheets with parchment paper.  Set aside.
Blend flours, cornstarch, xanthan gum, salt, cocoa powder, baking soda, and spices.  Whisk until cocoa is evenly dispersed.  Remove ½ cup of flour mixture.
Combine chopped pecans, cherries, peel and fruit mix, and dates.  Toss with reserved ½ cup of flour blend.  Set aside.
Cream sugar with butter and shortening until light and fluffy. Add eggs and beat until fluffy.  Add the remaining flour mixture to butter mixture. Stir in lemon juice and vanilla extract.  Add water and stir until mixture is smooth.
Fold fruit mixture into batter, mixing thoroughly.  Drop by teaspoon onto prepared baking sheet, about one inch apart. Bake for 15 to 18 minutes. Do not over-brown.
Store cookies in jars for up to a week or freeze for later use.
"I have a friend who is new to the gluten free diet.  She wanted to do these Candy Cane Cookies for her family at Christmas.  Needless to say, these traditional favorites are not the same when you make them gluten free.  If you can help my friend, Charlotte, I would appreciate it.  Thank you," writes Marie from Maryland.
Marie sent me the original recipe from a Gold Medal Flour cookbook.  Initially I thought the gluten-free version of the cookies would not be sturdy enough to maintain its shape without crumbling.  Isn't that always the challenge when making gluten-free baked goods?  Then I remembered a recipe I made over last year for Spritz cookies.  I remembered the challenge was finding a blend and a balance of ingredients that created structure but still tasted delicious and was not crumbly.  The problem is that Cut Out cookies, Spritz cookies and Candy Cane cookies spread and lose their shape if you make them following a one-to-one substitution.  I needed a special blend, a delicate balance.
So what I did it.  I added a little more flour blend than the original recipe calls for (about 2 tablespoons more) just as I had for the Spritz cookies.  And I added ¼ cup additional confectioners' sugar.  It not only adds more sweetness but also, the added cornstarch helps add structure.
The result was these light, rich, cookies that are both sturdy and delicate.  They are fun to make so invite extras into the kitchen to help form the canes.    Enjoy!
Candy Cane Cookies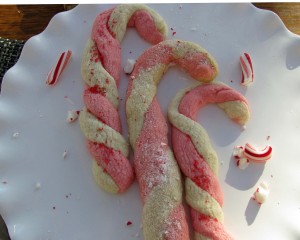 Makes 40 to 48 cookies
1 cup white rice flour
¾ cup sorghum flour
½ cup cornstarch
1/3 cup tapioca starch
1 ½ teaspoons xanthan gum
½ teaspoon salt
½ cup (1 sticks) unsalted butter, softened (or dairy-free substitute)
½ cup (1 stick) Earth Balance or other organic shortening
1 ¼ cups confectioners' sugar
1 large egg
1½ teaspoons almond extract
1 teaspoon vanilla extract
½ teaspoon red food coloring*
½ cup crushed candy cane candy
½ cup granulated sugar
Preheat the oven to 375 degrees F. Line 3 to 4 cookie sheets with parchment paper and set aside. In a medium bowl, combine rice flour, sorghum flour, cornstarch, tapioca starch, xanthan gum, and salt. Whisk to combine. Sift and set aside.
In a medium bowl, cream the butter, shortening, confectioners' sugar, and egg until fluffy.  Add flavorings and beat briefly to combine.  Add the flour mixture and beat briefly to combine.  Divide dough in half.  Blend food coloring into one half.
Roll a 4-inch strip (using 1 teaspoon of dough) from each color.  Roll the strips back and forth to smooth the surface then place strips side by side and press together lightly.  Twist like a rope by rolling together or twisting like a rope.  Experiment to see which method works best for you.  Just be careful not to blend the two strands or the candy cane cookies will look more marbled than twisted.
Place on prepared cookie sheets.  Curve the top down to form the handle of the cane.  Bake 9 minutes, until lightly browned.  While still warm, sprinkle with candy-sugar mixture.   Cool completely before storing.
*Natural food coloring is available through IndiaTree.com
TIP:  Instead of crushed peppermint candy and granulated sugar, dust with red or green sanding sugar when the cookies come out of the oven.