Monthly Archives:
September 2014
By Beth Hillson
If you love salmon, you'll want to try this easy and flavorful recipe from Silvana's Gluten-Free and Dairy-Free Kitchen by Silvana Nardone.  You might know Silvana from her blog, Silvana's Kitchen or from her previous book, Cooking for Isaiah.  Released earlier this month, Silvana's Gluten-Free and Dairy-Free Kitchen contains125 gluten-free, dairy-free recipes for breakfast, brunch, breads, appetizers, salads, soups, homemade pasta, fake-out takeout, TV dinners, restaurant classics, dessert classics, reinvented baking mixes and reinvented dairy-free favorites.
Congratulations, Silvana!  Pick up a copy of the book at Amazon.com or anywhere books are sold.
Sticky Sesame Salmon with Orange Sauce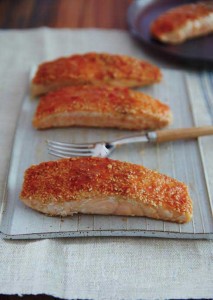 Serves 4
For the Sauce
1⁄4 cup ketchup
1⁄4 cup orange juice, preferably freshly squeezed
2–4 tablespoons sugar
2 tablespoons chili paste, such as sambal oelek, or to taste
1 tablespoon sesame oil
For the Fish
4  6-ounce salmon fillets, skin removed
Salt and black pepper
3 tablespoons olive oil
1∕3 cup sesame seeds
Preheat the oven to 350 ̊F.
Make the sauce: In a large bowl, stir together the ketchup, orange juice, sugar, chili paste
and sesame oil. Set aside.
Make the fish: Season the salmon generously with salt and pepper, then drizzle with 2 tablespoons of the olive oil. Place the seeds on a plate and dredge the tops of the fillets in the sesame seeds to coat.
In an ovenproof skillet, heat the remaining 1 tablespoon olive oil over medium-high heat.
Add the salmon, sesame seed side down, to the pan and sear, turning once, until golden
brown, about 3 minutes on each side.
Transfer the skillet to the oven and roast the salmon until cooked through, about 6 minutes.
Generously brush with the orange sauce and serve.
Excerpted from Silvana's Gluten-Free and Dairy-Free Kitchen © 2014 by Silvana Nardone. Reproduced by permission of Houghton Mifflin Harcourt. All rights reserved.