Monthly Archives:
December 2013
By Beth Hillson
Serves 8 to 12
During the bone-chilling winter months, I make hearty gluten-free soups for lunch and dinner.  Here's a chowder that is a favorite in our house.  It is a wholesome soup with big chunks of veggies suspended in a milk-based broth.  But, instead of milk, I use coconut milk.  It creates a wonderful creaminess and a filling potage.  Puree half the vegetables and add them back to make this soup both creamy and chunky.  Light a fire, warm up some gluten free biscuits and enjoy.   This keeps for 3 to 5 days in the refrigerator.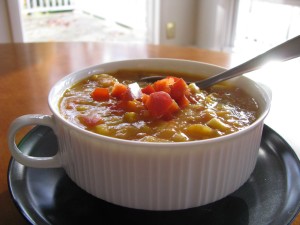 3 ounces hickory-smoked bacon, chopped
2 to 3 tablespoons olive oil, divided
1 large leek, chopped
3 medium carrots, peeled, roughly chopped
1 medium red bell pepper, cored, roughly chopped
3 pounds of sweet potatoes, peeled and cubed
5 cloves garlic, chopped
½ teaspoon chipotle chili powder
4 – 6 cups gluten-free chicken broth
Salt and freshly ground pepper to taste
1 (13.6 ounce) can light coconut milk
Garnish
2 tablespoons olive oil
2 ½ cups corn kernels, frozen and thawed, or fresh
Salt and freshly ground pepper to taste
½ cup finely chopped red pepper
Heat 1 tablespoon of the oil in a very large Dutch oven or stockpot. Add the bacon and sauté until it begins to brown.  Remove the bacon with a slotted spoon and reserve.  Add remaining oil and sauté the leeks, carrots, and bell pepper. Cook over medium-high until vegetables begin to soften, about 5 minutes. Add sweet potatoes, garlic and chipotle.  Cook and stir for about 5 minutes.
Add enough broth to cover the vegetables.  Check seasonings and add salt and pepper and the cooked bacon.  Simmer, partly covered, over low heat, stirring often, until sweet potato is very tender, 15 to 20 minutes. Remove from heat.  Use a slotted spoon to scoop out 3-4 cups of vegetables and set aside.
Use an immersion blender to puree remaining soup or ladle some of the soup into a blender and puree in batches.  Add back the chunks of vegetables and stir in coconut milk.  Return the soup to low heat.  Check seasonings and add more salt and pepper if desired.  If the chowder is thicker than you like, add additional chicken broth until you reach desired consistency.
For the garnish, heat olive oil in a large cast-iron skillet over medium-high heat.   Add the corn and sauté until the corn is lightly charred, about 5 minutes. Add salt and pepper.  Stir into chowder.
To serve, heat the chowder until hot. Ladle into bowls; top with diced red pepper.