Blog Archives
A recipe from Beth Hillson

Serves 6
This flavorful stew is great for weekday meals, as a company dinner, or a Super Bowl supper. It can be made in a Dutch oven or in the slow cooker. The flavors improve when this dish is made a day ahead.
2 ½ pounds boneless beef chuck, cut into 1 ½ -inch pieces
2 teaspoons salt
1 teaspoon freshly ground black pepper
3 tablespoons olive oil, divided
2 large or 3 medium yellow onions, cut into thin wedges (about 8 wedges per half)
5 teaspoons crushed garlic
2 tablespoons red wine vinegar
1 ½ tablespoons tomato paste
1/4 cup rice flour
4 cups gluten-free beef broth
2 bay leaf
6 sprigs fresh thyme
2 teaspoons sugar
5 large carrots, peeled and cut into one-inch chunks on a diagonal
1 pound small red bliss or pee wee potatoes, cut in half
1 cup frozen, jarred, or fresh pearl onions
Fresh chopped parsley or fresh thyme, for garnish (optional)
Preheat oven to 325°F with rack in middle.
Pat beef dry and season salt and pepper. In a large Dutch oven or heavy pot, heat 1 tablespoon olive oil over medium-high heat until hot and shimmering. Brown meat in 3 batches, turning, about 5 minutes per batch, adding one tablespoon more oil for each batch. (To sear meat properly, do not crowd the pan and let meat develop brown crust before turning.) Transfer meat to a large plate and set aside.
Add onions and garlic and sauté for 2 minutes. Add vinegar; cook, stirring with a wooden spoon to scrape brown bits from bottom of pan, about 3 minutes. Add tomato paste and cook a few minutes more. Return beef with juices to pan and sprinkle with flour; stir with wooden spoon until flour is dissolved, 1-2 minutes. Add broth, bay leaf, thyme, and sugar; stir to loosen any brown bits from bottom of pan and bring to a simmer. Cover pot with lid, transfer to preheated oven and braise for 2 hours.
Remove pot from oven and add carrots and potatoes. Cover and place back in oven for 50-60 minutes more, or until vegetables are cooked and meat is very tender. Taste and adjust seasoning if necessary. Add onions and cook another 10 minutes. Serve or let cool, and refrigerate overnight or until ready to serve. This stew improves in flavor if made at least 1 day ahead. Reheat, covered, over medium heat or in a 350°F oven. Garnish with fresh parsley or thyme if desired.
Recipe from Beth Hillson
This healthy, flavorful gluten free meal will be a hit with your family as it's been with mine.  The recipe is made with cooked millet, a nutrient-dense gluten-free grain that is high in fiber and protein.  It adds a nutty, wholesome taste to this recipe, but you can pick another gluten-free grain if you wish. Quinoa, sorghum or brown rice will work.  Store leftover cooked grain in the freezer.
Serves 4 to 6  
6 bell peppers, any color
2 tablespoons olive oil
1 onion, finely diced
2 cloves garlic, chopped
¾ pound lean ground turkey
Salt and freshly ground black pepper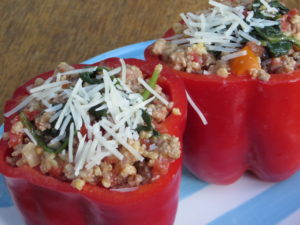 ¼ teaspoon red pepper flakes
1, 15-ounce can petit diced tomatoes, drained
4 ounces baby spinach
4 large crimini mushrooms, coarsely chopped (about ½ cup)
1 cup cooked millet, whole grain sorghum or brown rice
¼ cup grated Parmesan cheese plus 2 tablespoons for topping
Vegetable broth 
Preheat the oven to 400 degrees F. 
Cut the tops off the peppers. Remove and discard the stems, chop the tops; set aside. Scoop out the seeds and as much of the membrane as you can. Cut a thin slice from the bottom of the peppers so they stay upright in the pan.  Place the peppers cut-side up in a baking dish just large enough to hold them.Heat 1 tablespoon of the olive oil in a large skillet over medium-high heat. Add onion and garlic and sauté until onion is translucent.  Add the turkey and cook, breaking up the lumps, until the meat is cooked through and just beginning to brown, 8 to 10 minutes.
Drain any liquid that accumulates as the turkey cooks.  Season with salt and pepper and red pepper flakes.  Transfer to a medium bowl.
Wipe out the skillet and add the remaining tablespoon of olive oil.  Add the spinach and mushrooms and cook until spinach begins to wilt.  Combine with turkey mixture.  Fold in millet and ¼ cup Parmesan cheese.   
Add additional salt and pepper as needed. 
Fill the peppers with the turkey and millet mixture and top each with a sprinkle of the remaining cheese. Pour a small amount of vegetable stock into the bottom of the baking dish. Cover the dish with foil and bake for 30 minutes. Uncover and bake until the peppers are soft about another 15 minutes.