Monthly Archives:
August 2015
Recipe from Beth Hillson
Makes 4 Go-Stick Treats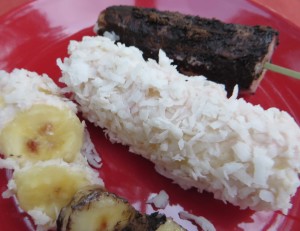 Here's a great grab-and-go breakfast or snack that's healthy and loaded with fiber and potassium, too.  Whether you use unsweetened cocoa, coconut, or ground nuts, you'll be getting lots of nutritional bennies in each treat.
Make a batch ahead of time so they are ready for school or breakfast on the run.  You'll swear you are biting into a chocolate bar when you try the bananas coated with unsweetened cocoa; the coconut variety tastes like coconut cream and the nuts will make you think you've bitten into a nutty ice cream treat. What could be better?
No need to add fruit preserves if using the nut or coconut coating.  However, the preserves are a nice touch to cut the bitterness of unsweetened chocolate.
2 large organic bananas
¼ cup plain yogurt, preferably organic
2 teaspoons fruit preserves (no sugar added), optional
Toppings: (Choose your preference)
4 teaspoons unsweetened dark cocoa
¼ cup unsweetened coconut
¼ cup chopped unsalted almonds or peanuts
4 skewers or long toothpicks
Line a large plate with wax paper.  Peel the bananas and cut in half through the center.  Place a skewer through each banana half lengthwise.
In a small plate, combine yogurt and fruit preserves, if using.
In another plate, add cocoa, breaking up any clumps.
Spread the coconut over another plate, breaking it up with the back of a fork.  Spread the nuts over another plate, if using.
Coat each banana half in the yogurt mixture then coat it in one of the addition toppings.  Set on the wax paper lined plate and freeze for a minimum of 1 hour and up to 3 days.
When you need a Go-Stick, grab on out of the freezer and away you go!