Monthly Archives:
June 2012
A letter from a reader sent me scurrying to create an oatmeal cookie.
"I have had celiac for 15 years, I'm excited about all the new products coming out in all these years.  But I haven't found an oatmeal cookie I like.  I was wondering if you have a recipe for oatmeal cookies?"
The note sparked memories of my childhood when we would pull down the Quaker Oats cannister from the top shelf of the cupboard and make the recipe on the back of the container.  I couldn't recall the last time I made oatmeal cookies – certainly not since I became gluten-free 36 years ago.
So her suggestion triggered a powerful reaction in me, a hankering to enjoy chewy oatmeal cookies again.  But this time, I couldn't use Quaker Oats or all-purpose flour and my tastebuds hankered for a more updated, mature version of my childhood favorite.  Nevertheless, as I creamed the butter and sugar and folded in gluten-free oats with a wooden spoon that had belonged to my mother,  I was, once again, standing at the counter in her blue and yellow kitchen.  Funny how a hankering evokes such vivid memories – – the days of childhood, the days of old fashion oatmeal cookies, the days before I was gluten-free.
I suspect oatmeal cookies stir up fond associations for all of us.  I brought these cookies to a barbecue where the young adults far outnumbered us oldsters.  One-by-one, the "kids" in the group sought me out to say, "thank you."   "These are the best cookies I have ever had," several of them told me.  A couple of them (friends of my son who is a celiac) knew they were gluten-free, but no one else  suspected.
The recipe was inspired by one on Food.com.  It's a good thing it makes a big batch! They disappear quickly.  A key step in this recipe is to let the dried cranberries soak in the eggs and vanilla for 1 hour.  So allow a little extra time when preparing these.  If you'd like to reduce the fat, replace 4 to 6 tablespoons of butter with the same amount of unsweetened applesauce.
The Best Oatmeal Cookies Ever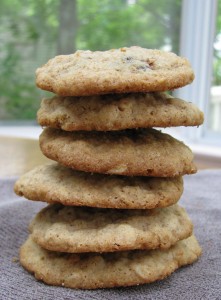 Makes 72-84 cookies
3 large eggs, well beaten
1 cup dried cranberries such as Craisin brand
1 teaspoon vanilla extract
1 cup unsalted butter. softened
1 cup lightly-packed light brown sugar
¾ cup white sugar
2 ¾ cups any All-Purpose Gluten-Free Flour Blend*
1 teaspoon cinnamon
2 teaspoons baking soda
2 ¼ cups gluten-free rolled oats (not steel cut or thick cut oats)
3/4 cup chopped toasted walnuts
*Add 1 ½ teaspoons xanthan gum and ½ teaspoon salt if these are not included in your blend.
Combine eggs, cranberries and vanilla and let stand for one hour.
Preheat oven to 350 degrees.  Line two or more cookie sheets with parchment.  Set aside.
Cream together butter and sugars.  Mix flour with cinnamon and baking soda and whisk to combine.   Add to butter mixture and mix well.  Blend in egg mixture, oats, and chopped walnuts.   Dough will be stiff.
Drop by heaping teaspoons onto cookie sheet, or roll into balls and flatten slightly.  Bake for 10 to 12 minutes or until lightly browned around the edges.  Cool in pan before removing to a serving tray as cookies are quite soft.
These freeze well.