Blog Archives
A Recipe by Beth Hillson
Yield: 24 bars
This is my latest go-to dessert.  I take it to pot luck dinners, bake sales, you name it!  It's easy, delicious and amazingly versatile.  Use whatever fruit is in season.  Vary the sweetness of this recipe by adding more or less sugar depending on your tastebuds and the natural sweetness of the fruit.  The bars freeze well.
I made these using RYZE Blue Flour Blend.  Instead of measuring out a bunch of flours, I use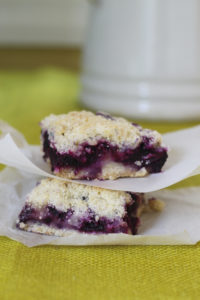 one ingredient.  However, you could certainly make this with any A/P flour blend.  Make sure it contains xanthan gum or add 1 teaspoon xanthan gum to the recipe.
For the Dough
3 cups RYZE Blue Flour Blend or an A/P Gluten-Free Flour Blend that contains xanthan gum
1 cup granulated sugar
1 teaspoon baking powder
¼ teaspoon salt
1 cup (2 sticks) unsalted butter, cold, cut into small pieces
1 large egg, lightly beaten
For the Filling
4 cups (2 pints) fresh blueberries of 5 cups peeled, sliced peaches or apples (about 6-7)
1 tablespoon lemon juice
1 teaspoon vanilla
½ cup RYZE Blue Flour Blend or an A/P Gluten-Free Flour Blend that contains xanthan gum
½ to ¾ cup granulated sugar
¼ teaspoon salt
½ teaspoon ground cinnamon
¼ teaspoon ground nutmeg
Preheat the oven to 375 degrees F. Line a 9×13-inch baking pan with aluminum foil and coat with vegetable spray.
Make the Dough: In the bowl of a food processor fitted with the knife blade, add the flour, sugar, baking powder and salt. Pulse several times to combine.  Add butter and pulse until mixture resembles coarse meal (about 10 pulses).  Add the egg and pulse briefly.  Empty contents into a large bowl. With a fork, mix the dough until egg is distributed evenly.  Dough will be crumbly.  Or combine dry ingredients in a medium bowl.  Use a pastry blender to cut in the butter, and then the egg.
Pat half of the dough into the prepared pan. Place the pan and the remainder of the dough in the refrigerator to stay cold while preparing the filling.
Make the Filling: Place the washed and drained blueberries in a large bowl and sprinkle with lemon juice and vanilla. Mix gently. In a separate bowl, whisk together the flour, sugar, salt, cinnamon and nutmeg. Sprinkle over the fruit and toss gently with a wooden spoon.
Spread the fruit mixture evenly over the crust. Crumble the remaining dough over the blueberries.
Bake in the preheated oven for 45 minutes, or until the top is slightly brown. Cool completely before cutting into squares.
As a child, my biggest worries this time of year were whether Mrs. Lord was making caramel corn balls for Halloween and if Mrs. Oakes would have any candy coated apples left by the time I came to her house to trick or treat.
I spent the entire month of October anticipating the Candy Corn, the Tootsie Rolls, and the Mars Bars that would fill my shopping bag – several bags, if I was lucky.  As I counted the days until the end of the month, I brooded about the ever cooling weather pattern.  Would there be snow in the tiny Maine town I called home?  Would I need mittens – something that made it very difficult to eat Mrs. Oakes' sticky candy apples. Most of all, I wondered how many layers of clothing I would need to wear under my costume.  Would the ubiquitous black cat costume still fit or would I have to opt for my brother's red devil number?
In school, I sketched faces I might want to carve into my jack-'o-lantern.  I practiced drawing angry faces, funny ones, sad ones.   In the end, the pumpkin always looked the same, owing to my lack of dexterity and the ever-dull knife that was the only one my mother allowed me to use.  Each year I promised myself that next year's pumpkin would be much better.  It never
was.
But not once did I realize that all the pumpkins I carved or stole from people's porches and smashed in the middle of the road were edible, that pumpkin was food.  I missed the connection, that these orange orbs were essential to my grandmother's Thanksgiving pumpkin pie and my mother's pumpkin quick breads.  Pumpkin – – duh?!
I can't say when the light went off, when I began using pumpkin in baking rather than carving.  But one day, it did.  And, now it's the orange flesh that pleases me.  Low in calories and high in fiber and vitamins, pumpkin is my friend.  And it's particularly great for gluten-free baking, adding moisture and texture to muffins and quick breads.   Warm spices – – cinnamon, ginger, cardamom, cloves, and nutmeg – – pair nicely with pumpkin puree.  Although you can bake a pumpkin and remove the flesh, you can also buy canned pumpkin puree.  It's so much easier and just as good.
So, say "Hello" to pumpkin and its many uses, and to this flavorful, moist pumpkin bread with crumb topping I made in honor of the season .
Pumpkin Bread with Crumb Topping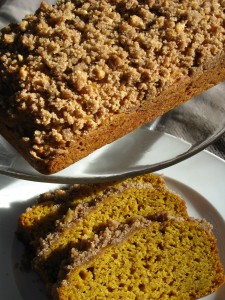 Makes 2 Medium Loaves
½ cup white rice flour
1 cup sorghum flour
1/3 cup cornstarch
2 ½ tablespoons tapioca starch
1 tablespoon baking powder
1 teaspoon xanthan gum
¾ teaspoon salt
½ teaspoon baking soda
½  teaspoon
ground cinnamon
¹⁄8 teaspoon
ground nutmeg
2 large eggs, at room temperature
1½ cups pumpkin puree (most of a 15-ounce can)
1 cup sugar
½ cup vegetable oil
¼ cup chopped pecans or other nuts, optional
1 cup Crumb Topping (below)
Preheat the oven to 350°F. Lightly oil two 8½ x 4½-inch loaf pans.
Combine the flours, cornstarch, tapioca starch, baking powder, xanthan gum, salt, baking soda, cinnamon, and nutmeg in a bowl. In a separate bowl, whisk together the eggs, pumpkin, sugar, and oil. Add to the dry ingredients and whisk to combine. Fold in the pecans, if using.
Divide the batter evenly between the two pans. Sprinkle ½ cup of the crumb topping over each loaf. Bake for 40 to 45 minutes, until toothpick inserted in the center comes away clean. Set on a wire rack and let cool for 10 minutes. Turn the breads out onto the rack and let cool completely. Wrap with plastic and let sit overnight before slicing.
Crumb Topping
Makes 3½ Cups or 3 Cups If Nuts Are Omitted
Store remaining topping in the refrigerator for 3 weeks or freezer for 3 months. 
¾ cup rice flour
1 cup packed brown sugar
1 tablespoon ground cinnamon
¼  teaspoon ground nutmeg
¼ teaspoon ground cloves
½ teaspoon salt
½ cup ground pecans, walnuts, or almonds, optional
6 tablespoons unsalted butter or non-dairy buttery spread, at room temperature, cut into pieces
Combine the flour, brown sugar, cinnamon, nutmeg, cloves, salt, and pecans, if using, in a large bowl. Mix well. Add the butter and use your fingertips to mix just until crumbly.