Monthly Archives:
May 2015
Makes 6 Burgers
Recipe By Beth Hillson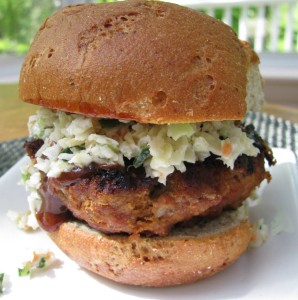 Memorial Day signals the unofficial start of summer.   It's time to start your barbecues!  Here's one of my go-to recipes that is part of every barbecue at my house.  Vary the add-ins and add-ons to suit your taste.  Try adding chopped shiitake mushrooms when you sauté the onions.  Top the burgers with fresh sauerkraut, tangy pickles or fruit slaw.  Serve these with your favorite condiments, too.  Whatever way you present these, they are sure to be a hit.
The secret is to use ground turkey.  (I prefer the dark meat.) It pairs well with so many flavors.  Sautéing the onions (and other veggies) first lends a nice punch to the burgers as well.  Don't forget to pick up some of your favorite gluten free buns.
1 small onion, chopped
1 tablespoon olive oil
3 slices gluten free bread
1 ½ pounds ground dark meat turkey
¼ cup flavorful gluten-free barbecue sauce, smoked or tangy is best, more to top burgers
1 cup shredded cheddar cheese
Salt and pepper to taste
Gluten-free coleslaw
6 gluten free hamburger rolls  (Udi's or Canyon Bakehouse are my two faves)
Heat a grill to medium heat or preheat oven to 375 degrees.
Set a large lightly oiled ovenproof skillet on the stovetop or on the grill and heat to medium high.  Sauté onion (other veggies, too) in olive oil until soft and slightly caramelized.  Set aside to cool.   Keep the skillet handy.  You'll need it for the burgers.
Microwave bread for 30 to 45 seconds or just until soft.  Tear into small pieces.  In a large mixing bowl, combine bread pieces, ground turkey, barbecue sauce, cheese, and salt and pepper.  Add onions (other veggies, too) and mix well.
Form into six burgers.  Put the skillet back on the stovetop or on the grill.  The skillet should still have a coating of oil.  If not, add a tiny bit more (1 to 2 teaspoons).  Add burgers and brown for about 3 minutes.  Flip to brown the other side.
Close the lid on the grill to finish cooking the burgers, about 10 minutes or until they are no longer pink in the center or set skillet with burgers in the oven and bake 10 to 15 minutes or until center is no longer pink.
Here's another way to grill the burgers:  Start burgers in the cast iron skillet placed on the grill with the temperature set at medium heat.  Cover the grill and cook for 5 minutes. The outside will become firm, preventing the burger from sticking to the grids.  Turn the burgers onto the grid to grill and brown for an additional 10 minutes, flipping midway through.
Toast or warm rolls.  Serve one burger on each roll with coleslaw and extra barbecue sauce.
Multi Grain High Fiber GF Bread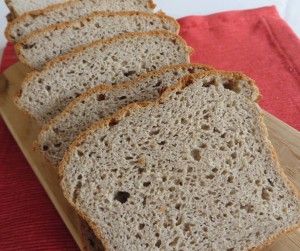 Recipe from Beth Hillson
Makes 2, 4 ½ x 8 ½ loaves
I've been trying to avoid carbs lately and when I do eat them, I stick to gluten free whole grain flours.  They digest more slowly and don't cause my blood sugar to spike.  I can't swear to it, but I think I stay fuller longer, too.  Besides, these flours are high in fiber and nutrients.  They have to be better than breads made with white flours and starches.
I started experimenting with this recipe a couple of years ago.  My goal was to use mostly buckwheat as it is known to lower blood sugar. However, the consistency, without other grains, was dry and crumbly.  So I cut back on the buckwheat and added other whole grains.  The results were delicious and the structure was nearly perfect.  Then I added flax meal and milk powder, boosting the dough with even more protein and moisture.  Perfecto! The structure of this loaf is very light, not something you would expect from a whole grain bread.  And the taste is delicate and nutty owing to the incorporation of these wonderful flours.
If you can't have dairy, replace the milk powder with the same amount of a dairy free milk. Hemp powder works well but I really like quinoasure, powdered quinoa protein.  Sliced bread freezes nicely.
1 ¼ cup buckwheat flour
1 cup sorghum flour
½ cup + 2 tablespoons millet flour
½ cup + 2 tablespoons oat flour
1 cup potato starch or cornstarch
¼ cup + 2 tablespoons amaranth flour
4 tablespoons ground flax meal
½ cup + 2 tablespoons milk powder
4 teaspoons xanthan gum
3 tablespoons sugar
1 ½ teaspoons salt
2 packets active dry yeast (about 4 ½ teaspoons)
4 large eggs
2 cups + 3 tablespoons water
4 tablespoons oil
1 ½ tablespoon cider vinegar
Lightly oil two 4 ½ x 8 ½ inch loaf pans.  Set aside.
Combine first 11 ingredients (up to yeast).  Blend.  Whisk in the yeast.
In a separate bowl, combine eggs, water, oil and vinegar.  Place dry ingredients in the bowl of a stand mixer.  Add the liquids and beat on medium using the paddle attachment.  When liquids are blended with dry ingredients, raise the speed to medium high.  Beat for 3 to 5 minutes or until smooth and shiny and strands of dough pull away from the sides of the pan.
Preheat oven to 375 degrees.  Divide dough between two prepared loaf pans.  Cover with oiled plastic and let rise to the top of the pan.
Bake 30 minutes.  Turn onto a wire rack to cool before slicing.