Blog Archives
From Beth Hillson
Makes 1 loaf (14 servings)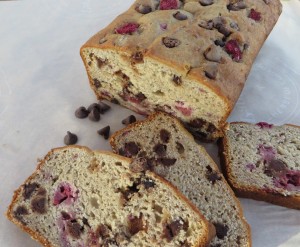 Could anything be better than having three favorite flavors packed into one recipe?  In this loaf, raspberries, banana and chocolate blend together to make a slightly sweet loaf that is as pretty as it is delicious.  Leftovers can be sliced and frozen.  Thaw and reheat in a 350 degree oven for 10 minutes.
2 cups Beth's Gluten-Free Quick Bread Flour Blend + 1 tablespoon (next)
3/4 teaspoon baking soda
1 cup granulated white sugar
4 tablespoons (1/2 stick) unsalted butter, at room temperature
2 large eggs
1 1/4 cups mashed ripe banana (about 3 medium bananas)
1/3 cup plain low fat yogurt
1 teaspoon vanilla extract
1 cup dark or semisweet chocolate chips
1 cup halved raspberries
Additional raspberries and chocolate chips for topping, optional
Preheat oven to 350°F. Spray a 9×5-inch loaf pan with cooking spray. In a medium bowl, whisk together the 2 cups of flour blend and baking soda.
In a separate large bowl, beat the sugar and butter with an electric mixer at medium speed until well blended (about 1 minute). Add the eggs one at a time, beating well after each addition. Add the banana, yogurt, and vanilla; beat until blended. Stir in the flour mixture.  Mix just until moist.  Fold in the chocolate chips.  Gently toss the raspberries with the remaining 1 tablespoon of flour blend and fold into batter.
Spoon the batter into the prepared pan. Top with a few additional chocolate chips and raspberries, if desired.
Bake for 60 to 65 minutes or until a wooden pick inserted in center comes out clean and the top feels firm to the touch.
Cool 15 minutes in the pan on a wire rack. Remove from pan and cool completely on the wire rack.
Beth's Gluten-Free Quick Bread Flour Blend
Several flours are interchangeable in this flour blend.  You'll see them noted here.  I prefer using cornstarch as it produces a lighter quick bread loaf. However, potato starch produces a chewier texture in the beer bread.  Take your pick according to preference and food sensitivities.
Combine these ingredients.  Blend well, then scoop out the amount needed for your recipe.
1 cup sorghum flour (or corn or brown rice flour)
¾ cup rice flour (or buckwheat flour)
¾ cup cornstarch (or potato starch or tapioca starch flour)
½ cup amaranth flour (or quinoa, buckwheat, or millet flour)
2 ½ teaspoons xanthan gum
1 ¼  teaspoons salt
Recipe From Beth Hillson
Serves 2 to 3
I was in Charleston, South Carolina for a conference recently and could not leave without trying some of the outstanding cuisine for which Charleston is know.  A signature dish, shrimp and grits, was served everywhere.  Some chefs added other seafood, ham or sausage, and some flavored their dish with Cajun spices.  I wish I could have sampled each one. Since most are gluten free, that wasn't such a far-fetched idea — if I had only had a few extra days.  If you go to Charleston, be forewarned that some chefs add flour to their shrimp and grits.  So check before diving in.
Shrimp and Grits is truly comfort food.  Each bite was pure heaven.  But, what really fascinated me was the grits – chewy and flavorful beyond anything I had eaten before.  One restaurant told me they buy them from Anson Mills in Columbia, SC.  As soon as I got home, I ordered from them.  How great to bring a touch of the South to my Yankee kitchen.
All of Anson Mills' grits are labeled gluten free.  Unfortunately, their products do not come with instructions for preparation.   You'll have to refer back to their web site for that or use the ones I call for.  Here's the recipe I created using Anson Mills' quick white stone-ground grits.  This can be made with other grits, of course.  Follow the product instructions for the ratio of water to grits.
To Make the Grits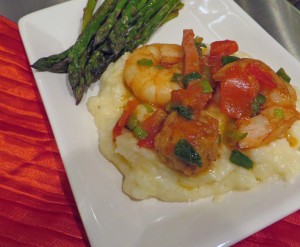 3 cups water
1/2 teaspoon salt
1 tablespoon unsalted butter
1 cup quick white stone-ground grits from Anson Mills or another brand
2 tablespoons heavy cream
2 tablespoons grated cheddar cheese
1 tablespoon Parmesan cheese
Additional salt, to taste
Freshly ground black pepper
To Make the Shrimp Mixture
1 tablespoon olive oil
1 chicken or pork Andouille sausage (about ¼ pound), cut into thin slices
3 ounces smoked ham, cut into julienne strips
1 tablespoon unsalted butter, divided
12 large shrimp, peeled, and deveined if necessary
1 clove garlic, minced
Pinch of Cajun seasoning
1 large tomato, chopped
1/4 cup sliced scallion (about 3 scallions)
1/4 cup white wine or water
Make grits: Bring water, salt, and 1 tablespoon butter to a boil in a 3-quart heavy saucepan. Whisk in grits and cook at a bare simmer, covered, stirring frequently, until grits are tender and have begun to thicken, about 30 minutes. Remove from the heat.  Stir in cream and the cheddar and Parmesan cheese.   Add additional salt, if needed, and several grinds of black pepper.
While the grits are cooking, make the shrimp mixture. Set a 12-inch heavy skillet over moderate heat. Add olive oil.  Cook sausage and ham stirring until sausage is cooked through and ham is golden, about 3 minutes.
Transfer sausage and ham to a plate with a slotted spoon. Add 1/2 tablespoon butter to skillet and heat until foam subsides. Cook shrimp, garlic and Cajun spice, turning, just until shrimp are cooked through, about 3 minutes. Stir in sausage and ham.  Add remaining 1/2 tablespoon butter tomato and scallions.  Toss until tomatoes are wilted.  Add wine and cook down about 2 minutes, stirring and scraping up any brown bits in skillet.  Season with salt and pepper.
Serve shrimp mixture over grits.
From Beth Hillson
Makes 24 balls
Preparation time: 10 minutes
Here's the ultimate quick, delicious dessert from Carol Fenster's new cookbook, 100 BEST QUICK GLUTEN-FREE RECIPES.  My friend, Carol, is a master of gluten-free cooking and baking.  She has produced eleven cookbooks and each one is better than the last.  But this one truly takes the proverbial gluten-free cake!  Every recipe can be made in 30 minutes or less.  With the holiday season around the corner, you'll welcome these simple and yummy recipes for meals, entertaining and all your holiday treats.  Here's one of my favorites.
Serve these bite-size treats during the holidays or at dinner parties in little foil or paper candy liners. Their small size and rich, satisfying flavor makes them ideal for when you want just a little something sweet, not an entire dessert. A food processor makes the prep super-fast. You can replace the white chocolate with dark chocolate, if you wish.
1 cup whole almonds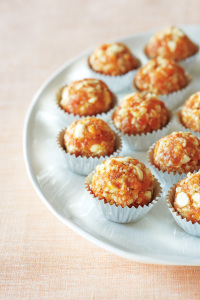 2/3 cup powdered sugar
2 cups dried apricots (about 12 ounces)
2 tablespoons light or dark rum or orange juice
2 teaspoons grated orange zest
1 teaspoon pure vanilla extract
3 ½ ounces white chocolate chips (or a 3.5- ounce bar of white chocolate, chopped or broken into ¼ -inch chunks)
In a food processor, process the almonds and powdered sugar until the almonds are very finely ground. Add the apricots and pulse until the apricots are very finely chopped.
Add the rum, orange zest, vanilla, and white chocolate chips and pulse until the mixture is just blended. With lightly oiled hands, roll and compress the dough into 24 balls, each 1 -inch in diameter. Refrigerate for at least 1 hour to firm up. Serve in foil or paper candy liners.
STORAGE: Store leftovers, tightly covered, for up to 2 days in the refrigerator or for up to 1 month in the freezer for up to 1 month.
Per ball: 130 calories; 3g protein; 6g total fat; 2g fiber; 17g carbohydrates; 0mg cholesterol; 8mg sodium
Excerpted from 100 BEST QUICK GLUTEN-FREE RECIPES © 2014 by Carol Fenster. Reproduced by permission of Houghton Mifflin Harcourt. All rights reserved.