Blog Archives
A recipe by Beth Hillson
Serves 6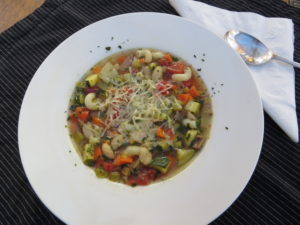 Comfort food meets gluten free with this thick and hearty potage.  Perfect for a winter feast and for feeding a crowd of hungry visitors, this soup is chockfull of vegetables, gluten-free pasta and white cannellini beans.  Serve with gluten-free rolls or biscuits.  Cook the pasta separately and add to the soup just before serving to prevent it from soaking up all the liquids.  Top with parmesan cheese. For more comfort foods, see my article in Gluten Free & More, Feb/Mar 2017.
3 tablespoons extra-virgin olive oil
3 slices turkey bacon, chopped
2 cups finely chopped leeks (about 1 large leek)
2 teaspoons crushed garlic
2 stalks celery, thinly sliced
2 large carrots, peeled and chopped
1 large potato, peeled and diced
1 large diced, unpeeled zucchini (about 1 cup)
1 tablespoon freeze dried or fresh chopped basil
1 teaspoon dried oregano
Salt and freshly ground pepper, to taste
1, 28 -ounce can tomatoes, drained and chopped
6 cups gluten-free chicken broth, more as needed to thin out the soup
1 cup frozen green peas
1, 15 -ounce can cannellini beans, rinsed and drained
1 cup cooked gluten free elbow pasta
1/3 cup finely grated parmesan cheese, divided
2 tablespoons chopped fresh basil, for garnish 
Heat the olive oil in a large pot over medium-high heat. Add the turkey bacon and cook until pieces begin to brown, about 2 minutes.  Add leeks and cook until leeks are translucent, about 4 minutes. Add the garlic and cook 30 seconds. Add the celery, carrot, and potato, and cook until they begin to soften, about 5 minutes. Stir in the zucchini, basil, oregano, salt, and pepper to taste; cook1 minute. 
Add the tomatoes and the chicken broth to the pot and bring to a boil. Reduce the heat to medium low and simmer, covered, 10 minutes. Stir in the peas and beans and cook until the vegetables are fork tender, about 10 minutes.  Divide pasta into 6 bowls and ladle soup over the pasta.  Top with parmesan and chopped basil. Serve. 
Recipe by Beth Hillson
Serves 6
Gluten-Free whole-grain sorghum is a newcomer to our great grain choices.  A powerhouse of nutrients, vitamins and fiber, sorghum is rich in B vitamins and minerals, it promotes digestion, lowers blood sugar levels and reduces cholesterol. Whole-grain sorghum takes an hour to cook. Pearled sorghum contains fewer nutrients and less fiber but cooks in less time (about 40 minutes). Either way, prepare sorghum a day ahead and refrigerated until ready to use. Add delicious veggies like corn, tomatoes and kale and you've got a full meal.   
This recipe is part of my Healthy Plate Project, a wellness program to make life healthier one meal at a time.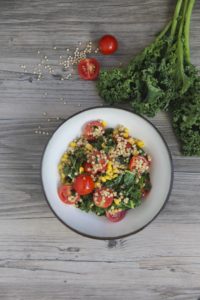 3 cups water
1 cup uncooked sorghum or pearled sorghum
½ teaspoon salt
6 teaspoons olive oil
1 tablespoon fresh tarragon
2 tablespoons white balsamic vinegar
2 teaspoons sugar, optional
2 teaspoons Dijon mustard
2 teaspoons crushed garlic
½ teaspoon kosher salt
¼ teaspoon black pepper
2-3 cups lightly sautéed chopped kale or baby kale
2 cups halved cherry tomatoes
1 ½ cups fresh corn kernels* 
Combine water, sorghum, and ½ teaspoon salt in a medium saucepan. Bring to a boil; cover, reduce heat to low, and simmer 1 hour or until. tender. Drain; cool.
Combine olive oil, tarragon, vinegar, mustard, garlic, salt, and pepper in a large bowl.  Whisk well . Add cooked sorghum, kale, tomatoes, and corn kernels; toss.

*Grill corn on the cob.  Cool and scrape the kernels off the cob.  
Lemon Poppy Seed Muffins
Makes 12 to 14 muffins
These moist and vibrant-tasting muffins add a touch of elegance to a brunch or tea. But don't wait for a special occasion to whip up a batch.  These muffins will be cause for celebration whenever you make them.  I used silicone baking cups called "Baking Buddies" instead of muffin papers to test this recipe.  I was a little concerned that the heavy dough would cause the cups to lose their shape and the muffins to spread rather than rise.  (Gluten-free dough has a knack for doing that.)  As you can see, they rose beautifully.  I set half in muffin tins and half on a baking sheet just in case,  but there was no perceptible difference between the two.  These silicone cups wash easily, too.  Fun to use and I love the colors.  You can buy them on Amazon.
1 ¾ cups all-purpose flour blend (below)
1 ½ teaspoons xanthan gum
½ teaspoon salt
2 teaspoons baking powder
1/2 teaspoon baking soda
2 tablespoons poppy seeds
1 tablespoon grated lemon zest
6 tablespoons unsalted butter or non-dairy buttery spread, softened
2/3 cup sugar, extra to sprinkle on top of muffins
2 large eggs
1 cup buttermilk or milk of choice
3 tablespoons lemon juice
1 teaspoon vanilla
Preheat oven to 375°F.  Line a muffin tin with muffin papers or use Baking Buddies.  (No need to oil these silicone cups.)
In a medium bowl, mix together flour blend ingredients (below), xanthan gum, salt, baking powder, and baking soda.  Add poppy seeds and lemon zest and blend well.  Set aside.
In a large bowl, cream the butter and sugar until fluffy. Add the eggs, beating well.
On low speed, add the dry ingredients to the creamed mixture.  Add the buttermilk, lemon juice and vanilla. Beat just until smooth.
Spoon the batter into the prepared pan, 3/4-full. Sprinkle sugar over the tops of the muffins just before baking.
Bake for 20 to 22 minutes or until a toothpick inserted in the center comes out clean.
Cool for 5 minutes before removing to cool completely.   These can be frozen.
All/Purpose Flour Blend
1 cup white rice flour
1/2 cup corn starch
1/4 cup tapioca starch